Some inspiring ideas and trends to take care of yourself
Are you feeling tired and are in need of some TLC? Discover how to take care of yourself and properly pamper yourself with these beauty rituals.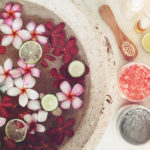 Stress and fatigue are very present these days. There is nothing surprising about that. Our lifestyles are overloaded with our job and various activities. We find ourselves constantly drawn and sometimes even overwhelmed by anxiety. It is important to overcome all this stress by taking enough time off and exercising. You can also take care of yourself with these daily and weekly beauty rituals.
Advertisements
Try the in shower trend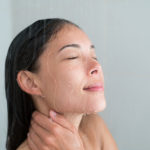 Have you ever heard of the in shower trend? It consists of using several products in the shower, including body lotions and facial cleansers. This saves you a lot of time because you can do all your beauty ritual while showering! You have no more excuses when it comes to hydrating your legs or applying your self-tanner.
Advertisements
Pamper your feet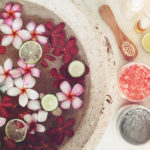 Your feet are extremely important. After all, they are your main means of transport! It is, therefore, important to pamper them. Here are some clever ideas to do this:
Use a brush made especially for feet or even a toothbrush and scrub your feet with antibacterial soap;
Dry your feet properly with a soft towel;
Add hydrating cream to your feet before going to bed and massage them (you can opt for a nourishing cream or even a repairing balm made for feet).
Advertisements
Opt for the exfoliating and toner duo
Another way to take care of yourself is to opt for the exfoliating and toner duo. Of course, you don't have to do these two step every single day. Exfoliation, which is a treatment to rid your skin of dead cells by gently scrubbing, should be done once a week or two to three times a week for those with oily skin. As for the tonic lotion, it must be applied after exfoliation or cleansing your skin. This beauty treatment has two uses: to clean the last dirt embedded in the pores of the skin and restore its pH. Unlike the exfoliant, you can use your tonic daily, or even twice a day, but you must make sure you choose one that is right for your skin. In fact, some tonic lotions are specially designed for sensitive skin while others, for example, are made for oily or dull skin.
Advertisements
Treat your hair to a hydrating mask
If your hair is damaged, you should consider treating it with a mask. In fact, hair masks not only moisturize your hair but they also improve its appearance and texture. Some masks are made for dry hair while others are made specifically for coloured hair. You can buy these in pharmacies, specialized beauty shops, hairdressing salons or even make your own mask at home. Here is a homemade mask recipe for dry and damaged hair:
Mix an egg yolk with a tablespoon olive oil;
Add a tablespoon of lemon juice to your mix;
Apply the mask all over your dry and smooth hair;
Cover your hair with a towel and leave your mask on for 10 minutes, then rinse and wash your hair.
Hydrate your face
In addition to instantly making you feel good, moisturizing your skin has many benefits. This allows you, for example, to have a more beautiful complexion. In fact, when skin cells are not moisturized, they can turn white, which tends to give the skin a dull complexion. Moisturizing cream is also a good way to protect yourself from external aggressions, whether it is pollution, wind or the cold. If you want to take care of yourself every day, take the time to apply some moisturizer to your pretty face and drink enough water!
Get perfect hands
Another way to take care of yourself is to take care of your hands. After all, it is so pleasant to have beautiful and soft hands! To do this, you can obviously get a moisturizing and repairing cream enriched with vitamins. You can also moisturize them with a 100% natural care recipe:
Mix a teaspoon of honey and the juice of half a lemon;
Add plain yogurt to your mix as well as 4 teaspoons of almond oil;
Apply the mixture on your hands and leave it on for 10 minutes;
Rinse with water while massaging your hands.
You can also exfoliate your hands with a milk bath. Simply soak them in this solution for 5 minutes, scrub with sugar and lather your hands with your favourite moisturizer. Then there's nothing like a pretty manicure!
Try multi-masking
There are several types of face masks on the market. In fact, you can find moisturizing masks, masks made for oily skin or even some for dry skin. Multi-masking, which consists in applying several different masks on your face, is a trend to adopt because it allows you to benefit from several treatments in one single treatment. You can, therefore, take advantage of moisturizing, purifying and unifying treatments only on the areas you want to treat.
Relax in a bubble bath
Bubble baths are extremely relaxing. Many people take baths while devouring a novel or enjoying a glass of wine. You can also add Epsom salt to your bubble bath to further enhance your relaxing experience. Indeed, Epsom salt is an excellent way to eliminate toxins, but in addition, it considerably reduces stress as well as pain and inflammation.
Experiment with dry skin brushing
Lymphatic dry brushing, also called dry skin brushing, is also a very popular way to take care of yourself. This treatment, which only requires a lymph body brush, has many advantages. Among other things, it promotes blood circulation, helps remove dead cells on the skin and promotes good muscle tone. Here is how to adopt this care on a daily basis:
Experiment with dry skin brushing on dry skin;
Start by scrubbing your lower body in circular motions and then slowly scrub up all the way to your chest;
Brush from bottom to top except for your back;
Don't brush any areas where your skin is irritated or where you've got a pain or lesion;
Brush for 5-20 minutes and then wash yourself to get rid of dead cells;
Apply a hydrating lotion all over your body.
You can take care of yourself in the comfort of your home. You don't have to go to the salon or to a spa to relax. All you need are a few products and a bit of time!