The best nail polish brands for chip-free manicures
We have selected the best of the best nail polish brands to create pretty, vampy, edgy and glamorous nails! These brands will create long-lasting manicures (bye bye chipping nails) and the colour options are almost limitless.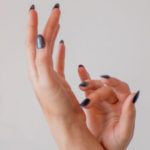 Standing in front of the nail polish section at the drugstore or any specialized beauty store like Sephora can create a small sense of angst for anyone who has trouble making decisions. There are so many nail polish brands to choose from (and let's not even get started with the vast choice of colour). Selecting the perfect shade of bright red, rich mauve or baby blue is entirely your decision but we will make your life a little bit easier by sharing with you the best nail polish brands you can purchase almost anywhere for a beautiful manicure with staying power (i.e. no chips). From non-toxic nail varnish to drugstore favourites and high end, designer nail brands, here are the best nail polish brands for salon-like manicures.
Advertisements
Best of thrifty drugstore nail polish brands
You've known and loved these brands since you were 12 years old. Never snub these drugstore faves. Essie, OPI and Sally Hansen have hundreds of colour options, top coats, gels, glitters, etc.
Essie
OPI
Sally Hansen
Advertisements
Non-toxic, cruelty-free, wear-with-peace-of-mind brands
Unfortunately, most nail polish brands include many toxic ingredients that aren't great for the health of our nails. Those who prefer to keep their beauty products clean, cruelty-free and that don't comprise ingredients like DBP, toluene, camphor or formaldehyde should definitely choose the brands below.
Tenoverten
Butter LONDON
Advertisements
Luxurious, opulent and self-indulgent *treat yourself*  brands
Love luxurious and high-end beauty products? Deborah Lippman, Nails Inc and ILNP are your go-to lacquer brands. If you love to do at-home manicures and you want to treat yourself, go ahead and purchase one of these nail colour brands to feel glamorous from head to toe.
Deborah Lippmann
Nails Inc
ILNP
Enjoy some me-time and pamper yourself with an at-home manicure. The nail polish brands we selected have incredible staying power, vivid and rich colour options and will generate many compliments from friends as well as strangers.
---
Cover photo: Kendal James | Unsplash