11 lingerie brands for an unforgettable honeymoon
This lingerie will not automatically make your honeymoon a romantic and unforgettable getaway, but it may very well contribute to it.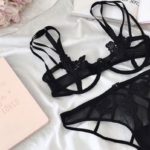 From the wedding night to the honeymoon, strut around in underwear that makes you feel beautiful. Daring, romantic, a bit of both… This selection of lingerie intimates offers all types of brides something to feel gorgeous in. Fill your suitcase with silk and other sexy fabrics for a perfect barely-dressed honeymoon. Here are 11 lingerie brands that are ideal to wear and remove at will on your honeymoon.
Advertisements
Maripier x Blush Lingerie
Maripier Morin, a Quebec entrepreneur, television personality and actress teamed up with Montreal-based lingerie company Blush to create a stunning collection of effortlessly sexy but still ultra comfortable bralettes, panties and bodysuits in black and blush (but of course!). The cuts are super flattering and were designed for women by women. Affordable but still luxurious, these eye-catching honeymoon approved pieces will make you feel and look your best.
Advertisements
For Love & Lemons
For Love & Lemons creations are the pinnacle of bohemian chic, closer to art than to clothing. Complex cuts made with meticulousness combining lace, velvet, pastels and floral motifs will please the most romantic girls. Infinitely feminine and a touch of banter, these intimates will undoubtedly make you want to frolic in the fields before you lie down on the grass.
Advertisements
Fleur du Mal
Fleur du mal dresses a strong and confident woman in line with her femininity. The collections offer refined cuts where black is in the spotlight and where floral prints are never girly and pink and froufrou meet bondage. Sometimes sober, sometimes ornamented, always chic and elegant, these intimates will give you the look of a femme fatale.
Advertisements
Le Petit Trou
Although Polish, Le Petit Trou evokes French romanticism. This charming company designs bodysuits, bralettes and panties – all equipped with the iconic little hole from which the brand takes its name – in lightweight and high-quality materials and with particular attention to detail. Delicate, sensual, transparent, beautiful, truly beautiful.
Agent Provocateur
This prestigious brand offers a vast selection of erotic lingerie, often naughty but always in good taste. Corsets, suspenders, lozenges, basques, open knickers and harnesses not to mention accessories, Agent Provocateur offers extremely sexy, daring, refined and elegant underwear for the adventurous woman.
Lonely
Lonely creates superbly comfortable pieces, with rich colours and classic cuts often inspired by bygone era silhouettes. These are addressed to "women who wear lingerie as a love letter to herself", but nothing prevents them from sharing this self-love with the chosen one of her heart. All the more so as the underwear of this inclusive and positive bodywear brand allows you to feel beautiful without sacrificing your comfort.
The Great Eros
The Great Eros offers the modern woman minimalist and sensual lingerie with a touch of audacity. These high-quality New York creations, conceptualized in Brooklyn and made in Italy, present flattering cuts of a chic simplicity but that are never completely conservative. The innovative designs, always in halftone, and sometimes even daring take the form of balconette and leather slips or even high waist panties and retro-style bra in mustard or rust coloured latex.
Valentine NYC
Bralette paradise, this charming brand offers natural and ethereal romanticism. Simple and comfortable designs, pastel colours and feminine and aerial motifs form a delicate and sensual line ideal for the bohemian woman, free and in love with life and the sun. To combine with natural waves and light or non-existent make-up.
Gooseberry Intimates
Despite its Australian-style chicness, it is in France that the very contemporary Gooseberry Intimates comes to life. With its scalloped lines, its revealing cuts, its numerous and delicate details and its playful and relaxed side, this famous Instagram brand is at the same time romantic, sensual and enticing. The feminine designs of a modern bohemian are perfect for fashionable sun destinations.
Bluebella
Provocative, daring and yet extremely feminine, this lingerie line presents original and revealing cuts that couldn't be sexier. Sometimes naughty, sometimes romantic and always fashionable, Bluebella offers unique, sophisticated and elegant designs. Their use of the negative space of the garment is particularly appreciated as in the case of the underwired open cup bra with only directional strapping and trim to cover the nipple.
Ell and Cee
For beautifully lightweight, delicate, bohemian lingerie and especially a tasteful and quality version of the classic new bride satin panties, take a look at Ell and Cee. This UK brand dresses a modern and romantic woman, in love with rich fabrics such as satin and chiffon.
Let yourself be carried away by your desires and offer yourself lingerie sets of all styles and fill your suitcases with pretty intimates to wear on all occasions to feel beautiful and confident. After all, a honeymoon is a unique event and these pieces are so beautiful that you will want to wear them again and again.
---
Cover photo: Bluebella/Instagram