Organic sunscreen to take over as latest green beauty product
Even better than using sunscreen when exposing yourself to the sun would be to have an organic sunscreen.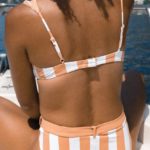 Organic sunscreen is the latest product to join the green beauty wave taking over the cosmetic industry. After all, who wouldn't want to take care of themselves while taking care of the Earth?
Here is a selection we've made of the best organic sunscreens, so you can have a nice time outside without worrying about burning.
Advertisements
Alga Maris by Biarritz
Alga Maris offers an interesting price/value ratio. Its main ingredient is red seaweed, hence the name. The sunscreen is declined in numerous FPS and formulas, depending on whether or not they are to be applied on the face. We're talking about a sunscreen that is water resistant, penetrates the skin well and is hypoallergenic.
Advertisements
Bioregena
Bioregena products contain a lot of antioxidants, which give them anti-ageing properties. Once again, there are different FPS and formulas.
Advertisements
UV BIO
UV BIO can be used as a cream, a spray or even as a powder! The spray formula is quite water resistant and moisturizes at the same time. Chamomile extracts contained in this sunscreen provide for a unique soothing effect.
Advertisements
Alba Botanica
The Alba Botanica products are, surprise, also available in different FPS. However, it is the longest-lasting sunscreen of our list, with 80 minutes of protection. This is a big plus when you're hitting the beach for the entire day. Moreover, it is the cheapest organic sunscreen so far.
SIMPLE as that
SIMPLE as that offers organic, fair trade and vegan sunscreen. The Australian company also has a formula for kids. From an environmental and ethical perspective, this is the best sunscreen of our favourite sunscreens here.
No matter what you will choose, we wish you a pleasant time under the sun. You deserve it!
---
Cover photo: Jakob Owens | Unsplash