Overall dress: Outfit ideas to revisit an old classic
From chic to street, the overall dress is the piece to adopt for the seasons to come.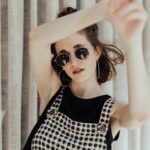 Dungaree dress, overall dress, pinafore dress, skirtall, however you like to call it, it is making a comeback. Sure, denim's LBD was never really gone, but whether you never said goodbye to the skirt version of dungarees or had relayed yours to the back of your closet as soon as you passed the ripe age of 10, chances are that you will not be the only one undusting this fun hybrid for the seasons to come. With buttons, clips or knots, short or midi length, in denim, corduroy, cotton or linen, and plain or printed, the choice is yours. Throw it over your bikini and hit the beach for a fresh laid-back look or dress it up with a ruffled blouse and boots or down with a printed tee and sneakers depending on your mood. Still not convinced? Here is some inspiration as to how to wear this age-old classic this spring and summer all the way through autumn. Hint: Any and every possible way.
Advertisements
The Sherriff's Daughter
Fun and girly, this look fresh out of Hazzard County says Southern Belle who isn't afraid to get her hands dirty in the best way possible.
Advertisements
Ivy League Freshman
Harvard? Yale? Brown? Trade the shirt for a wool turtleneck comes October.
Advertisements
Overall Trendy
Change the top for a blouse and the Converse for some heels and you got yourself a night look.
Advertisements
La Vie En Rose
Pure, minimalist, effortlessly chic and undeniably comfortable, everything about this look evokes le chic à la Parisienne. Wear to work, to brunch and everything in between.
Acing It
In style on and off the court.
Rodeo Drive
When high-end meets Hollywood Boulevard.
Channelling Couture
Can't help but get some serious Chanel feels.
With The Band
Perhaps she's with the band, or perhaps she is the band.
Ridge To Nowhere
Corduroy does summer pretty well.
Train of Thought
Part Little House on the Prairie, part Captain.
Between Land and Sea
Wear it over a bathing suit, or nothing, to hit the beach.
Eurotrip
Tights and an oversized blazer will give it that educated European feel.
The Road to Burning Man
Not quite beachy, not quite rock and a little badass: Basically Burning Man material.
Sunny Side Up
Denim on denim takes a whole new, bright, meaning.
Circa 63
Brigitte, is that you?
That Seventies Show meets Friends
Not sure if we are talking 70s or 90s here. Anywho, it works.
Sunday Boardwalk
The ultimate sporty LBD. Perfect with earthy tones and natural fabrics to hit the farmer's market or as a basic to go with any other type of outfit.
Although not represented above, the overall dress is also a great candidate to be worn in a gingham print and even midi length. Pair it with tights and boots and a warm sweater and it becomes the perfect look to go to class, or work, or the pumpkin patch in the Fall. From street style to beach bum the dungaree dress can do it all.
---
Cover credit: Brooke Cagle | Unsplash