Back to the 90s: Nostalgic fashion and beauty trends
Fashion is always evolving but there is one thing that never changes: Trends are always inspired by past decades. Take a trip down memory lane and back to the 90s where bucket hats, spaghetti straps and slip dresses ruled the fashion scene.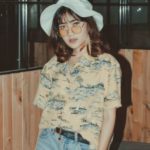 The 90s are back in full force. Grunge, Clueless, the Spice Girls, fashion is inspired by this decade's most popular music, film and television personalities. Whether you loved the 90s, hated them or weren't even old enough to be conscious of the fashion scene, you can't walk down the street today without seeing a throwback outfit that reminds you of your favourite 90s sitcom. If you're ready to go back to the 90s, read on to make sure you don't miss on must-buy (or uncover from your dusty attic) items that make this decade a fashion force.
Advertisements
Bucket hats
Cute, youthful and practical, bucket hats are having a moment. On an early hot summer's day, your pale skin will thank you.
Advertisements
White sneakers
You were once embarrassed by your dad for wearing these types of sneakers but now you're buying them at your own free will. Oh, how times have changed.
Advertisements
Barrettes
Hair accessories are always fun and add a little extra something to any boring outfit. Sparkly, pearl-encrusted or extra large, barrettes will keep your hair out of your face on windy days.
Advertisements
Slip dresses
Chic and feminine, a strappy silk slip dress looks amazing with high heeled sandals as well as white sneakers. Start the party wearing your heels and end the night in your shoes!
Chain belts
Perfect for the woman who loves bling, chain belts might not be very practical but they are pretty.
Animal prints
We're going to say it, animal prints are a wardrobe staple, just like your white t-shirt and pair of blue jeans. Dressed up or dressed down, you'll be a roaring success.
Matching plaid
As if! Our favourite 90s shallow but sweet protagonist Cher inspired this corporate Barbie look. Pink fuzzy pen optional.
Strappy sandals
Summer nights are the perfect time to wear these slinky and strappy heels with a skirt, pair of jeans or mini dress.
Baggy pants
Tired of wearing too-tight pants? Pair these XXL pants with a cropped top to balance the whole look and make it a little bit more girly.
Bike shorts
Athleisure has been polluting our social media feed for a few months now. The bike short trend is here to stay (at least, for now) so have fun with it by choosing a funky colour instead of plain black.
Bermuda shorts
Rachel Green was a big fan of bermuda shorts and so are we. Light, airy and sophisticated, create a monochromatic look but play with textures to create dimension in your look.
Tie dye
Any 90s baby will remember making their own tie dye t-shirt in their backyard. Go the DIY route or head over to your favourite store for the easy route.
Tiny sunglasses
More of a fashion statement than a practical fashion accessory, tiny sunglasses are reminiscent of the blockbuster hit The Matrix.
Combat boots
You listened to Nirvana once and now you want to have that angsty teenager look? Go for some old school Dr. Martens to look tough and to come as you are.
Spaghetti straps
Girly and perfect for those smouldering summer days, spaghetti straps on camisoles and dresses show off your tanned shoulders in the best way. The best part? No one can complain they have "ugly shoulders".
Fanny pack
You used to roll your eyes and snicker when your parents would wear one on your annual family vacation but now you wear one without batting a lash.
Whether you embrace these trends or avoid them like the plague, nothing can stop fashion's obsession with the 90s. Pick and choose your favourite trends from this era and mix and match them with contemporary and timeless pieces you already have at in your closet for a modern twist on 90s fashion. Fashion victim, you are not.