10 winter hats for women who like options
Beanies, chunky knits, and berets, choose between the cutest and trendiest winter hats for women to rock your cold-weather look from head to toe.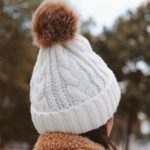 The snow, the cold, the ice, winter can be vicious if you don't dress properly. Nonetheless, when you were younger, you probably hated it when your parents forced you to wear an abominable hat knitted by your grandmother to go outside. You probably removed it the second you walked out of the house and replaced your hair to make sure your hair looked cute for your high school crush. Now that you're a bit older and wiser, you know that wearing a hat when you go out in the dead of winter is vital. Besides, there are so many different kinds of winter hats for women nowadays that it is impossible not to find one tailored to your personal taste. From berets to chunky wool hats, here are 10 winter hats for women who like options but who also like to stay warm.
Advertisements
Beret
The French, especially the Parisians, are known for their impeccable and effortless style. If you want to add some French flair to your winter outfits, get yourself a cute beret to finish off your look. Felted wool, leather, knitted or velvet, choose the material that best suits your personality and match it to your favourite wool coat.
Advertisements
Knit
One of the warmest options, a simple knit hat will keep you cozy from mid-November to March. Match it with your scarf and winter coat for the ultimate winter look and don't be shy to experiment with colour. A canary yellow, tangerine orange or olive green will add some heat to the cold winter days.
Advertisements
Nautical cap
Trend-obsessed girls who aren't afraid of a fashion statement will love the nautical cap look this winter. It might not be the warmest winter hat but whether you wear it with a teddy bear coat, a long military inspired wool coat or a leather jacket, you'll look fashionable and ready for anything.
Advertisements
Chunky wool
Not only will it keep you warm during the coldest months of the year but this option of winter hat for women looks cute on anyone. Choose a hat with a lining so the wind doesn't penetrate the holey hat and again, have fun with colour! Stripes? Polka dots? Pastel hues? Enjoy finding one that brightens your day.
Beanie
Worn pushed back or right on top of your head, a beanie is a classic winter hat for women. This knitted hat will complement your street style-inspired winter looks as well as your more laid-back and every day looks.
Bucket hat
Bucket hats aren't only worn during the summer months anymore. Release your inner surfer with a shearling and suede bucket hat that will keep you warm all winter long. Original, this hat will set you apart from the crowd of beanie and knit hats.
Ear warmer
It is nearly impossible to wear a high ponytail in the wintertime unless you don't mind having a huge awkward bump in your hair or freezing. Don't lose your ears to frostbites! Get yourself some earmuffs or ear warmers. Sporty, knit, faux-fur, whatever the material you choose, you'll be glad to know you can save your pony but still keep your ears from falling off.
Cap
Love to wear caps? Easily transition to winter months with a corduroy or velvet cap. Again, this is not the warmest option but if you live somewhere where the winters are mild, have fun choosing some original and fun options.
Pompom
Vegans and animal cruelty activist will be glad to know most stores only carry faux-fur pompoms nowadays. Cute and fun, knitted hats with pompoms are warm and never go out of style. Go for a subtle dove grey, millennial pink or tan yellow to complete your romantic winter look.
Rancher hat
Another fashion must for the trendy girl, this Western-inspired hat looks beautiful and modern. No, a rancher hat isn't practical when the temperature drops below zero but on mild winter days, take this cowgirl hat out for a ride.
No matter what kind of winter you experience, these options of winter hats for women will hopefully inspire you to change up your look and experiment with different styles. Stay warm and stay cute all winter long!
---
Cover photo credit: @urbanoutfitters/Instagram