Vegan shoes: 10 stylish and ethical brands
Avoid leather and other animal products without neglecting style and quality. You will find the right footwear for you among these brands of vegan shoes.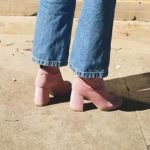 We often reject wearing it in any way, especially not on our feet. Generally synonymous with lower quality and responsible for a rather unattractive look, faux leather has a bad reputation. But now that many people have decided to stop buying meat and have a head full of recipe ideas for a delicious vegan meal, a revolution was in order in the marketing shoe department. Fortunately, many companies have taken an ethical and ecological approach without neglecting fit nor style. Here are 10 brands of vegan shoes to walk around with style and peace of mind.
Advertisements
Stella McCartney
Obviously, this list would be incomplete without Stella McCartney. She is a true precursor of the ethical and ecological approach within the big fashion houses since she does not use any animal products in the creation of her collections. Admittedly, fashion enthusiasts will have to deprive themselves of Louboutins, but they can still enjoy luxury shoes thanks to Stella McCartney.
Advertisements
Coconuts by Matisse
Take a peek into the wardrobe of any cool Californian vegan girl and you may well find a few pairs of these shoes. Coconuts is Matisse's vegan line, inspired by country and rock and roll but always remains feminine and always trendy. Stylish and affordable, they are versatile without being boring and are a great way to finalize a casual chic look for everyday life.
Advertisements
Ethletic
The infamous case of the glue used in the manufacture of Converse shoes is still ambiguous and this detail annoys you? Ethletic is the solution to your deep desire to own Chuck Taylors. Undoubtedly vegan, the brand produces several trendy and comfortable sneaker models according to ethical, fair and eco-responsible practices. So, if the possibility of the presence of animal derivatives and the sometimes dubious conditions surrounding the manufacture of top-quality branded shoes go against your values, opt for a transparent and conscientious label such as this one.
Advertisements
Susi Studio
Susi is for the modern woman who cares about the environment. The American brand has a mission to promote an eco-responsible lifestyle by creating products that are free of animal products, that are fair trade and that care about its ecological footprint. Based in Los Angeles, the brand produces fresh designs in the greatest transparency using durable materials such as cotton canvas, denim, hemp and even fake leather made from recycled plastic bottles.
Faryl Robin
If you have ever visited the vegan shoe section on the Free People website, you may be familiar with Faryl Robin, consciously or unknowingly. This brand creates trendy quality shoes without the use of any animal byproducts. Although not well known, Faryl Robin shoes are held by several major brands such as Anthropologie.
Matt and Nat
After having distinguished itself in the vegan accessory sector with its now popular handbags and backpacks, Matt and Nat recently launched its own vegan leather shoes to everyone's delight. Elegant and neutral, the shoes offer comfort, quality and refinement at an affordable price. In addition to using vegan leather, the brand adopts eco-responsible and fair practices while maintaining a humane lifestyle at its head office.
Rafa
The Rafa shoe is a luxury item handmade in Los Angeles, California. The timeless and high-quality designs are made from vegan materials according to sustainable, fair and eco-responsible methods and principles. Sometimes classic, sometimes bold, always very stylish and well thought out, Rafa is for the modern and conscientious woman with a je-ne-sais-quoi.
Collection and Co
Collection and Co offers trendy and classic English style chic. Born from a desire to offer vegan accessories, the brand uses, among other things, recycled materials as well as Piñatex, a natural fibre made from pineapple waste and used in the manufacture of synthetic leather. The use of ecological materials and responsible production are therefore at the heart of the company's values, all to bring to life designs that are often timeless and sometimes bold.
Mindful steps
Are you one of those people who live in a tropical place, are you planning a trip to a southern destination or are you preparing your wardrobe for the summer season? Take a look at this Australian brand's sandals and slippers. Simple, exotic, affordable and 100% humane, Mindful Steps shoes are the perfect shoes that are easy to put on and take off to enjoy the pool or beach in style.
Balluta
Balluta is for the bold, the avant-garde and the fashion-conscious. It is the work of a bullfighter's daughter determined to fight animal cruelty. The brand is one of the few to offer high-end vegan and ecological shoes and manufactures its products in Portugal using traditional and ethical methods. Designed to last a lifetime, these durable luxury shoes are worth their weight in gold.
Birkenstock, Dr. Martens, Vans, Adidas, etc.; several well-known brands, although they also offer models in leather and other animal derivatives, also manufacture vegan shoes. Fortunately, there are many more choices than there used to be. Fashion lovers can therefore always live out their passion while making ethical choices.
---
Cover photo: _rafa_usa/Instagram