10 recipes for a scrumptious vegan dinner
Old classics reinvented and new creations, these vegan dinner recipes guarantee you pleasure and flavour at supper time.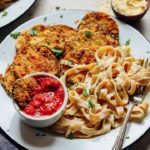 Your refrigerator is overflowing with fruits and vegetables, not to mention your pantry, which contains all the essential items for cooking vegan food? In short, you have done all the necessary preparation to start cooking vegan food. But the day is coming to an end, your stomach is rumbling and you are still lacking inspiration? Whether you're looking for an easy and quick meal or a more complex and elaborate one, you'll find something to feed your excitement when creating these delicious plant-based dishes with these tasty vegan dinner recipes.
Advertisements
Burrito bowls
Two options are available to you if you have an irresistible craving for a burrito bowl: plan a stop at Chipotle or a local Mexican joint or concoct this healthy version of a quinoa burrito bowl. Megan Gilmore's recipe from Detoxinista offers an interesting variation on the rice found in traditional bowls. Nutritious and vegan, this pressure cooker dish is incredibly easy to prepare in just a few minutes.
Advertisements
Eggplant parmesan
Don't be fooled by its name; this comforting dish thought of by Dana of Minimalist Baker is vegan. This is a 100% plant-based version of an Italian classic that will delight many foodies. Transitioning vegans and nostalgic people alike will appreciate this dish, ideal for pretty autumn evenings and winter dinners. Oh!, and these eggplants alla parmigiana are also gluten-free!
Advertisements
Bean stew with fennel

Fresh and satisfying, this dish inspired by Spanish flavours is easy to prepare in a single pan. This healthy stew made with tomatoes, fennel, black-eyed peas, roasted red peppers and many herbs and spices complements a cool summer day and will add sunshine in the depths of winter. Ania's recipe from the Lazy Cat Kitchen is also suitable for people with a gluten intolerance.

Advertisements
Falafels
Delicious and versatile, falafels are eaten hot in a Mediterranean bowl at supper time and turn into the perfect lunch with hummus and pitas. Serve Caitlin Shoemaker's recipe with a fresh salad in summer and on a bed of rice, quinoa or semolina and topped with herbs, olives, tomatoes, cucumbers, beets and baba ganoush on a lovely spring evening.
Spring roll salad with peanut glazed tofu
Don't worry, this healthy and gourmet dish is much easier to make than it looks. This superb bowl with Vietnamese flavours features a tangy ginger-lime vinaigrette that contrasts perfectly with the delicious, slightly sweet peanut sauce on top of the tofu bites. Brianne' Evergreen Kitchen creation allows you to enjoy the flavours of spring rolls without spending hours handling rice sheets.
Poutine
About to have a relaxed evening in front of a good movie? Treat yourself to a homemade Quebec classic. Avoid frying and, of course, animal products with this vegan poutine recipe courtesy of Minimalist Baker. Simple and so comforting, this fast-food restaurant staple, which has become slow-food, will allow you to enjoy your meal without feeling guilty.
Broccoli pasta with almond bacon
Are you in the mood for a little crunch with a smokey flavour? Of course, bacon is out of the question, but these roasted and smoked almonds will satisfy you just as much. Sprinkle them on a plate of broccoli pasta and you have a perfectly balanced vegan dinner. Fresh and simple, this recipe from Lazy Cat Kitchen will please bacon lovers and everyone else.
Artichoke chowder
For the evenings when you're dying for a hot, creamy and comforting meal, grab your pots and pans and make this succulent thick soup where artichokes, mushrooms and potatoes are in the spotlight. Inspired by the rich and consistent nature of clam chowder, this vegan dinner recipe from Making Thyme For Health offers a plant-based approach to a classic that does good.
Mushroom Stroganoff
Looking for another timeless classic to feed your nostalgia? Try this beef Stroganoff that is suitable for vegans. With only one pan and 10 ingredients, you will have a dish that will be as good as what you had in your childhood, even if it is meatless. In this Evergreen Kitchen recipe, mushrooms do the job perfectly on their own.
BBQ lentil stuffed sweet potatoes
This unpretentious recipe, far from skimpy on flavours and quality, may become a frequent answer to your evenings on weekdays. These sweet potatoes stuffed with Thomas' barbecue lentils from Full of Plants are nutritious, high in protein, satisfying, easy to prepare and enjoyable to eat. You would ask for more if only they weren't so filling!
Those who believe vegan food is restrictive have not visited the right blogs. Vegan dinner recipes abound on the web. Just think differently or do some research to discover a multitude of inspiring meals to delight you at the end of the day.
---
Cover photo: minimalistbaker/Instagram