Vegan food list: 11 essential items to have in the kitchen
Make your life easier by keeping your kitchen well stocked with this vegan food list to add to your shopping cart at the grocery store.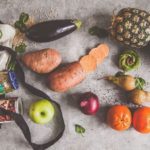 Regulars will tell you that it is easy to follow a vegan lifestyle. They are right. However, there are some things you should do before making such a change in your eating habits. To ensure that this ethical and ecological shift is more of a choice for the best than a torture of hunger, first, make sure you have the right food in your kitchen. Here are 11 essential items to add to your vegan food list before you go to the market or grocery store. Fill your cupboards and refrigerator with these essentials for a smooth transition.
Advertisements
Vegetable broth
Reuse your vegetable scraps and make it yourself if you have the time and courage. Otherwise, keep a few cartons of vegetable broth handy in your pantry. These will serve as the basis for most of your recipes. Forget beef and chicken broth, vegetable broth will now be your best friend and will add flavour to your cooked dishes. The most adventurous people who like to have fun and appreciate the flavours of the world would also benefit from using miso paste.
Advertisements
Legumes
Proteins, proteins, proteins. Fill up on legumes in all their forms. This excellent source of amino acids is also rich in fibre and iron. They are therefore a good addition to the diet of all those who prefer to avoid consuming animal products. Lentils, chickpeas, beans, edamame, white, red, black and green beans, pinto, adzuki, black-eyed beans or lima and more; choose your favourites and feel free to vary. As a bonus, they are extremely cheap.
Advertisements
Grains
Add a serving of rice to your beans and you have a complete meal made with ultra-affordable protein. The grains have the advantage of being very satisfying and undeniably delicious. They are therefore a basic ingredient in vegan cuisine. Unprocessed or in the form of bread, pasta, cereals, etc., they are found in many delicious and nutritious recipes without meat, eggs and dairy products. Choose whole grains and dare to eat rice, oats, barley, millet and quinoa (which is technically a seed) at lunch and dinner as well as for breakfast.
Advertisements
Seeds and nuts
Ideal for snacks, seeds and nuts are a good source of nutrients. Practical and tasty, they offer a touch of flavour and crunch to many recipes. These are also extremely practical for vegan cooking. Nuts can be used as a base for many creamy sauces. As for seeds, some of them, such as chia and flax, act as egg substitutes when baking muffins, cookies, cakes, etc.
Fruits
Is it necessary to expand on the subject? Colourful, nutritious, fresh, hydrating and simply good, fruit undoubtedly has its place in the kitchen of all good vegans. Snack on them in every colour, at snack time or at breakfast. Garnish your breakfasts with them or turn them into invigorating smoothies. As much as possible, choose them in season and enjoy nature on your plate.
Vegetables
This category of food is as, if not more, obvious than that of fruit. It still deserves to be considered. Vegetables of all types and colours should appear in large numbers in everyone's diet, especially for vegans. Vary your choices to consume a variety of nutrients and have fun! Choose them in different shapes and flavours to diversify the content of your dishes. Veggies cannot escape your vegan food list.
Healthy fats
Sesame, coconut, grapeseed oil; avocados, olives, various vegan kinds of butter… Healthy sources of fat are not only necessary when preparing different recipes (with or without meat), but they are also essential for your health. So get one or more sources of good fats, whole or in the form of oils, but be careful to eat them reasonably and sparingly.
Lemons and apple cider vinegar
This category is more for those who are not afraid to get their hands dirty. Those who, on the other hand, prefer going to vegan bakeries, cafés and pastry shops to enjoy different sweets without eggs or dairy products can possibly do without them. Certainly, lemon and apple cider vinegar are useful for several reasons. In particular, they make a very good salad dressing. However, the reason they deserve a separate category is that they are essential when making muffins, cookies, pancakes and other delicious vegan products.
Condiments
Some people cannot do without their ketchup and could easily live without hot sauce. The opposite applies to others. The fact is that several condiments are perfectly suited to plant-based food, so why not use them? Mustard, vegan mayonnaise, salsa, hummus, salad dressings, soy sauce and other condiments will make your life easier or simply add flavour to your meals.
Herbs and spices
Just like in the omnivorous diet, fresh herbs and spices are the basis of a good vegan meal. Fill up with basil, oregano, parsley, cayenne pepper, chili powder, cinnamon, ginger, paprika, vanilla, thyme, rosemary, etc. Get your favourite herbs and spices and dare to try new flavours to season your dishes and never eat a boring meal again.
Flour and baking soda
To thicken sauces, but especially to bake muffins, cookies and banana breads, to flip pancakes, to unmould waffles and even to make avocado fries, don't forget to equip your pantry with different types of flour and baking soda (preferably without aluminum). Some may also want to buy one or more sources of sugar – granulated, brown, molasses, coconut flour, agave syrup, etc. But be aware that this is not essential since you can sweeten with fruits such as dates or bananas without any problem.
Seaweed, sweeteners, vegan cheese, nut milk even dairy-free ice cream! Several other products could be essential for some while others can do without them without any problem. This vegan food list of essential items will, therefore, serve as a basis for you to build your own selection of essential products for your vegan kitchen.
---
Cover photo: myfoodandhappiness/Instagram