11 excellent vegan keto recipes to eat high fat and bacon-free
Going high fat, but dropping meat, dairy and eggs? Keep your carbs low, your soul happy and your body satisfied with these vegan keto recipes.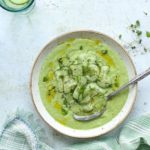 We know what you are thinking: The American Bacon Society* is the unofficial keto spokesperson. Bacon is the base of every ketogenic dish, even dessert. When keto dieters are not eating bacon, they are munching on eggs cooked in butter and wrapped in bacon. And you would be right, but you're also forgetting about avocados. Avocados, my friends, besides being more delicious than words can express, are fruits. Therefore, vegan keto is possible. To prove and add to this strong argument, here are 11 excellent vegan keto recipes low in carbs and completely meat, dairy and egg-free for all the high-fat vegans out there or anyone looking to reduce their animal product consumption.
Advertisements
Taco Stuffed Avocados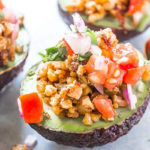 Who needs tortillas when there is avocado. The ketogenic diet's favourite fruit is the perfect vessel for Martina's recipe from Keto Diet App. This delicious vegan and low carb version of taco filling is made with cauliflower rice, crushed walnuts and a blend of spices. Top yours with homemade or store-bought sugar-free salsa and creamy high fat and egg-free mayonnaise or skip the garnish. Fresh, simple and healthy, these tacos stuffed avocados are a perfect everyday lunch.
Advertisements
Dairy-free Keto Mac and Cheese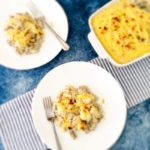 You'd think mac and cheese would be a total no-go for keto vegans because of "macaroni" and "cheese." But thanks to Julie from Julie's Lifestyle, it is no longer the case. She was able to create a vegan and a low carb version of one of America's favourite comfort food. Even better, it's actually healthy. Made from cauliflower and featuring an option adapted for the high-fat lifestyle, this mac and cheese will help you stay in ketosis when in need of a cheat meal. 
Advertisements
Thai Curry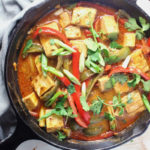 Deliciously fatty and often naturally free from animal products, curry is a keto vegan's best friend. It is filled with an array of aromas and exists in many forms so you can never get bored. Try different Indian and Thai ones like Idriss' and Lea's recipe from Broke Foodies. Their delicious tofu and bell peppers curry is complex in flavours, extremely simple to make and ready in only 20 minutes.
Advertisements
Mushroom Fried Rice Skillet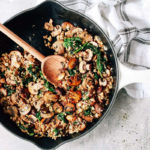 Skillets were created for busy cooks, lazy cooks, newbie cooks, lousy-but-full-of-good-intention cooks and this particular recipe is also perfect for ketogenic cooks. Filled with all the best and low-carb veggies, this keto fried rice – a.k.a. cauliflower rice – gives you all the fat and flavours while being simple, quick and easy. Enjoy Olivia's recipe from Primavera Kitchen as a side or a main dish.
I Heart Veggies Soup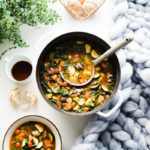 When winter hits and you can no longer exit the house without spending 15 minutes bundling up, few things are more appetizing than a warm cup of hot cocoa and a comforting vegetable soup. We have got you covered for the latter. This veggie-packed soup is keto-friendly and sure to warm any heart. Brook Lark's recipe features the lowest carb vegetables in a simple, but far from boring, soup.
Zucchini Noodles with Pesto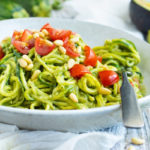 Enjoy a big plate of pasta without getting out of ketosis with London from Evolving Table's recipe. Spaghetti squash is not the only way to enjoy noodle dishes and dodge the carbs, zucchini is also an amazing alternative. All you need is a spiralizer and only a few minutes. What better way to get your fats in than to top them off with a creamy avocado and pine nuts pesto. This extremely easy recipe is perfect when you lack inspiration, but you might just end up craving it every other day.
Avocado Fries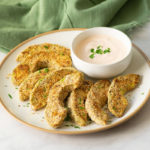 Surely, no one will complain about yet another way to enjoy avocado. This time, this creamy green deliciousness presents itself in fried form. Move over potato, avo is the new best french fry ingredient. This crispy on the outside and soft on the inside guilt-free pleasure will bring joy to your life. Even better: this beautiful creation by Amanda from Mindful Avocado necessitates only four ingredients and cooks in 15 minutes.
Broccoli Rice Tabbouleh
Of course, this selection of vegan keto recipes wouldn't be complete without a salad dish. But Jo's gluten-free tabbouleh recipe from Modern Food Stories has nothing common about it. Not even its ketogenic-friendly rice which is not made of cauliflower, but rather broccoli. This creamy high-fat and low carb vegan take on the Mediterranean classic is not only filled with delicious flavours but also packed with nutrients. This fresh and colourful meal is perfect for a sunny summer day.
Vegan Low Carb Pizza Crust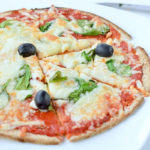 Let's face it, at some point you'll end up craving pizza. And yes, there are plenty of low carb cauliflower pizza crust recipes out there, but most contain eggs and cheese. Not this one. This fabulous coconut flour-based recipe is the answer to your vegan keto pizza needs. Carine's crust recipe from Sweet as Honey is the ideal base for all the high-fat low carb toppings you want. So forget about pineapple. Pineapple is full of sugar and does not belong on pizza.
Walnut Chili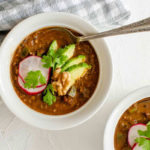 Chili is this comforting hearty meal that is perfect for winter as well as summer, in a bowl, on its own or in a lettuce wrap. Abbey from Abbey's kitchen's version is not only keto and vegan but also gluten-free and high in protein. Packed with healthy ingredients, extremely filling and full of flavours, this recipe will please carnivores and sugar addicts just as much as the low carb and animal product conscious ones. Oh, and wait until you see the special ingredient.
Cauliflower Steak with Lemon Tahini Dressing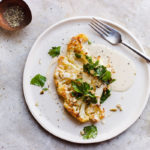 Keto dieters are big on steak and vegan ones can be too thanks to these delicious herbed cauliflower steak with lemon tahini dressing from the book Power Plates: 100 Nutritionally Balanced, One-Dish Vegan Meals and shared by Sherrie Castellano on her blog With Food and Love. Now, I know what you are thinking: these are not steaks. Which, in a way, is a good thing. But then again try the recipe and let's talk about it afterwards.
While being vegan and eating high-fat and low carb is far from being a walk in the park since it can be quite restricting, the lifestyle is absolutely possible. Sure, most keto snacks are a no-go, but you can eat well and enjoy your meals while benefiting from ketosis. From smoothies to delicious simple or complex dinner recipes, a plant-based high fat diet doesn't have to be difficult. All you need is a little imagination, a lot of good will and these 11 delicious vegan keto recipes.
*Such society does not exist, yet.