10 delicious spaghetti squash recipes for every occasion
Make a change to your everyday meals or go low carbs without feeling deprived with those original or comforting and classic spaghetti squash recipes.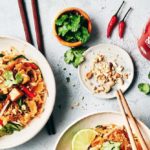 So you're trying to cut out carbs. Perhaps you've been eating keto or Whole30 for a while and are looking for a way to satisfy your pasta cravings. Or maybe you're simply on the hunt for new noodle recipe ideas to break the dinnertime routine. Already in love with spaghetti squash and hoping to find new ways to use this magical winter vegetable with a split personality? From creamy and warm to fresh and lemony, these 10 spaghetti squash recipes will make you rejoice every time you spy one at the farmers' market (or the grocery store). Never has fighting with a squash to cut it in half been so worth it.
Advertisements
Roasted Garlic, Kale, and Sun-Dried Tomato Spaghetti Squash
Light, yet cozy and all around healthy, this fresh and comforting dish is the perfect everyday meal. Extremely simple to prepare and easy on the digestion, Julia's recipe at The Roasted Root only requires five ingredients and is a lot less heavy than regular pasta drenched in oil. It's the kind of no-fuss dish we love to bring for lunch the following day whenever the family blesses us with leftovers. Make sure you don't forget the roasted walnuts for extra crunch.
Advertisements
Spaghetti Squash Breakfast Patties
Surprise everyone with spaghetti squash in the morning with this great fritter recipe from PCC Community Markets. Slightly sweet, the squash pairs perfectly with bacon, cheese and herbs for a savoury breakfast or brunch. The very stringy winter vegetable is a perfect, yet unexpected alternative to potato and zucchini for breakfast patties. Serve them on their own, or combine them with an herby Greek yogurt dip or fried eggs.
Advertisements
Chili Stuffed Spaghetti Squash Bowls
Skip the tortilla and serve your warm chili in a bowl, a spaghetti squash bowl. Part meal, part bowl, the squash adds a fun and delicious touch to this satisfying and comforting veggie filled Tex-Mex classic. Sarah's dairy-free, gluten-free and vegan recipe from Making Thyme for Health is sure to please everyone. Meat and dairy lovers are welcome to add ground beef and grated cheese to this healthy meal ideal for a cold fall or winter day.
Advertisements
Spaghetti Squash Pad Thai
We all know homemade is healthier than takeout. But with Bri and Anguel from Ever Green Kitchen's delicious recipe, you can add tastier and a whole lot less carb dense to the list. Their spaghetti squash version of the traditional pad thai is more colourful and fresh then it's restaurant counterpart. And it's also vegan! They call it "authentic with a twist", we call it extremely tasty.
Spaghetti Squash and Polenta with Ricotta, Sage and a Fried Egg
Got some leftover cooked spaghetti squash and you're not in the mood for store-bought tomato sauce? Cook this creamy and original dish for a delicious meal ready in minutes. Ideal for a quick bite or a dinner for one, it's the perfect way to use your leftover squash and feel like you are dining out. Rich and comforting, Mallory's recipe with creamy polenta, ricotta, crispy sage and a fried egg offers everything you need to fuel your night and warm your heart.
Garlic Chickpea Spaghetti Squash
Skip the meatballs, but still get your proteins with this garlicky spaghetti squash recipe. Quite the timesaver, Christine McMichael from Jar of Lemons' take on garlic, chickpeas and tomato sauce on spaghetti squash noodles only requires 5 minutes of preparation. Cook the squash in the oven while you prepare the sauce, get some work done, take care of chores and relax. Or cook it in the microwave to have it ready in no time. Then put everything together and enjoy a quick, tasty and healthy dinner.
Creamy Cauliflower and Garlic Spaghetti Squash Noodles
Alfredo can also be prepared with spaghetti squash. This creamy recipe thought by Kaylie from Paleo Gluten Free Eats is the ultimate proof. As the name of her blog indicates, this rich and comforting meal is also dairy-free and fit for celiac people. What more can we ask for? One or two extra servings of vegetables? You'll be delighted to know that even the sauce is made from cauliflower, among other things. In short, this special creation holds every aspect of a super healthy meal. Everything, but the taste.
Turkey Meatballs and Spaghetti Squash
Spaghetti bolognese with a healthy and low carb twist is possible with this beautiful take on the classic featuring turkey meatballs and spaghetti squash noodles. Tieghan Gerard's recipe on Half Baked Harvest is not only delicious and a great alternative to a classic favourite, but it is extremely easy and quick to make. You don't even have to roast the squash in the oven, simply cook all the ingredients together in an instant pot. 
Chèvre, Toasted Almonds and Lemon Thyme Vinaigrette Spaghetti Squash
This perfect-for-Indian-summer-recipe is fresh and light enough to be enjoyed in warm weather and ideal to showcase delicious in season spaghetti squash. Ready in 15 minutes and most likely devoured in just as much, this vegetarian dish combines strong flavours and simple ingredients in the best possible way. Katie's super easy to make recipe from Healthy Seasonal Recipes can be enjoyed hot, warm or cold.
Spaghetti Squash With Sausage and Pesto
The only thing this spaghetti squash recipe selection is lacking is some pesto action. This is where Nathalie's spaghetti squash with sausage and pesto comes into play. Her Whole30 approved recipe from Tastes Lovely is gluten-free, dairy-free and easily adapted for vegetarians, vegans or pescatarians. Try replacing the sausage with grilled shrimp for a seafood version of this delicious herby meal.
Don't be mistaken, spaghetti squash does not taste like regular pasta. It has its own sweet and hearty taste and al dente-like texture. But, while it doesn't compare to wheat noodles in flavour, it sure makes a great low carb alternative with qualities of its own. Whether you serve it in regular plates or as a squash bowl for originality, your meals are sure to be a success and will definitely hit the spot.
---
Cover photo credit: evergreenkitchen/Instagram