14 winter outfits to look cute for when the mercury drops
Looking to beat the winter blues? Get inspired by these 14 winter outfits to stay fashionable even when the mercury drops.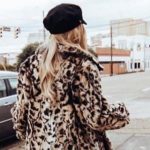 Winter dressing often rhymes with layers, bundling up and static. You can't go outside without checking the weather and without bringing at least a hat, gloves or a scarf. It is not easy to wear something trendy and cute when the outside world is covered in icy sidewalks and there's a chilly wind that seems to penetrate through all your layers. Women who love fashion always struggle between looking cute and staying warm during the snowy and cold months. If getting a frostbite is not something you wish to experience, take a look at these 14 winter outfits to look fashionable even the mercury drops. You'll never have to choose between style and warmth again!
Advertisements
Ice melting LBD
A short wool jacket, a little black dress, wool stockings, and a ladylike bag looks sophisticated and chic in the day or at night. The thick coat will keep you warm (add a scarf for extra drama) but wear thick socks in your boots so your lower body doesn't freeze since it is exposed to the elements.
Advertisements
French je-ne-sais-quoi
Do you like to keep up with the trends? Stay warm but look fashionable with this beret and mom jeans look. The touch of leather elevates the more laid-back oversized jacket, crop top, jeans and converse shoes. Don't be surprised if someone asks you if you're from Paris.
Advertisements
All wrapped up
A long belted wool jacket is sure to keep you warm, especially if you cheat and you wear a light down jacket underneath to be extra warm. No one will notice and you won't be freezing even on the coldest of days. The cropped jeans and high ankle boots that peak through make this look very easy to recreate.
Advertisements
Overall chic
Overalls don't only look cute on 5-year-olds! Grown-ups can rock them too. Pair them with a thick cotton hoodie, a fanny pack, funky socks, sneakers and a warm and long coat just like Aude-Julie did. You'll look like a real street style star.
Neutral territory
This classy and timeless look can easily take you from day to night. A cashmere turtleneck, high-waisted jeans, high boots and a wool trench is easy to recreate and something you can wear again and again. The mix of blue and beige really complement each other and will instantly make you look put-together and ready for anything.
Countryside edge
Edgy, cool and casual, this English countryside-inspired winter outfit is super warm but still looks super fashionable. The leather pants, army-inspired boots, long quilted parka, engineer cap and thick knitted sweater oozes comfort and style. Magnificent background not included, unfortunately.
Teddy bear chic
Teddybear coats have really become a winter staple in recent years. Warm, cute and fun, they look great with everything including jeans and ankle boots. Stick with a neutral colour to easily match it with numerous items from your closet.
Double trouble
Two coats? Yes! We previously mentioned that you could hide your light down jacket under a dressier wrap coat but you can also just wear two patterned wool coats that go well together for a stylish take on the double coat trend. Make sure one is oversized so you don't look like the Michelin Man and can't move your arms. Pair them with jeans, Chelsea boots and a turtleneck for the perfect everyday look.
Winter whites
White after Labour Day? But of course! Nothing looks chicer than white in the wintertime. Even if she looks really stylish, if you look closely you'll realize she's wearing sweatpants (gasp!). Grab a white turtleneck, white jeans or cashmere pants and a baby pink long faux fur coat to protect yourself from the fierce wind.
A wild time
This long teddybear coat will protect you from the elements no matter what mother nature throws your way. Paired with distressed jeans and white boots, this coat will be perfect for your Sunday brunch with friends when you are barely awake and you go from your warm covers to your cozy coat.
Shoo the winter blues
A Canadian tuxedo works in the summer as well as in the winter. Find an oversized denim coat, wear your warmest sweater underneath, add a blanket scarf, heavy duty boots and a cute hat to soften the look. This outfit might not be warm enough in January or February but you can easily start the winter season in this look.
Dreamy winter romance
Romantic, flowy and dreamy, this winter look is timeless. Get your summer dress out of storage and pair it with a long wool or cashmere coat, an oversized knit scarf and a pastel-hued beret that matches with your coat. Don't forget stockings to winterize your legs so you don't freeze.
Puffer 2.0
Why choose a normal puffer when you can choose a leather camel-coloured one? Stand out of the crowd with this show-stopping coat full of personality. Warm, edgy and easy to wear, you'll be rocking this look all winter!
Micro mini
Many women avoid wearing dresses or skirts in the winter because they are scared to catch a cold. If you don't mind showing a little skin, go all out and wear a micro mini with high boots, a blazer-inspired coat and finish the look with a lady-like wool turtleneck. Sophisticated and eye-catching.
No matter your personal style, these winter outfits are all very wearable and can easily be tweaked to fit your desired look. Dressing in the winter doesn't have to be boring or frustrating anymore. Your outerwear can be as fun and fashionable as your outfits underneath so go out and enjoy winter and all its glory.
---
Cover photo credit: anthropologie/Instagram