20 fashionable wardrobe essentials every woman should own
Trying to reduce your carbon print? Why not start reducing the number of clothes you buy? Here are the 20 wardrobe essentials you actually need.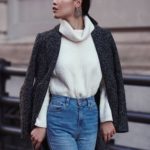 Do you ever make a huge mess in your room trying to find something to wear? Even if your closet is overflowing with clothes, sometimes it seems impossible to find anything to put on whether it is for coffee with friends, a first date or for a dinner with a loved one. If you want to make things easier then cut out the clutter. However, before you throw everything out, there are some items every woman should own: these items are versatile and can be worn in many different ways. Blue jeans, a white t-shirt, a leather jacket and a black dress are just some examples. The 20 fashionable wardrobe essentials below will help you understand that sometimes, less is more.
Advertisements
Tailored blazer
Blazers don't absolutely need to be worn with trousers and aren't reserved for the office anymore. If you want a polished but relaxed weekend look, a blazer, blue jeans and a white t-shirt or button-down can be a great choice. The sleeves are too long? Go to your local tailor and get your blazer to fit you perfectly. A beautiful blazer only looks good if it fits properly.
Advertisements
Ankle boots
They look good with skinny jeans, mini skirts and flowy dresses, ankle boots with a small heel (between 1.5″ and 3″) are the perfect day and night boot. Black leather ones, of course, are a classic choice but if you're feeling more adventurous, you can also get some tan ones or suede forest green ones, you choose! This is an item that is worth the investment since you'll be wearing them pretty much all fall, spring and even in the summer.
Advertisements
Little black dress
The famous LBD is a lifesaver for any situation. Last-minute wedding invitation? Perfect. Office party? You're covered. Family reunion? Piece of cake. Any situation that requires you to dress up a bit can be remedied with a little black dress. If you find black boring just remember that accessories will make the outfit. A stack of layered gold necklaces, funky and colourful shoes and a bright lipstick just upgraded your outfit from a B to an A+.
Advertisements
Black leather belt
Unfortunately, many people think that belts only exist to keep your pants from falling down to your knees. We'll admit it's a good reason for their existence but belts are also great fashion accessories. Pair your favourite black leather belt with your favourite jeans and tuck your chunky sweater or figure-hugging turtleneck in your pants to add emphasis to your waist. Your belt is too long? Loop it around like in the photo above to create an effortlessly cool look.
Turtleneck
Audrey Hepburn wore them, so did Marilyn Monroe and Jacqueline Kennedy. Turtlenecks are a wardrobe essential every woman should have in her closet. They look great with ankle jeans, pencil skirts and trousers. This is a classic piece you will keep all your life.
Black heels (you can actually walk in)
A black pump with a respectable heel is the shoe equivalent of the little black dress. Paired with a blazer, ankle jeans and a turtleneck or white t-shirt, a dress or skirt, these heels will lengthen your legs and make you look polished and put together. Stilettos are lovely but if you can't walk in them after half an hour, what's the point?
Basic t-shirts
Basic t-shirts are your best friends. Having a white one and a black one is a real must but you can branch out a bit and get one or two more t-shirts in colours you know suit you. Redheads look really good in green or purple, darker complexions on the other hand rock yellows and blues. Don't spend tons of money on your t-shirts since they easily get ratty or stained. The secret? Buy them in bulk.
Crossbody bag
Do you always find yourself with a hundred different things to carry? If yes, then a crossbody bag is a great buy. A hands-free handbag, the crossbody is usually big enough to fit all your essentials and a little more. There are plenty of options to choose from and this bag might save you from spilling your coffee all over you.
Blue jeans
You can keep a pair of perfect blue jeans for 10 even 15 years if you take good care of them. Jeans look good with pretty much everything: they can be dressed up or down and come in about 100 shades of blue (and black, and white, and grey…). It might take a bit of time to find the perfect pair but once you do, you'll never want to get rid of them.
Trench coat
A British fashion staple, the trench coat is a great transitional piece to go from spring to summer or summer to fall. Long, short, beige, black, burgundy, fitted, oversized, whatever you choose, this jacket will complete any outfit that needs a little extra something.
Pencil skirt
A slim-fitting and properly tailored pencil skirt can easily take you from the office to happy hour with friends or date night with your significant other. Lovely with strappy sandals, sneakers, a cropped top or oversized wool sweater, the pencil skirt is not reserved for the office anymore.
Cashmere (or wool) sweater
Nothing is softer than cashmere. Extremely delicate, cozy and light, a cashmere sweater oozes sophistication and elegance. Perfect with jeans and ballet flats, this classic piece will be in your wardrobe all your life. However, cashmere can be quite expensive so you can always buy a wool sweater instead which tends to be a little more affordable.
Ballet flats
You've got comfortable and sleek black heels but now you need some ballet flats for the day. These versatile and chic shoes became popular after Audrey Hepburn wore them in Funny Face in the 1950s and have since then become a real fashion staple. Pretty with ankle jeans, dresses or trousers, you'll wear them all the time.
White button-down
The white button-down shirt is casual yet stylish. A pair of jeans, flats and a white button-down looks great for brunch or for weekdays at work if you're lucky enough to have a job where you can keep your outfits casual. Whatever your budget, you'll find a shirt you can wear for almost any occasion.
Sneakers
Ballet flats are great but if you walk a lot and want more foot support, sneakers are a must. These shoes have recently become huge with fashionistas and you can wear them with almost everything. If you want to wear a dress during the day but still keep things casual, you can wear it with white sneakers or wear them with boyfriend jeans and a white button-down for a polished but relaxed outfit.
Black trousers
Black trousers revolutionized and democratized women's fashion. When celebrities like Marlene Dietrich and Katharine Hepburn started wearing them in the 1930s, every woman wanted to wear pants. Still extremely current, trousers look great with heels and a silk blouse or white button-down. More polished than jeans, trousers definitely have a place in your wardrobe. From the office to the bar, you can easily transition from day to night with these pants.
Evening bag
What's the difference between a crossbody bag and an evening bag? The evening bag tends to be more dressy and smaller since you're only bringing your essentials like your phone, wallet and keys during your night out. Choose one in leather, suede, sequins, or even (faux) fur! The options are limitless. The smaller the bag, the less clutter in your life, right?
Day dress (wrap dress)
We did mention that a little black dress is essential for any occasion since it can easily be matched with various accessories. However, a day dress must also be included in your wardrobe essentials. A pretty and flowy day dress can be dressed up or down. Wear it with heels for a date night or with sneakers and a leather jacket for a Saturday morning outing. Mini, midi or maxi, day dresses can be any colour, pattern or texture that best suits you.
Leather jacket
The ultimate cool girl fashion item, the leather jacket elevates any outfit. They can be expensive but remember it's a great investment if you take proper care of it. Don't worry vegans, cruelty-free leather jackets are just as nice as the animal ones and more and more stores like Free People, Topshop, Anthropologie, H&M and ASOS have great vegan options.
Silk shirt
Silk shirts are an everyday essential. How are they different from the button-down shirt? Well, firstly, they are made with silk! Animal prints, polka dots, stripes or flowers, no matter the pattern you choose, you can wear this fashion item in the day, at work or at night for your dinner date out on the town.
How many of these items do you have in your closet? Hopefully, you have a few. As you can see, these 20 fashionable wardrobe essentials are easy to mix together and can create tons of different outfits. Keeping your closet clutter-free with items you know you can wear again and again and that will never go out of style is economical, ecological and great for your peace of mind.
---
Cover photo credit: @anthropologie/Instagram