Airline Secrets Every Traveler Should Know
1

Emergency Oxygen Masks Only Last 12-15 Minutes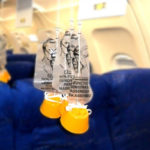 Advertisements
Emergency oxygen masks are rarely needed while traveling. However, if the emergency masks do drop down in the middle of the flight, they only last for about 12-15 minutes. After that, the masks are not equipped to pump out sufficient oxygen.
However, this isn't as scary as it seems. Generally, 12-15 minutes is more than enough time for the pilot to lower the plane to a safe altitude, eliminating the need for oxygen masks. In fact, the first 30 seconds after the oxygen masks drop down are the most important. If the cabin pressure drops to unsafe levels, waiting longer than that initial 30 seconds to put on your mask could cause you to pass out.
Advertisements
2

Pressurized Cabins Affect the Taste of Food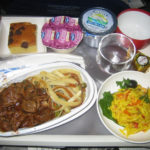 Advertisements
Jokes about airline food are basically their own genre of comedy. However, the bland, unappetizing taste of airline food isn't just the result of cheap ingredients or bad cooks. Rather, being in the airplane actually alters your sense of taste.
At 30,000 feet, your taste buds and sense of smell are heavily impacted. In fact, your ability to taste sweet and salty foods is reduced by around 30% because of the low pressure and dryness of the cabin. As such, airline meals are often over-salted and over-seasoned to compensate for your reduced sense of taste. In short, your own taste buds might be to blame if airline food isn't quite to your liking.
Advertisements
3

Flight Attendants Have A Special Bunk For Long-Haul Flights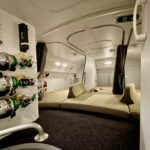 Advertisements
As airline technology grows more advanced year after year, airplanes are taking on longer and longer flights. For example, some planes fly all the way from New York to Singapore, a trip that takes about 19 hours. While flight attendants might seem like superheroes, not even they can manage to work that long without any rest.
Most airplanes that undertake long-haul flights have a special, hidden cabin for flight attendants to sleep and rest. It's often a narrow room with little headspace that provides a few bunks for the crew members. The bunks include pillows, blankets, and a mattress pad, as well as a seatbelt, so flight attendants can stay safe while getting some rest.
Advertisements
4

Pilots Might Sleep During the Flight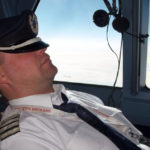 Advertisements
Working as a pilot is an inherently exhausting job. Not only do pilots often work long hours, but they also travel through multiple time zones while they work. Insufficient rest is a big problem in the industry, which may lead to accidents if pilots are simply too exhausted to do their jobs correctly.
Therefore, mandated rest is a big part of a pilot's job. Sometimes, however, pilots actually sleep while the plane is in flight. In general, "bunk rest" is a necessity for most pilots on long-haul flights. However, "controlled rest", where pilots sleep in the cockpit at the controls, is also a common practice. With controlled rest, the pilot essentially takes a 10-20 minute power nap during periods of low activity. The short rest actually helps the pilot to stay alert throughout the entire flight, rather than succumbing to exhaustion.
Advertisements
5

The Pilot Is The Ultimate Authority During A Flight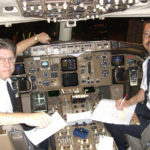 Advertisements
Much of the rules on airplanes descend from maritime law. Much like it for boat captains, the pilot of an airplane has ultimate authority while the aircraft is in flight. They have the power to respond to in-flight emergencies and make quick decisions for the safety of their passengers and crew members.
When it comes to flight plannings, dispatch, and delays, the pilot shares responsibility with the dispatcher. However, once the plane is in flight, the pilot takes on sole responsibility for the safety of his aircraft and the people on board.
Advertisements
6

Airplane Lavatories Can Unlock From the Outside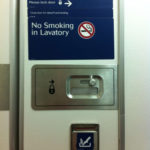 Advertisements
While most of us like to believe that we have total privacy while using the bathroom, that's not the case on an airplane. To ensure no other passengers walk in on you while you're doing your business, airplane lavatories do lock from the inside.
However, the bathrooms on airplanes are also able to be unlocked from the outside. The mechanism that unlocks the lavatory is often hidden, usually beneath the "no smoking" sign. Of course, this mechanism is only used in case of emergencies.
Advertisements
7

Leaving Your Cell Phone On Won't Cause A Plane Crash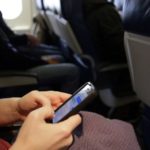 Advertisements
When you take a flight, all passengers are generally required to either turn their mobile device off completely or put it on airplane mode. Most people have been told that cell phones can interfere with the plane's instruments, causing fear that a working phone might lead to a plane crash.
However, cell phones can't cause enough problems that the plane won't be able to function. Rather than interfering with the actual equipment on the plane, cell phones can cause problems with the pilot's ability to communicate with the ground. Cell phones send out a strong signal that could interfere with cell towers on the ground, causing interferences in the pilot's headset. Such interferences could make it difficult for the pilot to communicate during critical portions of the flight, which is why airlines ask you to turn your cell phone off.
Advertisements
8

The Biggest Cause For Delayed Flights Is The Weather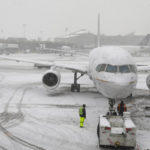 Advertisements
While flights are sometimes delayed due to issues with the aircraft, the biggest cause of delayed flights by far is the weather. In fact, 69% of flight delays are caused by weather concerns. Six percent of delays are caused by issues with the runway, and just 1% are caused by problems with the equipment.
If the weather is gorgeous where you are, the weather at your location is probably the cause of the delay. While delays are frustrating, at least you can rest easy in the knowledge that it's probably not due to an issue with the plane.
Advertisements
9

Pilots & Co-Pilots Don't Eat The Same Meal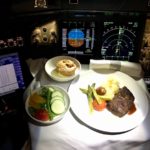 Advertisements
According to official rules, pilots and co-pilots are not allowed to eat the same meals while they're working. The rule seems strange at first, but the reasoning behind it actually makes perfect sense.
If something is wrong with the food, the rule is in place to keep both pilots from being affected. Therefore, if one pilot faces food poisoning or some other food-related issue, the other pilot can take over. Some airlines even take things one step further by discouraging pilots from eating certain foods, like raw fish, before and during their flights.
Advertisements
10

Commercial Airlines Don't Carry Parachutes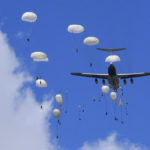 Advertisements
If something goes wrong during your flight, it's probably not comforting to know that commercial airlines don't carry parachutes. While they might be helpful in a true emergency, they present too many problems to make them a permanent addition on board.
Parachutes are incredibly expensive. What's more, they would increase the overall weight of the plane, leading to higher fuel consumption, which increases the cost of the whole flight. In addition, passengers are not trained to use parachutes, and commercial planes aren't designed to allow people to jump out. With those concerns in mind, the addition of parachutes on commercial planes doesn't really make sense.
Advertisements
11

Airplane Water Is Really, Really Dirty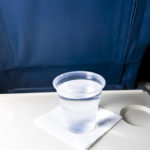 Advertisements
Next time you take a flight, you should definitely bring your own water, or make sure any water you get comes from a bottle. Apparently, the water provided on planes is incredibly dirty.
On some aircraft, the ports that contain water and the ports where the lavatories are drained are located very close to each other and are sometimes serviced by the same people, increasing the risk of cross-contamination. What's more, The Wall Street Journal tested airplane water and found bacteria levels far above what the US government generally allows.
Advertisements
12

Lights Are Dimmed To Prepare For Evacuation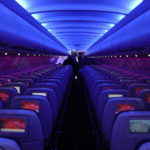 Advertisements
Have you ever noticed that airplanes tend to dim the lights upon landing, especially if you're landing at night? While the move seems to promote a calm environment, there's actually a much more practical reason the lights are dimmed.
Dim lights help to prepare you for evacuation in case of an emergency. Since the lights are low, your eyes will already be adjusted to the dark, allowing you to move quickly if you're forced to leave the plane in a hurry. It's just a precaution, but it will certainly change how you feel about those dim lights.
Advertisements
13

The Blankets Aren't Washed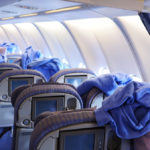 Advertisements
Most airlines provide a cheap blanket and pillow for each passenger, particularly on long-haul flights. However, those amenities might not be the most sanitary.
In general, only the first flights of the day receive fresh, washed, clean pillows and blankets. For the rest of the flights, the blankets are simply refolded and set up for the next passenger. You might want to think about that before snuggling in for an in-flight nap.
Advertisements
14

Tray Tables Aren't Cleaned Often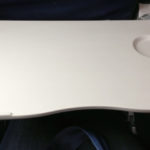 Advertisements
Air travel in general isn't exactly sanitary. When passengers leave an aircraft, they often assume that the flight attendants are spending their free moments before the next flight cleaning up to ensure a fresh space for the next round of passengers. However, the cleaning isn't nearly as deep as most passengers would prefer.
The tray tables, specifically, are only cleaned roughly once per day. Even though passengers might sneeze all over them or even change their baby's dirty diapers on the tray table, the table is only wiped down when the aircraft is stored overnight. While it would be time-consuming to clean each tray after every flight, the thought that your tray table is full of other people's bacteria is more than a little alarming.
Advertisements
15

The Air In The Plane Comes From The Engines Compressors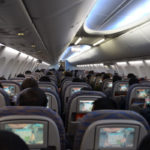 Advertisements
Obviously, you're not breathing fresh air when you're flying in a plane. But most passengers don't know that you're actually breathing recirculated air from the engine's compressors.
In an airplane, the compressors warm and pressurize air from outside the plane. That air is then circulated through the cabin, allowing passengers to breathe. But don't fear—the air you're breathing isn't the engine's exhaust, though it does find its source in the engine.
Advertisements
16

You Can Ask For A Full Can Of Soda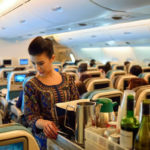 Advertisements
During in-flight service, flight attendants ask each passenger if they would like something to drink while often providing a small snack. If you request a soda, the flight attendant will fill a small cup with your drink, often giving you about a quarter of the can.
However, you don't have to settle for such a small amount of soda. If you'd like a full can, you can simply ask the flight attendant. Usually, they'll happily give it to you.
Advertisements
17

Cabin Pressure Is Equal To Altitudes Of Up To 9,000 Feet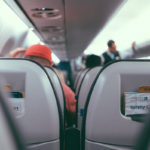 Advertisements
Humans simply can't survive in the altitudes airplanes fly at, usually 30,000 to 45,000 feet. That's why the cabin pressure adjusts the oxygen level onboard, allowing passengers to actually breathe while traveling so high in the sky.
The oxygen level on airplanes is usually similar to elevations of about 5,000 to 9,000 feet. However, high altitudes are generally considered to start at around 8,000 feet. Therefore, some passengers might still be susceptible to altitude sickness, depending on the cabin pressure on board the plane.
Advertisements
18

The Crew May Not Be Paid For The Entire Time They're Working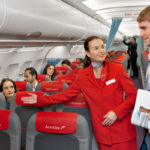 Advertisements
Each airline has its own processes for how they pay their employees. However, some flight attendants aren't actually paid for the entire time they're working.
In some cases, flight attendants are only paid while the plane is in the air. If the flight is delayed and the plane is sitting on the tarmac, flight attendants aren't paid for that period of time. In other cases, flight attendants are paid when the plane departs the gate, which accounts for any delays as long as there are passengers on board. Still, it seems most flight attendants aren't really paid what they're worth.
Advertisements
19

Sitting At The Back of the Plane Is Safer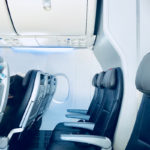 Advertisements
Some passengers love to sit at the front of the plane so they can get off more quickly when the plane lands. However, research shows that sitting at the back of the plane is actually easier in case of an emergency.
If the plane has to make an emergency landing or even a controlled crash, the passengers at the back of the plane have a higher chance of coming out of the situation unscathed. If you tend to have a fear of flying, sitting at the back of the plane might assuage some of your worries.
Advertisements
20

It's Nearly Impossible To Open A Door During A Flight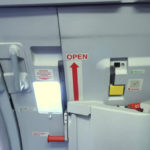 Advertisements
The pressurized environment in the cabin on airplanes is very delicate. A cracked window or an open door could easily upset the balance, and might even destabilize the aircraft. However, it's thankfully nearly impossible to open a door while a plane is in flight.
Despite what you might have seen in movies, airplane doors are designed in such a way that they almost act as a plug. While in flight, thousands of pounds of pressure presses onto the door, making it nearly impossible to open unless you have some sort of superhuman strength.
Advertisements