The Most Relatable Squid Game Memes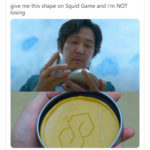 Advertisements
In all honesty, your childhood was not complete if you didn't draw this on your paper a million times.
If this was the shape we were given, there would be no way that we would lose. We know all of the ins and outs of it by heart.
I Wasn't Ready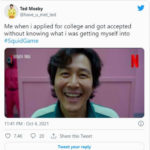 We can all agree that college is pretty much a real-life version of Squid Game. Maybe without so much violence, but basically the same.
The people who signed up to be a part of the games quickly realized that there was more to it than just winning money.
Advertisements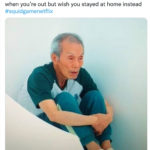 Advertisements
This is an exact image of us when we realize we should've stayed home, which is almost every time we go out.
In this case, Oh Il-Nam definitely should've stayed home. He never should've gotten involved with sponsoring the game in the first place.
Not As Planned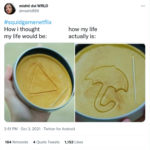 It would be nice if we were dealt the triangle honeycomb of life. As it turns out, most of us were dealt the umbrella. The tiny little intricate umbrella.
Oh, by the way, Sang-Woo should've warned Gi-Hun about the shapes. We won't get over it.
Advertisements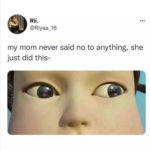 Advertisements
The death stare. We all know the look, and we've all been on the receiving end of it more than once.
It's a good thing that our mom didn't have the capability to shoot lasers out of her eyes; we'd be done.
What Would You Play?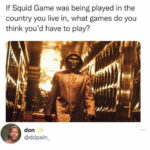 Musical chairs, Red Rover, Hide and Go Seek… They'd be ruined forever.
Red Light Green Light and Tug of War have already traumatized us enough.
Advertisements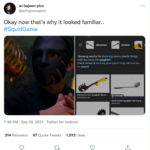 Advertisements
As soon as we saw this mask, we immediately recognized it from somewhere. But where?
Well, obviously, it's just a spaghetti ladle with the handle cut off.
Oh, The Choices!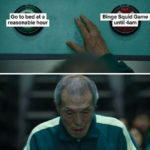 The obvious choice is to binge every episode, right? I mean, unless you have some sort of self-control.
But, if you're like us, you don't. And you stayed up all night long watching every single episode.
Advertisements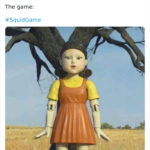 Advertisements
It's all fun and games (literally) until you move and your fate is sealed.
The first episode takes an innocent childhood game and turns it into a nightmare. You'll be on the edge of your seat as you watch the players try to navigate their way through the game.
Don't Trust Hot People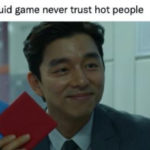 Gong Yoo sure knew how to sweet talk people into basically agreeing to die.
Even though Gong Yoo only made a short appearance in the series, fans seem to want more. Just because you can't trust him doesn't mean that he's not nice to look at, you know?
Advertisements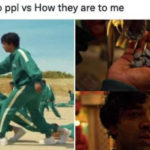 Advertisements
Of course, we would all do what we could to save someone if it was a matter of life and death. But would they do the same for you?
Ali Abdul saves Gi-Hun when he slipped over someone else's body, and they both managed to make it across the finish line. But when it was time for someone to save Abdul's life, he gets let down.
It's The Truth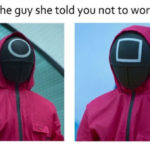 If she is telling you not to worry, you should definitely worry. The Front Man obviously runs the show, literally and figuratively.
In the series, you can find all of the armed "guards" who organize the games. The Front Man, spoiler alert, is the winner of the previous Squid Games and is not someone to mess with.
Advertisements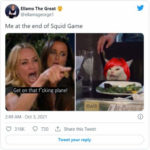 Advertisements
Seriously, this is exactly how we felt. Just get on the plane and go see your daughter!
Apparently, it's not enough to make it out of the game alive.
The End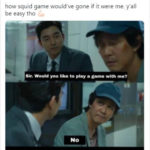 After watching the series, we definitely won't be playing games with strangers anytime soon.
If these people all said no, would there still be games? Would the VIPs just kidnap them and force them to play the games?
Advertisements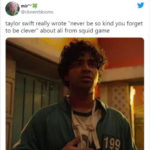 Advertisements
Oh, Ali. You were one of our favorites. But you were a little naive.
How could you be so caring, but oh so clueless at the same time?
Father Of The Year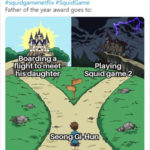 Would you board the plane or return to play another round of the Squid Game and risk your life for the second time?
Obviously, any normal person would choose to go see their daughter, but not this guy. He just lives for the trill.
Advertisements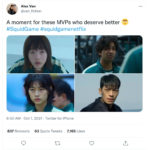 Advertisements
Ji-yeong, Ali Abdul, Sae-byoek, and Hwang Jun-Ho, you didn't deserve this. You were there for the right reasons, but unfortunately, did not make it out of the game alive.
Jun-Ho was only trying to find his missing brother, only to find out he was the Front Man. You all just wanted better for yourself and your families.
Only The Real Ones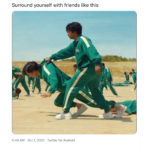 Would your friends risk their life for you like this? Can you even call them your friend if they wouldn't?
Ali is the type of friend that we all need in our corner. He risked his life during the game to save someone else.
Advertisements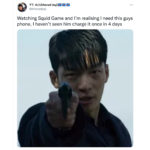 Advertisements
Can you imagine not having to charge your phone for four days? You wouldn't have to leave dinner early just because your phone died and you're waiting on an important call.
Jun-Ho, tell us your secret. Do you keep some kind of battery pack on you? We need to know!
I Need Therapy Now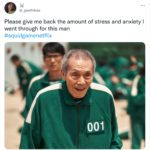 The amount of stress that we all felt while watching this man make his way through the game is unreal. The guy literally had cancer, how could you not feel bad for him?
But when we realized that he was a founder of the games, we all had instant regret for feeling so upset about his "death" while playing the game.
Advertisements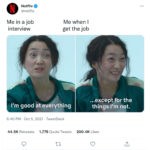 Advertisements
Admit it, we have all embellished something on our resume. We want to make it seem that we are overqualified for the job we're applying for.
It seems like a pretty good idea until you are actually required to perform those skills, and you have no idea what you're doing.
Come To The Dark Side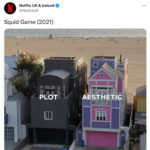 At the first glance at the setting of Squid Game, it looks like it could be a part of Willy Wonka's Chocolate Factory.
Until you actually watch them play the game. And you watch as players are picked off. And you have so much sadness and grief that you wonder how something so aesthetically pleasing could be so horrible at the same time.
Advertisements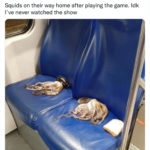 Advertisements
Just a couple of squids making their way home after a long and exhausting day of competing in the game of their people.
When we first heard of Squid Game, we imagined it might actually have something to do with squids, right? Wrong.
Not Good, Not Good.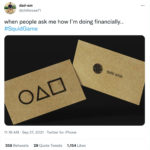 Oh, you know… Just on my way to winning these games and winning millions of dollars. What could go wrong?
I don't think anyone realized what they were in for when they dialed the number on the back of the card. They just wanted the chance to get some extra cash, not die.
Advertisements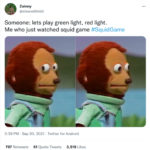 Advertisements
Games at recess in elementary school were the best. Red light green light? We dominated.
Now, when we hear someone even mention the name of the game, we feel triggered. It's not the same anymore.
So Proud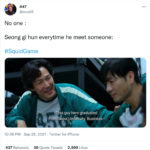 Gi-Hun and Sang-Woo are reconnected at the games, and Gi-Hun is just so proud of his former friend and he wants everyone else to be, too.
Even though they are literally fighting for their lives, Sang-Woo takes his own life at the end and requests that his old friend take care of his family when it's over.
Advertisements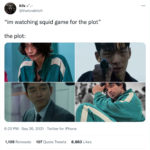 Advertisements
You can't tell me that you weren't a little bit into these characters. They were pretty gorgeous characters.
Even though some of them didn't exactly make the best impressions, they still had their looks going for them.
Emotionally Invested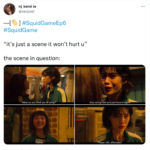 After watching this scene, you can't tell me that you didn't cry just a little. Even if you didn't, your eyes definitely filled with tears.
After Ji-yeong heard Sae-byeok's story, she decided that she was going to sacrifice herself so that her friend could win. What's even worse is that she ended up getting picked off too. What a whirlwind of emotions.
Advertisements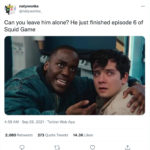 Advertisements
This episode and the number of deaths that we had to watch were pure evil. Some of our favorite players got handed the worst hand and didn't make it out.
It only makes sense for someone to take time to fully ingest what they had just witnessed during the marble game of episode 6.
Before And After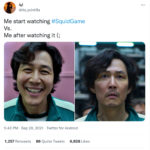 When you begin watching the series, you think the players will just compete for money. While that part is still true, it's hard to understand why they are playing for their lives.
You don't exactly know what you're getting yourself into.
Advertisements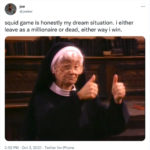 Advertisements
There are two endings when it comes to participation in the Squid Game. You either win millions of dollars or you end up dead.
For some people, it's a win-win situation.
R.E.S.P.E.C.T.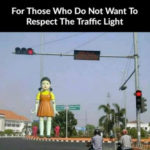 If you don't play by the rules, you should suffer the consequences. Maybe not to this extreme, but consequences nonetheless.
Imagine pulling up to a red light and you see this large doll ready to eliminate anyone who doesn't obey the rules.
Advertisements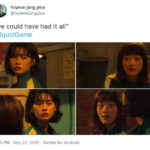 Advertisements
We wanted these characters to win so badly, but they unfortunately decided to be partners in a game where one of them had to die.
There is no way that you didn't feel some kind of emotion when you watched Sae-byeok walk away, only to hear her friend die behind her.
The Real Villain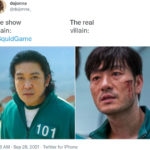 We all watched the series, thinking that this player was the villain the whole time. Only to find out that Sang-woo was the real villain.
Sang-woo betrayed those who trusted him. What could be worse than that?
Advertisements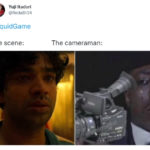 Advertisements
Can you imagine what it would feel like to be the cameraman while filming this scene?
I mean, we know it's only acting… But it still felt real.
Admit It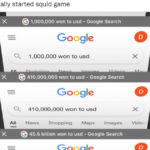 As soon as we found out how much money these players could win, we definitely wanted to find out how much money that would be in our currency.
Admit it, you went straight to Google to find out. We all did.
Advertisements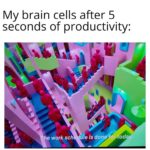 Advertisements
Seriously, though. How does someone work all day without taking any breaks?
It's almost impossible. Most people wouldn't automatically head home, though.
What "Squid Games"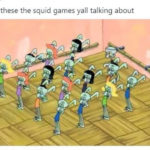 Are these the Squid Games that y'all are talking about? With the Squidward Tentacles himself?
All jokes aside, we expected to see at least one squid during the series.
Advertisements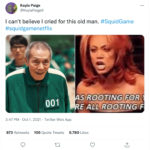 Advertisements
I'm sure we aren't the only one who is filled with regret once we found out we rooted for the wrong guy.
When he says he "had more fun playing than watching," it was over for us.
Hop On The Bandwagon
If you aren't dressing up as a character from Squid Game, then you are doing Halloween wrong.
And if you aren't wearing the square mask, you obviously don't know the meaning behind the shapes. Who would want to be at the bottom of the hierarchy and not the top?
Advertisements