Alcohol and weight loss: the best drinks to party on a diet
You can still be the life of the party despite your new healthy diet. Alcohol and weight loss can go together. You just order, mix and drink smartly.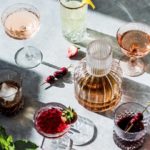 There is always a good reason to party. And weight loss should not hold you back when all you want is to have a drink and let loose. Yes, it is possible to have an amazing time while keeping it alcohol-free. But if calories are your only motivation to skip the booze, you're doing it wrong. Because alcohol and weight loss can be friends. Just be smart about it, don't overdo it and order the right drinks. The following are not only delicious, but won't ruin all your efforts and healthy diet.
Advertisements
Champagne
You're in luck, the most festive of all drinks is one of the top options to raise your glass without drinking the caloric equivalent of breakfast, lunch and dinner. Sipping on champagne is therefore not only chic and pleasurable, but a good choice if watching your line. Oh, and so is wine! But keep it to only a few glasses. Downing bottles of bubbles is neither fancy nor low calorie.
Advertisements
Anything on the rocks
If you are badass enough to skip the mixers, go for a your-favorite-alcohol neat or on the rocks. You'll therefore spare yourself all the extra unnecessary calories, get to truly taste and enjoy your favourite hard liqueur and will look tough while doing so. Scotch, gin, bourbon, cognac, etc., it does not make much of a difference. Just go with your taste.
Advertisements
Something-soda
Simple, fresh, classic, the something-soda is an easy go-to that won't ruin your day of healthy eating. If ordering at the bar, go for the classic gin tonic, or, if you don't mind a few extra calories, a vodka seltzer with lemon or lime or a Tom Collins. Mixing at home? Why not pair your favourite carbonated flavoured water with the liquor of your choice.
Advertisements
Paloma
A little sweet, a little acidic and a little strong, this Mexican favourite is just as suitable for happy hour than a garden party. With under 200 calories, it's a great exotic cocktail to sip in good company. If making at home, opt for a mezcal or tequila version and simply use grapefruit juice if you can't find flavoured soda.
Gimlet
Don't think soda should be in a cocktail? Skip it. Have a gimlet. Although rumour has it that the original version contained fizzy water, the latter has been known as some variation of gin, lime juice and nothing else for quite some time. The lime juice is usually sweetened, and if not, sugar or syrup is added to the mix. Yet, this simple cocktail remains rather diet-friendly.
Watermelon vodka cooler
Need something fresh with a little kick to keep you hydrated poolside? Treat yourself to one of these Watermelon-vodka coolers. Joyful Healthy Eats' cocktail recipe is the perfect summer drink to sip in a bikini. At only 136 calories, it is the proof that alcohol and weight loss, unlike beer and hard liquor, make a good mix.
Shots
If you're in a serious party mood and plan on getting home in a taxi, spare your diet by opting for shooters! No mixers, no added sugar, no unrequired calories. And if you are home and feeling like superwoman, give Colleen Jeffers's salted jalapeño shots a try for extra heat and diet-approved taste.
Bourbon and honey ginger fizz
This surprisingly low-calorie cocktail tastes nothing like a diet drink, yet it won't throw you off your weight loss journey. Fresh enough for a summer drink, this Bourbon and Honey creation is the perfect fall cocktail. But at 134 calories per glass, you'll probably want to enjoy it year long.
Negroni
Stepping away from the make-at-home types of drinks just long enough to offer another alternative for those nights where you don't feel like mixing your own drinks and rather hit the bar in good company. To satisfy your taste for strong cocktails and your desire to honour your diet, go for the simple yet sophisticated Negroni. And if you decide to take it home afterwards, give the famous drink a twist with this blood orange version.
Grapefruit beergaritas
Don't pick between beer and margarita at your next summer gathering. Mix a generous pitcher of this Cooking Light grapefruit beergarita creation to satisfy your alcohol cravings, stay in line with your healthy diet and share the joy with all the guests. At an astonishing 128 calories, you might even treat yourself to a second glass.
Whether on a weight loss journey or not, it is never healthy to abuse of alcohol. But deprivation is no better, and treating ourselves is key to staying on track with your diet. Delicious and guilt-free, these weight loss-friendly alcoholic cocktails are a dieting person's best friend.
---
Cover photo credit: @craftandcocktails | Instagram