10 banana bread recipes for every taste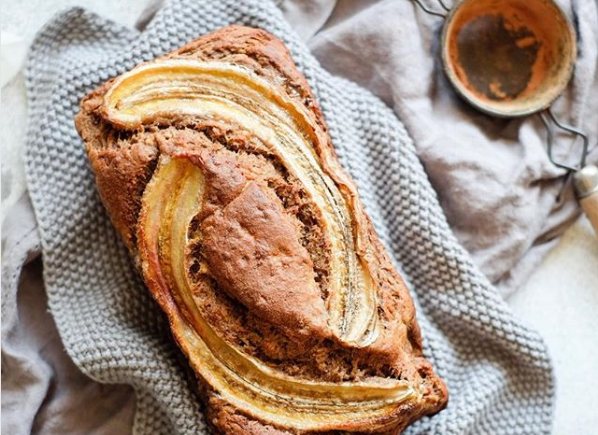 Discover some banana bread recipes that are infinitely delicious, comforting and perfect for salvaging 2-3 forgotten bananas who have seen better days.
It's raining, you are bored and a couple of forgotten bananas in your fruit bowl are starting to get one too many black spots. The next logical step in this story is obvious, delectable and will fill your house with an exquisite aroma (not to mention fill your stomach with goodness). However, the course of action to take needs to be faultless to guarantee yummy results. Here are 10 easy banana bread recipes to realize that will satisfy every taste and every type of cook. Feel free to follow the recipe to the letter or to keep the basic recipe and improvise according to what you want: add some nuts or chocolate chips, etc. Then, grill it, butter it or spread a thick layer of Nutella on it.
#7 according to our users
This version is the one whose odour welcomed you when you came back from school. It is the typical banana bread that you would savour as an afternoon snack after spending hours playing outside in the snow. Easy to prepare, it only needs common ingredients that you can probably easily find in your pantry and fridge. Find out how to go about this traditional banana bread on geniuskitchen.com for a delicious dose of nostalgia.
#3 according to our users
Although always very simple to make, this recipe will please those who like to spend time in the kitchen and have recourse to lesser-known ingredients and some high-quality basic ones. Buttermilk, rum and brown sugar will bring a hint of thought, richness and gourmet to your banana bread. Tempted? This delicious recipe is from the book The Violet Bakery by Claire Ptak and is available online on localmilkblog.com.
#6 according to our users
Not only is this very popular Minimalist Baker recipe totally gluten-free but it can also be entirely prepared in a single bowl. Celiac or gluten intolerant people can also try, with no worry, this simple pleasure that is banana bread. The individual who bakes the bread will be ecstatic that they have a minimum of dishes to clean after making this.
#1 according to our users
No fat, no granulated sugar and even no flour, this healthy version, easy to make and even simpler than the traditional banana bread, from themamabaker.com will equally please those following a paleo diet, gluten-free (be careful to choose gluten-free certified oats) and high in protein or those looking to stay in shape. Naturally sweetened and moist, everyone will enjoy it even children.
#2 according to our users
Eat it for brunch or for dessert since this gourmet banana bread is a real sugary treat. Particularly rich and moist, it contains pecan nuts and chocolate chips. People with a sweet tooth will want to smear Nutella or caramel on it for an absolutely decadent experience. Visit cluckmuckcook.com to know how to make it.
#10 according to our users
A banana bread with no butter and no eggs? It is possible. It is even delicious. Just give this delectable banana bread recipe, made exclusively with vegetable-based ingredients from Allison Day on yummybeet.com, a chance to be convinced.