10 banana bread recipes for every taste
Discover some banana bread recipes that are infinitely delicious, comforting and perfect for salvaging 2-3 forgotten bananas who have seen better days.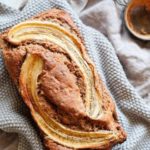 It's raining, you are bored and a couple of forgotten bananas in your fruit bowl are starting to get one too many black spots. The next logical step in this story is obvious, delectable and will fill your house with an exquisite aroma (not to mention fill your stomach with goodness). However, the course of action to take needs to be faultless to guarantee yummy results. Here are 10 easy banana bread recipes to realize that will satisfy every taste and every type of cook. Feel free to follow the recipe to the letter or to keep the basic recipe and improvise according to what you want: add some nuts or chocolate chips, etc. Then, grill it, butter it or spread a thick layer of Nutella on it.
Advertisements
The classic
This version is the one whose odour welcomed you when you came back from school. It is the typical banana bread that you would savour as an afternoon snack after spending hours playing outside in the snow. Easy to prepare, it only needs common ingredients that you can probably easily find in your pantry and fridge. Find out how to go about this traditional banana bread on geniuskitchen.com for a delicious dose of nostalgia.
Advertisements
The gastronomic
Although always very simple to make, this recipe will please those who like to spend time in the kitchen and have recourse to lesser-known ingredients and some high-quality basic ones. Buttermilk, rum and brown sugar will bring a hint of thought, richness and gourmet to your banana bread. Tempted? This delicious recipe is from the book The Violet Bakery by Claire Ptak and is available online on localmilkblog.com.
Advertisements
The gluten-free
Not only is this very popular Minimalist Baker recipe totally gluten-free but it can also be entirely prepared in a single bowl. Celiac or gluten intolerant people can also try, with no worry, this simple pleasure that is banana bread. The individual who bakes the bread will be ecstatic that they have a minimum of dishes to clean after making this.
Advertisements
The 5 ingredients
No fat, no granulated sugar and even no flour, this healthy version, easy to make and even simpler than the traditional banana bread, from themamabaker.com will equally please those following a paleo diet, gluten-free (be careful to choose gluten-free certified oats) and high in protein or those looking to stay in shape. Naturally sweetened and moist, everyone will enjoy it even children.
The gourmet
Eat it for brunch or for dessert since this gourmet banana bread is a real sugary treat. Particularly rich and moist, it contains pecan nuts and chocolate chips. People with a sweet tooth will want to smear Nutella or caramel on it for an absolutely decadent experience. Visit cluckmuckcook.com to know how to make it.
The vegan
A banana bread with no butter and no eggs? It is possible. It is even delicious. Just give this delectable banana bread recipe, made exclusively with vegetable-based ingredients from Allison Day on yummybeet.com, a chance to be convinced.
The rustic
Overflowing with tons of delicious things, this banana bread recipe found in Healthy-ish is not only good for you but will also be appreciated by your taste buds. Thanks to the numerous grains it contains, this whole wheat treat has a pleasant texture that reminds one of a country loaf. Discover the recipe on butterlovescompany.com.
The marble
The pleasure of marble doesn't limit itself to pound cakes. You can also apply this pretty and delicious technique to your banana bread recipes to the great enjoyment of all. This superb recipe from Izy Hossack shared on geniuskitchen.com can also be easily adapted for vegan bakers, all you need to do is use vegetal milk instead of regular milk.
The healthy
Made with whole spelt flour, extra virgin olive oil, and naturally sweetened with honey, this variation of the typical banana bread is only filled with good ingredients. The addition of oat flakes adds a nice texture and the cinnamon adds a nice spicy and comforting smell. Mélanie Lionello's recipe accommodates those who wish to treat themselves but who still want to nourish themselves with healthy and real ingredients.
The individual portion
This recipe is ideal to satisfy an irresistible urge for the delicious comforting taste and texture of banana bread without being stuck with a whole loaf. Ready in only a few minutes in the microwave, it is the perfect size for one person. This banana bread mug cake from theroastedroot.net is perfect for an impromptu dessert, a snack or an easy, fast, healthy and no leftover breakfast.
So, take advantage of these sad bruising bananas by concocting one of these delicious banana bread recipes. Whether you wish to revel in a piggy dessert, impress your guests with a new and sophisticated version of this old classic, accommodate certain diets or allergies or simply prepare a healthy and comforting banana bread, there is a recipe out there for you.
---
Cover photo: naturally_nutritious/Instagram