10 of the best Mexican restaurants located in the United States
Do you love tacos, quesadillas and other Mexican dishes? Discover 10 Mexican restaurants where you can enjoy this cuisine in the United States.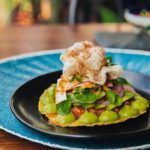 The United States, like many other countries, is full of delicious restaurants. Some specialize in Italian cuisine, others in Asian cuisine, while some offer a menu consisting of a wide selection of Mexican dishes. In fact, you can find several Mexican restaurants in this country. If you love tacos, guacamole and salsa, you'll probably want to try these delicious Mexican restaurants.
Advertisements
Barrio Cafe
The Barrio Cafe has been offering you the opportunity to taste typical Mexican dishes for 16 years now. Located in Phoenix, Silvana Salcido Esparza, the restaurant's chef, offers an enticing and exotic menu, including Oaxaca cheese fondue, chiles en nogada and pibil cochinita, a Yucutan-style barbecue pork. This is the most famous Mexican restaurant in the region, which certainly makes it a good choice for lovers of Mexican food and foodies!
Advertisements
Broken Spanish
To enjoy quality Mexican cuisine in Los Angeles, you can go to Broken Spanish. Chef Ray Garcia invites you to eat dishes made with seasonal ingredients such as albondiga in chipotle sauce, pollo prensado and chochoyotes.
Advertisements
Petty Cash Taqueria
Petty Cash Taqueria is another succulent Mexican restaurant to try if you are in Los Angeles. You can eat there inexpensively while listening to excellent music. The name of the restaurant refers to the musical legends Tom Petty and Johnny Cash. Another interesting thing in this restaurant is the drinks menu! You will find a wide variety of Mexican-inspired cocktails as well as some imported beers. This place is certainly worth a visit, especially during happy hour where food and drinks are cheaper.
Advertisements
Mi Tierra Cafe y Panaderia
If you want to eat Mexican food at any time of the day, Mi Tierra Cafe y Panaderia is perfect for you. This restaurant, located in San Antonio, is open 24 hours a day. You can enjoy several classics, including fajitas, enchiladas and tacos. Mi Tierra Cafe y Panaderia, open since 1941, will certainly satisfy your desire for Mexican food.
Eduardo de San Angel
If you want to enjoy a combination of quality ingredients and contemporary cuisine, you should probably try Eduardo de San Angel, a restaurant located in Fort Laurendale. Chef Eduardo Pria makes sure to offer you the best in terms of gastronomy, in a setting that takes you directly to Mexico City.
Elote Cafe
If you are going to Sedona, you must stop at Elote Cafe. This restaurant offers you a menu created by chef Jeff Smedstad, who has spent 20 years travelling between Oaxaca, Veracruz, Puebla and Arizona. You can eat Mexican cuisine made with seasonal ingredients and enjoy daring cocktails made with tequila and mezcal.
Toloache
Toloache is another Mexican restaurant to discover. Julian Medina is the chef of this New York-based restaurant whose cuisine is bold. You can taste many things, including dried grasshoppers, an Oaxaca specialty!
Topolobampo
Rick Bayless, the chef of Topolobampo, invites you to be surprised by his contemporary and innovative cuisine. You can enjoy a tasting menu in the elegant and chic setting of this Chicago restaurant. A real must if you're in Chicago!
Cosme
This New York restaurant offers you a modern menu where Mexican cuisine is once again on the menu. Chefs Enrique Olvera and Daniela Soto-Innes concocted the fabulous dishes presented on the Cosme menu. This restaurant is worth a visit if you are looking for non-traditional Mexican dishes.
Espita Mezcalerita
Espita Mezcalerita, a restaurant in Washington, invites you to enjoy authentic Mexican cuisine, but what makes it different is that it is also very original. Chef Rob Aikens developed his menus after several trips to Mexico. You can have dinner there, but you can also go for brunch or happy hour if you feel like it.
These are just some of the most popular Mexican restaurants in the United States. There are many more to discover if you are fond of this culinary genre and like to try new flavours.
---
Cover photo: espitadc/Instagram