10 cold weather recipes to warm you up from the inside out
When sweater weather comes around, pullovers rarely suffice to bring the comfort needed. In such case, turn to these cold weather recipes.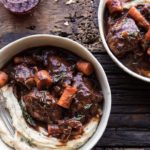 Thought eating in season had to do with the harvest? Well, usually you'd be right. But today, we are bringing a whole new meaning to the expression, and it has a lot to do with comfort. While summer calls for fresh, light and hydrating meals, winter necessitates hot, filling and comforting foods to bring you joy and help you face the cold. Need some inspiration for the latter? Here are 10 cold weather recipes to warm you up from the inside out.
Advertisements
French Onion Soup
Top of the list when it comes to delicious winter warmers, French onion soup takes the cake. Too often forgotten, this extremely budget friendly recipe is always a pleasure to eat on a freezing Sunday night. Or any other day of the week for that matter. Spoon Fork Bacon's recipe is sure to bring you all the comfort you need and then some.
Advertisements
Chicken and Butternut Squash Tagine
Nothing like a delicious Moroccan inspired dish filled with exotic spices to bring you comfort while experimenting with other cultures' flavours. Better yet, this Clean Eating Magazine chicken and butternut squash tagine is healthy, cheap and easy to make. Serve with couscous for the full experience or replace with brown rice to save a trip to the grocery store in the middle of a snowstorm.
Advertisements
Minestrone Soup
Whether you are looking for a comforting Meatless Monday recipe or simply in need of a great cold weather meal, minestrone soup is the answer to your need. Filling, warming, packed with all the nutrients needed and extremely adaptable to whatever is hiding in your fridge and pantry, this ultimate winter soup is always a good idea. Use Food52's recipe as a guide and feel free to modify it to fit what you have on hand and make sure to make extra for leftovers.
Advertisements
Sweedish Meatballs
The Swedes know a thing or two about winter, and they sure know how to do cold weather foods. By that, I mean meatballs. It's no secret that the Sweedish kind is the best kind of meatballs. If, however, the recipe for this dish is a mystery to you, give Spoon Fork Bacon's instructions a try. Served with the typical mashed potatoes and even the traditional jam, they make a perfect winter meal.
Risotto
The creamiest of all dishes, there is nothing risotto can't fix. Let alone freezing in the winter. Jamie Oliver's take on this Italian classic filled with peas, bacon and goat cheese is extremely easy to prepare and the perfect way to end a long beautiful day skiing the mountains in chilly weather.
Beef Stew
We could not write about ultimate cold weather recipes without adding the traditional beef stew. But we also couldn't help adding a little twist. This Gimme Some Oven's recipe will bring joy and comfort in your winter nights, as well as a little taste of Ireland. This Irish beef stew's secret ingredient? Guinness beer!
Spicy Italian Pesto Noodle Soup
Yes, soup again. After all, cold weather is soup weather. And this one is packed with veggies, noodles, meat and heat! Half Baked Harvest's spicy Italian pesto noodle soup is the perfect meal for when you are in serious need of comfort, but your taste buds demand more than the boring boxed chicken noodle soup or even it's too common homemade version.
Curry
Remember what we said about warming spices? Well, curry is another great way to take advantage of their flavours and heating effect. And while the sun might be shinning all year round in Thai countries, their green curry makes a perfect cold weather meal. Jamie Oliver is a fan of this recipe since you can add Christmas dinner leftover greens and we are too!
Coq au Vin
Looking for a fancy, comforting, winter meal for a nice Sunday dinner with the extended family? Skip the roast beef for once and opt for this delicious and just as perfect for winter Coq au Vin. The French classic usually requires hours of preparation, but with Half Baked Harvest's recipe, you can serve a beautiful slow braised chicken cooked in wine in under an hour.
Gnocchi
Potatoe is the ultimate winter vegetable. And although no one will ever get tired of eating them mashed, it's always fun to bring some variety, especially if it comes in gnocchi form. This Pinch of Yum sweet potato gnocchi with broccoli rabe recipe brings a nice twist to this Italian favourite by replacing regular white potatoes with its sweet orange cousin. But who knows, it might just be the decadent garlic sage butter sauce that will keep you coming back for more.
When winter hits and the days shorten, there is nothing like a nice comforting meal to bring some warmth into a chilly night. These cold weather recipes are perfect to bring some delicious variety to your usual winter warmer staples and might just become some of your favourite comfort food.
---
Cover photo credit: halfbakedharvest/Instagram