11 delicious desserts to make on the barbecue
Don't turn off your barbecue after your meal is cooked. Instead, get the grill going for the next course... Discover 11 desserts to make on the barbecue.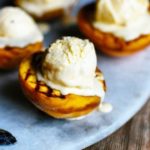 In the summer, give up on using your ovens without sacrificing the quality of your desserts. Instead, enjoy the temperature outdoors and cook your sweet dishes on the barbecue. Ideal for a garden party or to finish a delectable barbecue meal, this original approach will give a summer twist to your favourite sweet treats. Here are 11 delicious desserts to make on the barbecue to change it up and impress your guests.
Advertisements
Pavlovas
Fresh and light, pavlovas already make many appearances on our tables during the summer season. However, their appearance may become even more frequent since it is possible to cook them on the grill! A meringue can be difficult to make so visit delicious.com to follow all the steps and successfully make pavlovas on the barbecue.
Advertisements
S'mores
No campfire? No problem! This American campsite classic is just as realizable and delicious prepared on the barbecue. Simply place the cookies directly on the grills, then place a square of chocolate on one cookie and a marshmallow on the other. Once these begin to melt, put everything together and enjoy!
For a nice, delicious and perfect grilled variation, try a s'mores dip version! Roast chocolate chips covered with marshmallows in a cast iron pan and dip your graham crackers in them.
Advertisements
Crisps, crumbles and co.
Apple crisp, strawberry and rhubarb crumble, berry cobbler… All these delights can be made on the barbecue with a cast iron pan. Just put everything on the stove and close the lid. Don't forget to serve your dessert with ice cream. You haven't invested in a cast iron pan yet but don't want to wait? Choose to make a crisp, which can be made in a foil papillote.
Advertisements
Fruits
Apricots, peaches, pears, watermelon… A multitude of fruits can be placed on your grill. The heat brings out their sweet taste and the grills give them an appetizing appearance. For a fresh and light dessert, grill some plums and garnish them with mascarpone, honey and almonds. Or garnish grilled pineapple with vanilla ice cream and caramel sauce. Yum!
Pound cake
Simple but just as delicious, grilled pound cake should make an appearance on your summer dinner table. Place a few slices on the grill to add flavour and a creative touch to your light summer desserts. Enjoy them with gelato and grilled fruit or fresh berries and whipped cream.
Donuts
What's better than a frozen donut? A grilled glazed donut! The idea probably never occurred to you (why change a winning formula, right?), but now that we've mentioned it, you probably realize the genius of it. The barbecue caramelizes the icing and makes the inside even softer, not to mention the beautiful grill marks…
Ice cream sandwiches
This recipe requires patience. You must first make the cookies and grill them, then assemble the sandwiches and finally put them back in the freezer for a minimum of one hour. However, despite the elaborate preparation and rather contradictory concept, this ingenious dessert will forever, and for the best, change your definition of an ice cream sandwich. Prepare this banana bread variant or the traditional chocolate version.
Grilled fruit turnovers
These golden tarts require a double use of the barbecue. The peaches used in the filling were first roasted on the grill before the turnovers themselves went on the grill. Serve this upgraded version of a typical oven strudel with a scoop of ice cream for the perfect summer dessert.
Banana boat
This grilled dessert is halfway between a banana split, a banana flambé and a s'mores is much more delicious than it looks. All you need are bananas and a selection of your favourite toppings and treats. Simply make an incision in the peel on top of the banana, put your favourite ingredients of your choice inside and place your creation on the barbecue.
Grilled wafer cones
The kids will love this one. First, take a wafer cone, then fill it with whatever you like: peanut butter, jam, chocolate chips, small pieces of fruit, small marshmallows, etc. Then, wrap them securely in aluminum foil. Place them on the grill for a few minutes, turning them occasionally. The result will be a delicious cone filled with melted candies.
Mint and berry grilled bread
Do you have any extra hamburger buns left? Turn them into a simple, unpretentious dessert. Simply place the buns on the grill until they have grill marks, they are crispy on the outside and soft on the inside. Then garnish your buns with Nutella, whipped cream, berries and a few mint leaves.
With these tasty barbecue treats, your summer desserts will be even more seasonal. Whether you want a quick and easy treat to please the kids or a perfect finish to a big summer party, the hardest thing to do will be to decide which dessert you decide to make.
---
Cover photo credit: kelsey_thefarmersdaughter/Instagram