11 delicious and easy to carry potluck recipe ideas
Whatever your budget, your culinary aptitudes and the amount of time you have, you'll find an ideal dish among these potluck recipes to share with friends.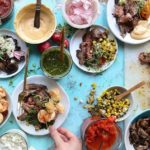 Relaxed, festive and uniting, potlucks are an excellent way to share a great meal in good company. This type of festivity allows to divide the huge task of preparing a meal for numerous people but especially to discover the flavours and tastes of several dishes. These 11 delicious and easy to carry potluck recipe ideas are ideal for your next gastronomical festivity.
Advertisements
Empanadas
These perfect small individual portions are easy to add to your plate since you don't need utensils nor any dishes. Delicious warm, empanadas can also be eaten room temperature which makes them a great option if you don't have access to an oven or if it's already filled with tons of other dishes. Fill them with whatever you like or get inspired by this Argentinian beef empanada recipe from bonappetit.com.
Advertisements
Watermelon and feta salad
This summer staple will bring some freshness to the table. Simple and easy to prepare, a watermelon and feta salad does not need a lot of effort and risks of disappearing very quickly. Adapt your recipe according to your favourite flavours by opting for mint or basil and decide whether you'd like to add red onions or not.
Advertisements
Spanakopita
We don't find them often during these kinds of events, yet, spanakopitas are perfect for the occasion. First, they are delicious, but they are also easy to transport and make excellent bites. Prepare them in the form of small triangular turnovers to facilitate serving these delectable Greek spinach treats.
Advertisements
Maki rolls
Contrary to what you might think, maki rolls are very easy to prepare. They are also an original dish idea for a potluck. Fill them with simple garden vegetables like carrots, cucumber, avocado, marinated daïkon, red cabbage, asparagus, beets, etc. but you can also add some fish.
Mexican salad
No potluck is complete without a couple of pretty fresh salads added to our plates. You'll also add some colour to the table with this festive dish. Packed with flavour, this salad even offers a good dose of protein.
Tomato tart
Even though the tomato tart has very simple ingredients and is a typical summer dish for warmer days, it is also gourmet and comforting. This Epicurious recipe also contains pistachios and chickpeas for a protein-filled and original version of this classic which risks being extremely popular.
BBQ meatballs
These small meat bites are the perfect addition to a table filled with salads, vegetables, pasta and bread. This slow cooker recipe from howsweeteats.com can be prepared without any real effort and can be savoured warm or at room temperature. Make a big batch and don't forget toothpicks!
Pea and prosciutto salad
Make your potluck look like an Italian countryside party with this beautiful crunchy pea and prosciutto salad. The sweetness of the peas offers a superb contrast to the saltiness of the meat and to the acidity of the lemon-based and Dijon mustard vinaigrette. Garnished with cheese or horseradish, this bonappetitmag.com recipe is anything but a boring salad.
Shrimp bites
These small honey-glazed curry shrimp bites from Ricardo are a superb addition to this kind of party since seafood is not often served in these kinds of settings. These individual portions are perfect for potluck nights and the wooden skewers make them easier to serve. Adapt this fun concept and grill your shrimp on the barbecue in a pesto sauce if you wish to change it up a bit.
Cold soba noodle salad
This Asian pasta dish, nutritious and filling is suitable for most allergies and food intolerances as well as looking pretty on the table. Filled with crunchy and colourful vegetables topped with a miso and ginger sauce, this salad is an original and savoury addition to any potluck.
Chilli and lime corn on the cob
If corn is in season, opt for this delicious and more original version of the typical corn topped with butter and salt. These tasty side dishes need some preparation and are an ideal addition to a collection meal in the summertime. They are easy to serve and can be easily savoured without any utensils. However, be careful not to forget napkins!
Whether you wish to dazzle your guests, make the process less complicated or simply to make sure no one gets food poisoning, these delicious and easy to carry potluck recipe ideas will ensure a high participation rate to your potluck. You will come back empty-handed, which is a good sign.
---
Cover photo credit: howsweeteats/Instagram