Dessert hummus: Like brownie batter, only healthier
Combine hummus and dessert by buying or making dessert hummus. This creamy and sweet snack and dessert is perfect for a potluck dinner or for alone time in front of the television.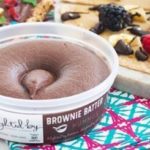 Hummus is a wonderful snack, dip and condiment. Tangy and salty, its creamy texture is perfect with veggies, crackers and Middle Eastern cuisine like pita bread sandwiches and falafels. However, if you have a sweet tooth, you'll be delighted to know dessert hummus exists. You can enjoy your favourite chickpea-based snack for lunch, dinner and dessert. Not convinced? Read on to find out what dessert hummus is made of, how to make it and what to eat it with! You'll love it so much, you will convince all your friends and family to try.
Advertisements
What is dessert hummus?
If you're a fan of hummus and you're also a fan of desserts then you'll love this sweet sweet dip. Created and founded by Makenzie Marzluff, Delighted By Hummus is a delicious and nutritious sweet hummus brand that offers brownie batter hummus, cho-o-mint hummus, pumpkin pie hummus, red velvet hummus, snickerdoodle hummus and vanilla bear hummus. You can also make your own, since there are many recipes for hummus dessert online.
Like normal hummus, it is made with chickpeas, it is vegan, gluten-free and even kosher but it also has ingredients like coconut oil and milk, cocoa powder, sugar and vanilla extract. Yum! Enjoy it with fruit, when baking and use it as icing.
Eating healthy does not end after your last dinner bite and doesn't have to be boring like fresh fruit. Dessert can be super satisfying and delicious without making you bloaty or gain 5 pounds. Dessert hummus comes in many different flavours, from red velvet to vanilla, and can be eaten with cookies, cakes, sweet crackers, fruit or even alone on a big tablespoon! Whether you buy it at the grocery store or you make it yourself, you'll truly enjoy this delicious and health conscious dessert!
---
Cover photo: Healthy Holistic Living | Facebook