Diabetes and dessert: 10 recipes to treat yourself
Living with diabetes comes with its fair share of deprivation, but dessert in general certainly does not have to be one of them.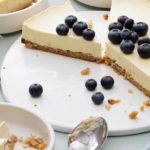 Suffering from diabetes means observing a strict diet for the sake of health. For most people, it also means skipping dessert which can not only be very difficult, but also quite sad. However, watching your blood sugar levels does not have to be all deprivation and no fun. You simply have to adapt your recipe choices in order to fit your particular needs. So don't cut out everything mildly sweet and festive and end your meals with a piece of chorizo or a few pickles if you're dying to bite into a cookie. Cheesecake can be a part of your life despite it being often labelled as off-limits. Practice moderation, but still have a go at dessert with these 10 diabetes-friendly dessert recipes.
Advertisements
Cinnamon roll cookie bars
A chewy cookie base topped with a sweet and creamy cream cheese frosting, these healthy cookie bars contain all the finger-licking deliciousness of traditional cinnamon rolls without the outrageous amount of added sugar. Amy's Healthy Baking recipe is perfect to satisfy your sweet tooth after dinner and—dare we say—at breakfast.
Advertisements
Pumpkin Pie
Thanksgiving can quickly lose its festive spirit for diabetics. Skipping on the candied sweet potato casserole, glazed carrots and cranberry sauce is one thing, but watching everyone feast on all sorts of pies, tarts and ice cream while sticking to coffee is not exactly to the definition of good times. So never do it again! Thanks to That's Low Carb's completely sugar-free pumpkin pie recipe, you too can now enjoy the reputed dessert on Thanksgiving, or any other fall day.
Advertisements
Double Chocolate Chip Cookies
Cookies are the ultimate everyday go-to dessert and consequently arguably the hardest to resist. This is why these double chocolate cookies from Peace Love and Low Carb might just be the best thing that's ever happened to the cookblog world to most people watching their sugar intake. Chances are it won't be long before you no longer have to refer to the original recipe to wipe up a batch of these chewy and gooey sources of true joy.
Advertisements
Doughnuts
Sure, Krispy Kreme is off-limits. But who cares when you can savour soft homemade chocolate glazed pumpkin doughnuts fresh out of the oven. Forget about chemicals and sugar-filled chain restaurant fried doughnuts and bake your own healthy version with Amy's Healthy Baking recipe. These are certain to hit the spot without spiking your blood sugar through the roof.
Mini Cheesecake Puddings
In the mood for dessert, but don't want anything too extravagant? Go for these little smoothies in a cup. Almond-berry cheesecake flavoured, these mini puddings are the perfect mix between something sweet, something tasty and something healthy. Fresh, creamy and fruity, Cotter Crunch's recipe is not only delicious and light, but also protein packed and it even includes a vegan option.
Chocolate Crepes
This one is total dessert decadence, the French way. Luckily, for all diabetics and even keto eaters, I Heart Umami has adapted this classic French street food to fit low-carb and low-sugar diets. And somehow, the batter still makes delicious thin crepes. As for the traditional Nutella, it has been replaced by cacao flavoured almond butter. The finished product is an accidentally healthy and just-as-heavenly-as-the-real-thing dessert, snack or meal.
Cake in a Mug
Celebrations usually mean cake, and cake usually means excessive amounts of sugar. If you are not central to the festivities, chances are that Black Forest, Tiramisu or Tres Leche won't be diabetic-friendly. But that's no reason to skip on the good stuff. Make yourself a single serving of moist and chocolatey delish in the form of a mug cake. But, Diet Doctor's quick and simple recipe is not only for special occasions. In fact, it's the perfect way to enjoy cake guilt-free on any given weeknight.
Lemon Squares
Fresh, sweet and tangy, these lemon squares are the perfect way to end a nice summer dinner in the garden. The best part about That's Low Carb's recipe? It's completely sugar-free so you don't have to go easy on the portions. Well, only if you're expecting leftovers, but we suggest you don't get your hopes up.
Apple Crumble
Deliciously sweet and undeniably comforting, apple crumble offers a perfect balance between soft and crunchy. Lucky for us, it does not have to be filled with refined sugar to be delicious. Amy's Healthy Baking recipe is suitable for diabetics, but will certainly be enjoyed by everyone around the table. Oh, and when apple season comes to an end, trade them for berries.
New York Cheesecake
Cheesecake is a classic and thanks to Diet Doctor's recipe, diabetics can enjoy it freely without worrying about sugar. This New York style cheesecake is even gluten-free and low carbs which makes it suitable for just about everyone with special dietary needs. Rich and creamy, no one will notice it's actually rather healthy.
Thanks in part to the popular keto diet, sugar-free desserts are more numerous and delicious than ever. So if you thought your diabetes prevented you from enjoying a sweet treat now and then and even satisfying your sweet tooth almost daily, these delicious guilt-free recipes are here to prove you wrong and allow you to enjoy yourself from time to time.
---
Cover photo credit: @diet_doctor | Instagram