8 gourmet festivals in Canada to discover!
If you consider yourself a real foodie, you should absolutely go to one of these gourmet festivals in Canada when you get the chance!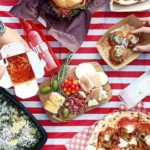 Cooking like eating at the restaurant is a delight that numerous people share. It is not surprising that more and more foodies, people who are passionate about cooking, attend various events where food and drinks are honoured. In fact, there exist numerous gourmet festivals in Canada where you can not only taste delicious food but also try some alcoholic beverages. Some of these culinary happenings even have some interesting conferences and workshops you can attend. Here are 8 of these events not to miss all over Canada!
Advertisements
A Tavola
If you love Italian food, know that the A Tavola festival in Toronto is entirely devoted to this type of cuisine. This is an event where you can eat some dishes from notable Italian restaurants but also attend some DJ concerts. Expect to savour some delicious pasta, pizza and gelato!
Advertisements
Shellfish and Seafood Festival

If you are visiting British Columbia, you absolutely need to get to the Comox Valley during the month of June. Each year, it hosts the Shellfish and Seafood Festival for a bit more than a week. You can savour some seafood dishes made by some renowned chefs, drink some amazing beer and wine from the region and attend some culinary competitions and demonstrations.

Advertisements

YUL EAT Festival Shediac Lobster Festival

It is no secret: seafood is a very popular food to cook, especially with foodies. If you've never savoured seafood from New-Brunswick, the Shediac Lobster Festival is dedicated to, obviously, eating lobster but you can also drink some incredible wines and artisanal beers. Come savour some lobster rolls or attend the lobster eating contest!

Prince Edward Island International Shellfish Festival

Prince Edward Island is not only known for its breathtaking scenery, but also for its delicious seafood, like New Brunswick. If you decide to go on holiday there, try to include the International Shellfish Festival in your activities. This event, which takes place in Charlottetown, offers several interesting activities, including culinary demonstrations, oyster shelling competitions and musical performances.

Le Grand Ribfest

Once again, this is a festival for BBQ fans. During this Montreal event, you will be able to taste microbrewery beers as well as delicious ribs and pulled pork. Dishes will be prepared by distinguished chefs from Canada and the United States. You can also enjoy music shows and DJ sets in the evening. It is an appointment not to be missed for any carnivore!
Taste of Edmonton
This festival, which has existed for more than 3 decades, offers you the opportunity to taste what Edmonton's restaurants and bars have to offer. You can also attend a culinary competition where chefs compete against each other in various categories like the hamburger and dessert category. This festival will probably make your mouth water…
Gourmet festivals in Canada are very popular in the summer as well as in the winter. This kind of event not only allows you to make great new culinary discoveries but also some cultural ones. In fact, as you have probably noticed in this article, the events during these festivals often include musical performances and many other interesting activities. Don't hesitate to attend one of these festivals during your next Canadian vacation!
---
Cover photo: Instagram @atavolatoronto