Healthy breakfast recipes: Savour the first meal of the day
Tofu scramble, overnight oats, avocado toast, there are many delicious and healthy breakfast ideas to fuel your mornings. Whether you take the time to enjoy your meal in the morning with your cup of coffee and your newspaper or you prefer breakfast on the go, we've got the perfect options for you.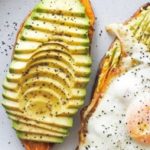 "It's the most important meal of the day." You've heard this a million times before from your scorning mom but newsflash! Breakfast is actually extremely important. First of all, it gives you energy for the day, secondly, many studies show that people who eat breakfast have less chance of suffering from heart disease, high blood pressure and high cholesterol. Thirdly, the options are limitless and delicious! Fall in love with breakfast all over again and treat your taste buds to these amazing healthy breakfast recipes.
Advertisements
Avocado Toast
Hearty wholewheat toast, creamy avocados, zesty lime, a little bit of salt, pepper and a drizzle of olive oil, this recipe is simple but incredibly satisfying. Avocados are healthy fats and the bread is filled with fibre so you can feel good about munching on these carbs. Why not add a poached egg on top too for extra protein?
Advertisements
Banana Pancakes
Pancakes tend to be a weekend treat but you can also make the batter in advance and enjoy them during the week. This banana pancake recipe is healthy but extremely filling so you'll be full until lunchtime. What's in these pancakes? Porridge oats, almond milk (or any milk you love to use), ground almonds, ripe bananas, maple syrup, chia seeds, salt and a bit of coconut oil for cooking. These decadent but nutritious pancakes will make your day.
Advertisements
Chia Pudding
Never have time to sit down for breakfast in the morning? Make a batch of chia puddings to bring on your weekday morning commute. Fresh, creamy, sweet and tangy, this nutritious breakfast is a great source of omega-3, antioxidants, fibre, iron and calcium. Add your favourite fruit like strawberries or pineapple to customize your chia pudding!
Advertisements
Breakfast Burritos
Another great 'on the go' breakfast, whole grain tortilla burritos, filled with eggs, avocados, pinto beans, cheese, salsa are practical and extremely yummy. You can pretty much customize them however you like. This recipe is vegetarian but feel free to add bacon or sausage! Make a few on the weekend and you'll have breakfast ready all week long.
Zucchini Bread
Whether you are vegan or not, you will appreciate this hearty and healthy vegan zucchini bread for your breakfast. Spooked by carbs? Don't be. This recipe has flaxseed, zucchini (duh!), applesauce, grapeseed oil, coconut sugar, maple syrup, baking powder, baking soda, cinnamon and spelt flour. You'll feel full and satisfied until lunch, especially if you spread some almond butter on a toasted slice.
Steel Cut Oats
Waking up on a cold winter morning to a hot bowl of steel-cut oats will make your morning go from a 2 to a 9 in no time. Creamy and delicious, we love this recipe so much because you can easily reheat the steel-cut oats all week long for a quick breakfast. Add your favourite toppings like apples, pomegranate seeds, berries, mango, cinnamon, etc.
Frittata
Egg lovers will drool over this frittata recipe. Frittatas are a great healthy breakfast recipes option because you can easily customize them and they are super easy to make. This recipe includes eggs, orange peppers, red onion, kale, and (drumroll please) burrata! This healthy breakfast recipe is the answer to your Monday morning blues.
Breakfast Sandwich
Breakfast sandwiches are often associated with an unhealthy breakfast on the go but not anymore. These homemade vegan breakfast sandwiches are perfect for an after workout breakfast snack that will keep you full until lunchtime. How do you make vegan breakfast sausages? This recipe includes lentils, hemp, flax meal, dates, coconut oil and spices. Add your favourite English muffin and vegan cheese to complete the sandwich.
Super Green Spirulina Smoothie
Filled with fruit, veggies and other delicious and healthy ingredients, smoothies are real lifesavers for those who live busy lives. This Super Green Spirulina Smoothie includes banana, cucumber, coconut milk, kale (or spinach if you want a milder taste), spirulina powder and hemp seeds. Pimp it out by adding granola and fresh berries on top if you want extra vitamins or to make your smoothie more instagrammable.
Tofu Scramble
For some vegans, cutting out eggs is very difficult. Fake eggs with a tofu scramble. his recipe only requires 4 ingredients and takes 15 minutes to make. Perfect alone, on wholewheat toast, with tempeh bacon or whatever you enjoyed with your pre-vegan breakfast.
Whether you wake up with a grumbling stomach or you can only think of taking a bite around 10h30, these 10 healthy breakfast recipes are great options for those who want delicious breakfast options that will keep them full until lunch. Healthy doesn't mean boring and these recipes are the proof.
---
Cover photo: @lavieplaisirs | Instagram