10 mocktail recipes for alcohol-free toasts
These mocktail recipes for every occasion are proof that it's possible to have fun without drinking any alcohol.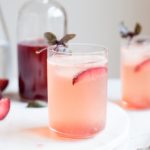 Occasional drinkers, pregnant women, and all those who prefer to stay sober rejoice: mocktails are now more popular than ever. Whether it's for a baby shower, a Thanksgiving brunch or a simple party between friends, alcohol-free cocktails are most welcome on the menu. Contrary to popular belief, there's nothing boring about mocktails, all it takes is a good dose of inspiration, creativity and good intentions to create recipes that are as delicious as they are original. Forget Shirley Temples and virgin mimosas, here are 10 alcohol-free recipes to enjoy on all occasions.
Advertisements
Morning Earl Grey
Make a change from mimosas with this morning cocktail ideal for brunch. Superb in a Marie-Antoinette style glass, this orangey alcohol-free beverage will be a hit at brunch time around a bright table filled with a variety of dishes. Tasty, comforting and healthy, it is a perfect accompaniment to any event from fall to spring.
Advertisements
Moon Mother Elixir
This superb vibrant pink elixir is the beverage of choice to serve during baby showers or during a get together with friends prior to the birth of a child. This blend of hibiscus infusion, rose water and ginger kombucha is not only delicious and will please guests but it also contains beneficial properties for pregnant women.
Advertisements
Iced Gingerbread Milk
Forget about eggnog this year. Instead, celebrate the holidays with a glass of iced gingerbread milk in hand. Cold but very comforting, this sweet and gourmet mocktail will be welcome in crowded cottages where the mercury is starting to get too high or in front of a nice fire.
Advertisements
Vanilla Plum Shrub
You are sure not to leave your guests indifferent with this original mocktail recipe. The perfect balance of sweetness and acidity in this tasty sparkling drink will make alcohol lovers forget that the contents of their glass are devoid of it. The superb orange colour and vanilla seeds of this refreshing and feminine beverage will bring life to your gatherings.
Pear Rosemary Spritzer
With a fruity and herbaceous touch, this alcohol-free drink is light, pleasantly complex and full of flavours. This pear and rosemary spritzer is perfect for autumn parties and winter festivities. Serve this concoction with a thin slice of pear and a sprig of rosemary for a sophisticated look.
One Pot Holiday Punch
This Colleen Jeffrey creation is the ideal alcohol-free cocktail to serve from Thanksgiving to Christmas. Warm, comforting and full of flavour, it perfectly suits the spirit of the holidays. In addition to being extremely simple and easy to prepare, and therefore ideal for entertaining many guests, this festive drink will leave your home with a pleasant spicy scent.
Sparkling Plumcot & Purple Basil Shrub
The acid and fruity blend of the shrub cocktail is undeniably gaining in popularity and this unusual version by Teressa Floyd will please your palate. If you can get your hands on purple basil, try this mocktail recipe as pleasant in the mouth as it is to the eye. Slightly sweeter than vinegar, this sparkling variant of shrub may make cocktail purists growl, but everyone else will enjoy it.
Green Spritzer
Perfect for healthy brunches, mornings after a wild night, with friends or simply to sip a fresh, tasty and healthy beverage, this spritzer differs from the traditional green juice. Filled with good things, it also benefits from the exciting addition of vanilla, plum and sparkling water. The result is a complex and delicious drink that tastes even better than it looks.
Citrus Paloma with Thyme
This revisited classic will please both conservatives and adventurers alike. Alcohol and sugar-free, it will please those with dietary restrictions and will seduce everyone else. This virgin citrus and thyme Paloma is a versatile drink to be served on all occasions and is easily adapted in an alcoholic version. Don't forget to garnish your glasses with a slice of grapefruit.
Sparkling Pomelo Ginger Shandy
There's nothing better than a delicious flavourful shandy to accompany a mild winter day. This recipe for a sparkling mix of pomelo and ginger is rich and refreshing at the same time, it can be drunk on the balcony, snuggled up in a sweater, admiring the colours of autumn or in good company around a board game at the cottage.
Whatever your reason for not drinking alcohol, it doesn't mean you have to deprive yourself. Whether it is for you or your hosts, these delicious and original mocktail recipes will add life to your parties or in your daily life.
---
Cover photo: now_forager/Instagram