10 Montreal terraces where dogs are welcome
Take out your Bullmatian for a drink, a coffee, a croissant and even an outdoor burger. These Montreal terraces welcome dogs.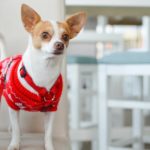 Summer is both the terrace season and the time of year par excellence to spend a maximum of time with your pet. Fortunately, many places save you from having to decide between your German shepherd and a few pints in the sun. They welcome well-bred animals and their owners who respect the 'unwritten rules of the dog owner'. Morning, noon and night, here are 10 terraces in Montreal where you can spend time with your dog or dogs.
Advertisements
Aire Commune
A work space, a networking area and an event venue, Aire Commune's superb terrace is a place of human effervescence sympathetic to the canine presence. This urban oasis comes to life from May to September in the Mile End. Bring your laptop or meet friends for conferences or a cold beer after work, but pick up your dog at home first.
Advertisements
St-Ambroise terrace
Spacious and relaxed, the St-Ambroise terrace skirts the Lachine Canal and offers a relay point to relax and refresh or laze for hours. The McAuslan brewery's products are in the spotlight, but you can also have a bite to eat. Dogs are more than welcome, but be sure to keep them on a leash.
Advertisements
Café Olympico
Real coffee lovers should visit the café Olympico for an excellent espresso and why not also have an affogato? This mandatory stop during a walk with your dog in the Mile End is very popular. On a sunny day, places may be scarce on the charming terrace of the place. However, if space becomes available, your dog can easily follow you there.
Advertisements
Five Guys McGill
Craving a burger but you don't want to leave your dog tied in front of the restaurant to wait for your return? Meet your friends at Five Guys on McGill Street. Sit outside, of course, but without fear that your pet will be driven off the restaurant terrace.
Riverside St-Henri
Daytime event space and trendy bar from evening to early morning, the magnificent Riverside premises offer a superb new type of décor as well as an enormous 60-seat terrace. Families, as well as dogs, are welcome. Located on the banks of the Lachine Canal, this recreational area in the Saint-Henri neighbourhood, with its festival atmosphere, is a great place to spend a good time with your dog.
Hoche Glacé
Undeniably the most classic summer pastime of all, walking to an ice cream parlour is even more pleasant when accompanied by your dog. In the Hochelaga Maisonneuve district, Hoche Glacé is the destination par excellence. In addition to serving delicious refreshing desserts, including several vegan options, the ice cream counter offers dog ice cream sandwiches to your little pet and welcomes them to their terrace.
Café des Éclusiers
One of the most beautiful terraces in the Old Port of Montreal, the Café des Éclusiers is pleased to welcome dogs on leash that do not cause trouble. You can, therefore, enjoy the superb view and one or more refreshing beverages on this magnificent terrace on de la Commune Street.
Brasseur de Montréal
This Griffintown restaurant and microbrewery welcomes dogs on its terrace. An excellent reason to taste their many homemade beers and let yourself be tempted by a comforting meal if you feel like it. A nice place to enjoy classic gourmands from here alongside your pet.
Café Saint-Henri
If you are close to the Jean-Talon Market, a stop at Café Saint-Henri is a must to sip an excellent coffee, hot or iced, and enjoy the sun on their popular terrace. Of course, take a seat there with your dog, who is also welcome.
Burgundy Lion
This English pub in Little Burgundy welcomes docile dogs on its terrace on Notre-Dame Street. Go there to brunch, lunch or have dinner of typical English gourmet plates or to enjoy a few beers and whiskey-based drinks with friends… Especially on a night when a football game is playing.
Take advantage of this little guide to know which Montreal terraces accept dogs to enjoy the sun, to have a few drinks and to spend a good time with friends without having to leave your pet at home… Because people are nice, but dogs are better.
---
Cover photo credit: Pete Bellis/Unsplash