The 10 most scrumptious hot chocolate recipes
An excellent way to warm up, these creamy hot chocolate recipes will make you long for a snowy winter.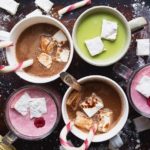 Delicious, we like to drink some in the summer but winter is still the hot chocolate season par excellence. After skiing, wrapped up in front of a fireplace or a good movie and even in the morning, this rich and sweet liquid brings comfort guaranteed. It is the best companion to a cold January day and it is not uncommon to hang on to it until April to overcome the longest months of the year. Try these gourmet hot chocolate recipes to add a little originality and spiciness to your winter drink. Drink as such or with rum, bourbon, whiskey, Baileys, Amaretto, Kahlua or even red wine.
Advertisements
Chai
The spice blend adds depth to a beverage that was thought impossible to make more comforting. Christina's hot chocolate recipe is the ultimate pick-me-up for those days when the mercury drops below -30 degrees Celsius.  Known for its warming properties, chai is a perfect addition to a traditional hot chocolate.
Advertisements
Sugar cookie
Want to add a festive touch to your cup of happiness without altering its original flavour too much? This sugar cookie hot chocolate recipe courtesy of Tieghan from the Half Baked Harvest blog is the ideal option for serving a nuanced and elegant comforting hot drink. Garnish with whipped cream, small marshmallows and coarse granulated sugar and you have the perfect holiday drink.
Advertisements
Parisian
Dini from the Flavor Bender offers the ultimate recipe for enjoying this classic as they do in Paris. Usually served in a cup or a small glass, French-style hot chocolate is of unparalleled richness. Smooth, dense, slightly sweet and a little bitter, this recipe is the perfect winter way to cook and enjoy high-quality chocolate.
Advertisements
Slow cooker peppermint
Do you have a large group to warm up? Choose a recipe to make in the slow cooker. The result is an ultra creamy chocolate syrup in sufficient quantity for about ten people. Add peppermint extract as suggested and you'll have a drink that's both spicy and comforting. No peppermint extract? Replace it with mint cream.
Tahini
This unusual addition may well become a favourite in your everyday chocolate drinks. At the very least, this is the case of Malin Nilsson of Good Eatings, to whom we owe this tahini hot chocolate recipe. This amazing idea will make your drink even more creamy and add salty accents that blend perfectly with the richness of cocoa and the sweetness of maple syrup. To be enjoyed with a good book or with the thermos during a hike in the forest.
Matcha honey
Fill up with antioxidants and give your cocoa cup a pretty bright colour. This new approach to mocha in its smooth green tea version is the work of Jessica Merchant of How Sweet Eats. The latter combines white chocolate with the sweet herbaceous taste of matcha and completes this blend of flavour with the best choice of sweetener for the occasion: honey. The result is a drink that is both sweet and creamy as well as fresh and invigorating.
Gingerbread
The ultimate gourmet version of the holiday hot chocolate is undoubtedly this recipe by Julia from Happy Foods Tube. Spicy, sweet, rich and undoubtedly festive, gingerbread hot chocolate is best enjoyed in pyjamas on Christmas morning. Filled with whipped cream and a gingerbread man, this gingerbread drink will be appreciated by children and adults alike.
Vegan
This superb colourful recipe from Bo shared on her Instagram account will delight all vegans and dairy intolerant people looking for the perfect chocolate drink for a little comfort. And no need to do without decadent toppings, the creamy walnut milk hot chocolate recipe also includes the steps to make whipped cream and vegan marshmallows.
Mexican
Need a little kick? Be inspired by Mexico and its expertise in this field. Spiced with cinnamon and cayenne pepper, this creamy, rich and spicy blend is for those who drink their coffee as an espresso and for whom sweet salsa is not an option. Sleepy people and adventurers may also enjoy this dairy-free version of the hot chocolate offered by Monique from Ambitious Kitchen.
Healthy
This healthy version of the traditional and generally overflowing with refined sugar hot chocolate is just as delicious and much better for your health. A healthy dose of comfort in the form of a hot drink with only healthy and whole ingredients was Jennifer Pallian's intention in concocting this healthy version of the classic hot chocolate.
Whatever your preferences, there is a hot chocolate recipe to comfort you this winter. Opt for a more classic variant or dare to break new ground with one of these ways to prepare and enjoy your cocoa. But don't forget to garnish your cup with marshmallows! And for an even more gourmet result, first, grill them in the oven.
---
Cover photo: dessertfortwo/Instagram