What is the much-talked-about plant-based meat?
Plant-based meat has been around for decades but has picked up in popularity during the last two years, thanks to Beyond Meat and Impossible Foods. Here's what you need to know about this meat-free option.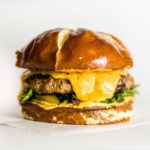 Plant-based meat has made headlines recently, with Impossible Foods making its way to major fast food chains such as Burger King and KFC and Beyond Meat to Tim Horton's. You might be curious about this alternative source of protein. You might even question the legitimacy of plant-based meat. Is it better for you than actual meat? What about the environment?
Here we've answered some of the most sought-after questions on the topic.
Advertisements
Is plant-based meat healthy?
If we know vegetables are awesome for us, what do we know about plant-based meat? How does it compare to meat? When it comes to calories, both Impossible Foods and Beyond Meat are slightly less caloric than meat, although the difference is insignificant—you'll cut 20 calories if you eat a plant-based meat burger vs a meat one.
Where meatless meat isn't doing well is when it comes to processing. In fact, this type of food is highly processed, which means you'll find more additives and salt in it than in meat. That doesn't mean it will be the case forever, but so far that's how it goes. Most food guides recommend avoiding ultra-processed food, and that would include meatless meat.
On the other hand, you'll have less saturated fat and no cholesterol in plant-based meat. They'll also have fibres, which isn't the case in meat. In the long-term, there would be fewer health risks associated with eating meatless meat than in eating actual meat. Which doesn't mean it's healthy, though, as mentioned before.
In the end, if you wanted to switch to plant-based meat only to be healthier, you might want to reconsider.
Advertisements
Is it good for the environment?
The real advantage of plant-based meat lies in its environmental footprint. In a nutshell, meatless meat is way better for the environment than meat. This is true no matter what parameter you want to use: water use, land use, energy, carbon emissions, etc.
This is not surprising, as the meat industry is one of the most polluting ones there is. Livestock cultivation alone is responsible for 14.5% of global greenhouse gas emissions. That's equal to transportation—cars, trucks, trains, planes and boats combined. On that front, cutting back on meat can be really meaningful. So why not eat meatless meat (or a meatless meal period) once in a while instead of meat? Every little action counts.
Advertisements
Who's the target demographic for plant-based meat?
Plant-based meat is not marketed towards vegans and vegetarians, although there is no doubt some of them appreciate having those products available. No, this alternative meat is mainly marketed towards traditional meat-eaters that might want cutting back without losing that "meat" taste they cherish. Have you ever heard someone say, "I'd love to be vegetarian but I just love the taste of meat so much"? That's your target demographic for plant-based meat.
What about you? Are you going to try plant-based meat? Are you sold on the idea? If you want to read more about meatless meat, have a look at this article, which discusses in further detail the resurgence of the phenomenon.
---
Cover photo: amirali mirhashemian | Unsplash