4 meatless Monday recipes you'll love eating any day of the week
Before you know it, you'll be treating yourself to one of these delicious Meatless Monday recipes on a Thursday night.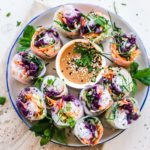 Sure, pasta is delicious. But all meatless Mondays don't have to consist of its every possible variant, however heavenly they may be. When it comes to sticking to a new vegetarian or vegan diet, even if it's only a first day of the week affair, variety is often key. By that, we don't mean going from Cacio e Pepe to rigatoni alla vodka, not that we have anything against it. If you are however looking to open up your vegetarian/vegan horizons and bring some diversity into your meat-free menus, these 4 meatless Monday recipes will get you inspired.
Advertisements
Spring Rolls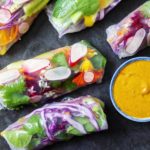 Fresh, colourful, flavourful and light yet satiating, spring rolls make for a perfect lunch on-the-go as well as a beautiful simple easy-to-make dinner. Fill your rice paper sheets with all the raw and pickled veggies you want, herbs such as cilantro or mint, add tofu, edamame or even an omelette for extra protein and even rice noodles for a more filling meal. Sprinkle with sesame seeds and serve with a peanut or tahini sauce.
Advertisements
Turkish Eggs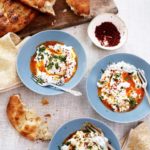 Not ready to go fully vegan yet (or ever)? Keep your meatless Monday egg-friendly with this vegetarian recipe that works for every hour of the day. For an intricate breakfast or a delicious hassle-free pancakes-for-dinner type of supper, give Turkish Eggs a try. Don't forget to serve this dish of Greek yogurt seasoned with green onion, garlic, dill or parley topped with a poached egg and drizzled with melted chili flakes butter with a piece of sourdough bread.
Advertisements
Enchiladas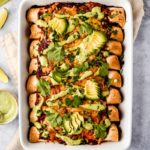 Enchiladas are always fun: There is something about Tex Mex food that screams party. So why not go festive on a Monday night by filling tortillas with a spicy black bean, kale and sweet potato mixture, rolling them and putting them in the oven covered in enchilada sauce. Top with regular or vegan cheese and serve with guacamole, just because.
Advertisements
Risotto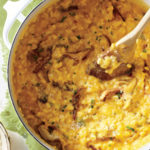 We know cheese is a big hit. The salty equivalent of ice cream, cheese will make you get over anything, even the absence of meat in your plate. And what better way to enjoy cheese than mixed in a creamy buttery risotto dish. Wild mushrooms, spring vegetables, goat cheese, hazelnuts: the possibilities are endless. As long as you don't toss in any lard or pancetta, you're all good and so will be your vegetarian dinner. And you can even make it vegan if you are that kind of adventurous.
Don't say goodbye to your favourite meatless Monday pasta meals yet. But know that there are a whole lot more vegetarian/vegan dishes out there for you to enjoy on the first day of the week. These 4 meatless Monday recipes are just the beginning. From classics you won't regret giving a meatless twist to original meals, these recipes and so many more might make you remove the Monday out of your meatless habits.