10 pasta sauce recipes to add some variety to your suppers
Fill up on carbohydrates with these pasta sauce recipes that will add flavour and variety to your weekly pasta dishes.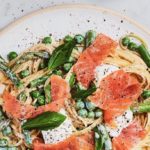 Leave jarred sauces where they belong: in the pantry or better yet, at the grocery store. From marinara to carbonara to original concoctions, these pasta sauce recipes are perfect for busy weekday dinners as well as for entertaining the best of guests. You won't regret forgetting your mother's famous spaghetti sauce for one – or 10 – delicious meals. Celebrate the end of butter pasta with these tasty sauces for rigatonis, linguines, farfalle, penne, etc.
Advertisements
Cauliflower bolognese
Start the week off on the right foot with this comforting recipe. Although appropriate for meatless Mondays, this vegetarian version of a Bolognese sauce could fool many. Made from cauliflower and mushrooms, the texture is very similar to that of ground meat. Surprise the whole family with this rich Healthyish sauce.
Advertisements
Spring pasta carbonara
Rich and heavy, carbonara pasta is generally better suited for the cold season. However, this recipe by What's Gaby Cooking revisits the classic dish to give it a pleasant spring twist. Green peas, green onions, mint and lemon bring freshness and flavour to the traditional blend of cheese and pancetta.
Advertisements
Pesto Trapanese
Did you have the preconceived notion that a pesto sauce absolutely had to be green? Bon Appetit invites you to review your certainties with this Trapani pesto recipe. Basil is still found, but this time in smaller quantities and alongside cherry tomatoes, garlic and roasted almonds.
Advertisements
Spaghetti with kale and ricotta
Here is an option for busy evenings that will allow you to say goodbye to butter pasta. On the table in about 15 minutes, this gourmet recipe from Playful Cooking is both light and creamy as well as fresh and consistent.
Pantry pasta puttanesca
This puttanesca sauce requires no fresh ingredients. Keep it handy for a good dinner after a trip when the fridge is empty or when you haven't had time to go to the market. All you need are a few ingredients commonly found in any good pantry to prepare this delicious recipe for Epicurious's alla puttanesca sauce.
Creamy sun-dried tomato chicken pasta
Creamy and sunny with a dash of white wine, this colourful and protein-rich dish is the perfect all-purpose meal for the whole family. Complete, satisfying and ready in 20 minutes, it will make your evenings of the week easier and tastier. This Well Plated recipe is prepared in a single pan, so you can enjoy it and limit the number of dishes you have to wash.
Pappardelle with portobello mushrooms and rosemary
There are two types of people on this earth: those who hate mushrooms and those who love them. If you are in the second category, this is definitely one of the yummiest pasta sauce recipes to try. This Family Style Food recipe offers a variation of the traditional Italian ragu. Fleshy portobello mushrooms harmonized with the woody aroma of rosemary and form a gourmet and comforting dish.
Cauliflower Carbonara
Seldom a vegetable associated with a pasta dish, cauliflower marks a return to this list. This time, add it to a carbonara-inspired sauce and it's something special. Epicurious offers to serve their gourmet sauce on orecchiette and we love the idea.
Rapini pasta with Italian sausage, fresh fennel, and pecorino cheese
Spice up an otherwise routine meal with this spicy pasta sauce. Italian sausage, rapini, fennel, pecorino cheese, white wine and chili make up a complete and tasty meal ideal for a cool autumn night or a harsh winter evening. This Family Style Food recipe offers refined flavours for a minimum of effort.
One-pot spring pasta with smoked salmon
This fresh pasta dish is a hymn to spring. Creamy, smoky, colourful, crunchy and fragrant, this sauce is best enjoyed at the table in the garden in good company and complemented by a good bottle of white wine. Don't forget to garnish this Epicurious recipe with freshly picked basil for the occasion.
Pasta dishes are among the most comforting dishes, but they are also perfect for a mild summer evening. It all depends on the sauce you decide to serve them with. So take advantage of this versatile meal to make weekday evenings and weekends both convenient and delicious by varying your pasta sauce recipes. Trying to reduce your carbohydrates or eating keto? Try these sauces on spaghetti squash.
---
Cover photo: epicurious/Instagram