10 recipes to do comfort food the gourmet way
Break out the fancy plates and the silver cutlery... We're taking comfort food to a whole new level with these 10 recipes.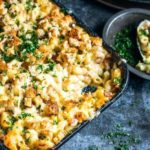 Just kidding. Or maybe not. Feel free to set a beautiful table, light some candles and use embroidered cloth napkins, but know that these gourmet versions of everyone's favourite comfort food can just as well be enjoyed sitting crossed legged in your yoga pants in front of the TV show of the moment. Just don't do paper plates. They're bad for the environment. Here are 10 delicious fancified comfort food recipes to devour however you like, wherever you like and still feel great.
Advertisements
Mac and Cheese
This is a classic of classics when it comes to comfort food. And although you might have long forgotten about the boxed version of this childhood favourite, when it comes to giving the macaroni and cheddar combo a gourmet makeover, any simple homemade casserole won't do. Nor will adding bacon bits or broccoli florets. Dish Magazine knows a thing or two about fancy mac and cheese and it sounds a lot like pancetta, white wine, chili flakes, Gruyere, sourdough, Parmesan and parsley.
Advertisements
Pizza
This is the time to fire up your wood oven. Don't have one? Neither do we and it doesn't stop us from feasting on gourmet pizza. Skip delivery and turn your stay-at-home movie night into a gastronomic affair with refined and original toppings on a thin crisp handmade crust. Try one of Stuck in the Kitchen's many delicious and unusual recipes like her smoked salmon, dill and capers pizza or opt for something a little more conservative, but just as refined, like Kitchen Konfidence's chanterelle mushroom and goat cheese pizza.
Advertisements
Ramen
Alright, we're not here to disrespect instant ramen noodles.  They have been there for us when we needed them the most – college, heartbreak, etc. – often accompanied by the just as comforting tub of ice cream. But we too often forget that ramen is also the perfect dish to satisfy the epicurean in you and impress your guest on a cold fall day. In need of a little pick-me-up and in the mood for cooking some serious dinner? Try this slow cooker crispy caramelized pork ramen noodle soup with curry roasted acorn squash recipe from Half Baked Harvest.
Advertisements
Chili
This Tex-Mex classic is an all year round comforting dish perfect for lunch or dinner and every occasion. And if you are looking to improve your chili game, you should think about getting an instant pot and cooking up Carrian's recipe from Oh Sweet Basil. Where's the gourmet in this, you ask? Well, this dish is nothing less than a ten-years-in-the-making award-winning chili recipe. Oh, and it includes bacon.
Fried Chicken
Almost as comforting as it is unsophisticated, the bucket version of fried chicken surely deserves a fancier alternative. Perfect for a big garden gathering and a nice sunny day in good company, this spicy Korean take on fried chicken comes with a chili sauce to coat the pieces or serve on the side. And the fact that you'll want to lick your fingers after devouring Dish Magazine's recipe doesn't make it any less gourmet.
Spaghetti
Upgrade your choice of pasta by switching the traditional spaghetti for pappardelle and upgrade your spaghetti recipe with this slow cooker bolognese sauce. The addition of pancetta or bacon pieces in Laura from A Beautiful Plate's recipe adds a very welcome smokiness. Cooked for 8 hours and preferably prepared with only the best ingredients like grass-fed beef and high quality finely grated Parmigiano-Reggiano cheese, this herby dish will bring the gourmet into your weekday dinners.
Mashed Potatoes
Anyone familiar with the Worth It series knows that truffle is the special ingredient to instantly turn any dish into a gastronomic meal. Mashed potatoes are no exception to this rule. If your wallet permits it, go for the shaved truffles, otherwise, truffle oil will do. Cynthia form Darling Down South not only shares a way to add a fancy touch in truffle form to your everyday mash dish, but she shares the ultimate recipe for the perfect potatoes.
Grilled Cheese
Grilled cheeses are an institution. They are the upgrade to a cold cut sandwich, the ultimate solution to a rushed lunch and instant comfort in sandwich form. Yet, even the easiest, simplest comforting meal of all time has its gourmet alter ego. Take Sarah Tuck's Gruyere and caramelized onion pan toasties, for example. She serves it with on her site as a side for her Sunday night portobello mushroom soup, but we think it deserves an article of its own. 
Meatballs
Meatballs are the answer to a cold winter night. Dish's recipe offers an epicurean version of the cozy, warming and simply delicious classic meal. Rather than the traditional beef meat, this recipe marries pork and oregano balls with a tasty, garlicky and cinnamon-y tomato sauce. And as if it wasn't already gourmand enough, the dish is covered in baked golden mozzarella and topped with extra oregano and Parmesan.
Fettuccine Alfredo
Fancy fettuccine Alfredo is actually fusilli. But not just any kind; the fresh kind. And apparently, the secret to making the best gourmet Alfredo sauce is by simplifying it. Out with the milk, cream and flour. According to Food52 and Colu Henry, all you need is unsalted butter, salt and pepper and the best finely grated Parmesan cheese you can find. Actually, we added that part, they just called for Parmesan cheese.
So gourmet does not always mean Osso Bucco and foie gras, but it does sometimes mean truffle. Nonetheless, whether you feel like spending time in the kitchen or just wiping up something quick and delicious, know that these comfort food recipes are the ultimate proof that anything can be made fancy… And finger licking good.
---
Cover photo credit: dishmagnz | Instagram