These vegan books for beginners are perfect to get you started
Call the in-laws. These vegan books for beginners will make you want to show off your plant-based cooking skills.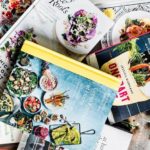 Cutting meat and dairy from your diet is great, but you still need to eat. And while PB&J sandwiches are good, they aren't the most nutritious thing nor are you five. Sure, salads, pasta with tomato sauce, oats, smoothie bowls… We are well aware that making vegan choices is actually quite simple and that the internet is full of plant-based meal ideas. However, foodies and people in need of more guidance can take their cooking to the next level with these vegan books for beginners.
Advertisements
Minimalist Baker's Everyday Cooking
Advertisements
Liv B's Vegan on a Budget
Advertisements
Any of Deliciously Ella's Cookbooks
Advertisements
Rita Serano's Vegan in 7
Vegan Richa's Everyday Kitchen
Spork Foods's Vegan 101
The First Mess' Cookbook
Love and Lemon's Cookbook
Any of My New Roots' Cookbooks
Lauren Toyota's Vegan Comfort Classics
The New Vegan
Thug Kitchen's Cookbook
So make space on the shelf and stack up on vegan grocery list essentials, because your plant-based diet is about to get very tasty. From quick, easy and cheap recipes to comforting meals that will help you stick to the lifestyle to deliciously healthy recipes of all kinds, these vegan books for beginners will satisfy your appetite.
---
Cover credit: @nourishedbynutrition | Instagram