The best raw food recipes for the curious foodies of the world
The raw lifestyle is more and more popular and we can understand why it's so appealing to some. Discover some of the best raw food recipes that are both delicious and vegan and will convince non-raw eaters to try this diet!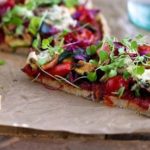 Eating raw doesn't mean your food options are either to munch on raw vegetables, fruit or seeds and nuts. No, it's not the most inclusive dietary lifestyle ever created since you can't eat anything cooked (like bread, meat, chips, cake, pasta, fries… you get the point) but if you're curious to try it then you should know that you can at least eat delicious and varied food and not only salads for every single meal. The recipes below will definitely keep you satisfied and might even surprise you. Spicy pad thai, hearty spaghetti zoodles, midday craving stoppers energy balls, decadent pumpkin pie and sweet coconut bites are just some of the best raw food recipes we've uncovered on the web. If Tom Brady and Gisele Bündchen can do it, you can too!
Advertisements
Kale salad
Advertisements
Zoodle spaghetti
Advertisements
Veggie summer rolls
Advertisements
Pizza
Lasagna
Pad thai
Peanut butter filled dates
Raw cracker with sprouts
Matcha energy balls
Candied Almond & Pine Pollen Almond Cheese
Lemon Coconut Tarts with Blood Orange and Black Sesame
Chocolate and peppermint slice
Spiced pumpkin pie with whipped coconut cream & salted caramel
Ganache tarts
Coconut caramel bites
As you can see, a raw food diet doesn't equal to a boring diet. There are tons of main dish, snack and dessert ideas to satisfy your sweet and savoury cravings. If you want to find even more raw diet recipes, there are tons of blogs and books dedicated to this low-sodium and high fibre diet. Also, if you don't eat meat, know that this is a very vegan-friendly diet! You can have your (raw) cake and eat it too!
---
Cover photo: @therawchef | Instagram