The best Italian restaurants in Montreal for true pasta lovers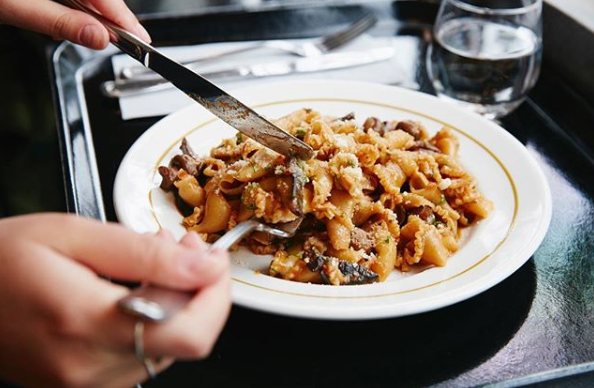 Going to a bar is always nice. But it is easy to get bored with our local neighbourhood bars. Here are 10 speakeasy bars to try in Canada.
Is there anything better than a big bowl of delicious pasta when your craving comfort food? Pasta, or any Italian dishes for that matter, is food that most people love and can eat without ever getting tired of it. From bolognese to pesto to mushroom risotto, there's nothing to dislike. If you live in Montreal or you are visiting this wonderful North American city and you're craving some Italian dishes, know that this city boasts some incredible choices when it comes to Italian restaurants. Here are the best Italian restaurants in Montreal to satisfy your craving.
#2 according to our users
Located on St-Laurent Blvd in Montreal's cool Mile-End neighbourhood, Il Miglio is a relative newcomer since it only recently opened its doors at the end of 2017. A lunch spot par excellence for the startup crew that works around this neighbourhood, Il Miglio is open from Tuesday to Saturday from 11h30 to 19h, each week offering different antipasti and pasta dishes made fresh daily. The counter service is perfect for quick sit down lunches, take out or for a "home-cooked meal" when you're not in the mood to cook after work.
#10 according to our users
Part of the same restaurant family as Il Miglio, Le Serpent is a fine dining restaurant situated in Old Montreal. The industrial-chic interior will make any design lover ooh and ahh. Food wise, this restaurant offers a contemporary Italian menu with dishes like burrata with beef carpaccio, broccoli, eggplant and espelette, octopus with potato mousseline and salsa verde, short rib ravioli, squash, porcini, swiss chard and chestnuts, lobster risotto, yellow beet, basil and mascarpone, and other incredibly tasty dishes. Leave space for dessert because pastry chef Masami offers exceptional sweet treats for those with a sweet tooth.
#3 according to our users
A Montreal institution, Da Emma offers simple but refined typical Roman dishes. Think marinated artichoke hearts, spaghetti alle vongole, veal in its pan juices, roasted rabbit with rosemary, roast lamb, suckling pig, the list goes on. With more than 25 years experience, chef Emma Risa's fresh and quality ingredients are the secret recipe to Da Emma's continuous popularity (hello international celebrities and hockey players). A former women's prison, the restaurant has a sexy, intimate and old-fashioned feel, perfect for a date night or an evening of celebration with friends.
#6 according to our users
Montreal's Little Italy has tons of Italian restaurants but Impasto takes the cake. Stefano Faita and Michele Forgione's food from every region of Italy will delight your taste buds. Open for lunch (Thursday and Friday) and dinner (Tuesday to Saturday), you can enjoy fresh focaccia with sea salt and olive oil, homemade charcuteries, linguini with confit salmon, garlic, lemon and pangrattato, Québec venison ragu and Ragusano cheese, etc. If you don't know what to choose, try the 4-course tasting menu.
#7 according to our users
Taking an Aperitivo is huge in Italy. But what exactly is an aperitivo, you ask? Discover this typical Italian happy hour at Caffe Un Po' Di Piu in Old Montreal! You will be transported to Italy circa 1920 with the old-fashioned bar, high stools and bricks walls. Specializing in Italian coffee, paninis, Negronis, Spritz, and small plates like burrata, bruschetta, focaccia, eggplant dip, etc., this is the kind of place where you can spend a whole afternoon (and evening) eating and drinking in a beautiful space.
#5 according to our users
In the mood for some wood-burning oven pizza? Head over to Moleskin in Montreal's downtown area for some excellent pizza and an impressive wine list. This 3 restaurants in one serves antipasti and pizzas downstairs, a more elaborate and fancier menu upstairs and they also have a take-out counter if you're in the mood for some ice cream on the go. You'll have a hard time choosing between the always popular Margherita or the Salsiccia, Cacio e Pepe and Verdura pizzas available.