10 surprisingly appetizing Halloween recipes
Add some terror and fun to your parties for adults and kids alike with these 10 surprisingly appetizing Halloween-inspired recipes.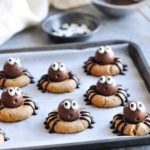 Halloween enthusiasts rarely do things half-heartedly. From the decorations to the meal and costumes, you have everything you need to get into the Halloween spirit. However, you're not entertaining the Addams family. The fact remains that any reason is good to make the most out of this night and create a meal worthy of this spooky holiday. Whether you wish to please your kids or surprise your guests, young and old will appreciate the special touch you've brought to your dinner. So light your Jack-o-lantern and fire up your stove! Here are 10 surprisingly appetizing Halloween recipes to make on this terrifying night.
Advertisements
Dark chocolate pudding
Dark chocolate pudding, meringue ghost, fondant pumpkin and "earth" made from cookie crumbs, this elaborate dessert, as pretty as it is delicious, will certainly get your guests talking. However, nothing prevents you from limiting your efforts and your time in the kitchen and only preparing the cute meringue ghosts or the dirt covered pudding and then adding a cookie tombstone or a simple piece of banana with chocolate chip "eyes" to make an effort-free ghost. Another great thing about this dessert is that it's gluten-free.
Advertisements
Jack Skellington ricotta olive tarts
Halloween might be the official candy holiday but we can't only function on candy. Eat salty — and healthy dishes — all while staying in the Halloween spirit with these ricotta olive tarts. You will certainly please Tim Burton fans and foodies alike with this simple and delicious recipe inspired by everyone's favourite The Nightmare Before Christmas character. This savoury tart has parmesan, thyme and sun-dried tomatoes.
Advertisements
Witches' fingers
Finger food, literally. These witches fingers are an ideal addition to the snack table for your next Halloween party. It will certainly create a buzz. These are so real looking that your guests might do a double take before grabbing one of them. If guests are too freaked out to eat them, then good for you! You'll have some left over to dip in your afternoon coffee or tea.
Advertisements
Spooky wild blueberry boo-berry snack balls
Keep your kids away from sugary treats for a little while with this healthy and cute snack. As delicious as candy, or even better, these delicious blueberry bites contain natural ingredients. Thus, they are the perfect snack to serve the little ones during a Halloween party. It is extremely easy to prepare and requires no baking. The perfect snack for this very busy but festive period.
Squid ink pasta with fennel, garlic and basil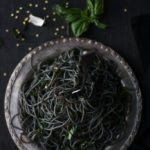 For a themed party filled with delicious food, serve these pretty plates filled with squid ink pasta with fennel, garlic and basil. This recipe is perfect for a casual Halloween party between adults. Not only does squid ink add a unique flavour to meals, but it also gives a dramatic colour to the dish that is perfect for the occasion. You can stay on theme without sacrificing quality with this simple but sophisticated Halloween recipe.
Mumpkin pie
Pumpkin pie is a fall classic. It's a great idea to bake this pie for a Halloween party. If you're looking for a way to tweak it to make it more festive, you can easily transform it into a spooky creature. All you need to do is cut long strips from your pie dough to create the mummy strips. Just add two edible eyes to make a friendly mummy out of your holiday dessert. Find the complete recipe on college_housewife's Instagram.
Avocado and wasabi deviled eggs
Deviled eggs are a classic finger food you often find at parties. Loved by many, easy to eat and prepare, these individual bites sometimes snubbed for their banality breathe new life when you give them a monstery twist. These avocado and wasabi deviled eggs are just terrifying enough to fit with your Halloween theme and are delicious enough to vanish in an instant.
Dark candy apples
Take advantage of your recent visit to the orchard to spread the Halloween spirit. Like the wicked witch in Snow White, make your own poison apples and offer them to those who dare take a bite. These delicious caramel apples are a magnificent edible addition to your Halloween decoration.  The recipe suggests using red food colouring but don't hesitate to use black food colouring to make them more sinister.
Mummy hot dog wraps
After deviled eggs, pigs in a blanket! After all, classics are classics for a reason. Kids adore these very simple bite-size treats. They are the perfect addition to your kid's Halloween party. Use puff pastry to wrap your cocktail sausages like real mummies, taking care to leave some space for the face. Just add eyes and you have fun appetizers to serve.
Peanut butter spider cookies
Enjoy the classic chocolate and peanut butter combo for your Halloween treat. As cute as they are delicious, these spider cookies use the famous Lindor truffles to create the bodies of these small creatures. Perfect for the occasion without being scary, they will please the whole family.
Whether you are organizing a spooky party, a gourmet dinner, a party for your little one or you simply want to offer fun and special bites to your kids to celebrate Halloween, these sometimes fun sometimes scary Halloween recipe ideas will add some fun to your night.
---
Cover photo: eatlittlebird/Instagram