The web's best vegan pancakes recipe
Look no further. We have exactly what your mornings lack. Vegan pancakes just as good as the ones you used to enjoy as a kid.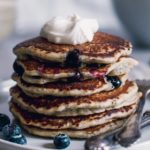 Thought eggs and milk were fundamental to thick fluffy pancakes worthy of Sunday brunch? Think again. This recipe will bring your mornings to a whole new level. Gone are the days where you didn't wake up craving vegan pancakes for breakfast.
Advertisements
Ingredients
1 cup whole wheat flour
2 tbsp sugar (or maple syrup)
1 tbsp baking powder
1 cup plant milk of your choice
1 tsp vanilla extract
1/4 tsp salt
2 tbsp coconut oil
Coconut oil for cooking
Advertisements
Preparation
Mix all the dry ingredients in a medium bowl. Then, slowly add the wet ingredients while whisking properly. Once the batter is homogeneous,  let it rest for 5 minutes or so. At this point, you can add in black chocolate chips, raisins, blueberries, apple pieces and anything you when, or keep them nature. Meanwhile, warm up a medium non-stick or well-oiled pan on medium heat. Pour a ladleful of batter and wait until bubbles start forming at the surface. Flip and cook until golden.
Serve your vegan pancakes with real maple syrup or your favourite toppings.
Bon appétit!