10 unusual foods to fire up on the barbecue this summer
From the pineapple hamburger to French toast, these unusual foods to fire up on your barbecue will add some spice and taste to your summer meals!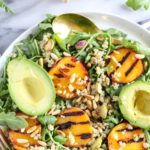 The summer cooking mode par excellence, all the reasons are good to take out the barbecue when summer is in full swing. First, because we love the taste it gives to our food… And second, because nobody wants to cook inside in the summer. Although hamburgers, skewers, sausages, chicken breasts and grilled fish are still classics to be had, a little creativity is always welcome on our plates. Make room for some change and add colour to your summer recipes by trying these new foods on the BBQ. Here are 10 delicious and unusual foods to fire up on your barbecue right now.
Advertisements
Avocado
While we might have thought we had tried every way to prepare avocados, now we have a whole new range of concoctions we can try. Cooking avocado, especially on the barbecue, may seem like a strange idea. Yet it actually becomes deliciously toasted. Garnish your avocado halves with a chickpea salad, couscous, tomatoes and mini bocconcini cheese, ceviche or any kind of mixture to make some stuffed avocados. Grill slices and add them to salads or enjoy them as a side dish.
Advertisements
French toast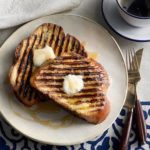 It's never too early to light up the grill. Especially for grilling a few slices of French toast. A regular size barbecue can accommodate a larger number of slices of bread at the same time so it's perfect if you have tons of people over for brunch. The whole family can finally have hot brunch at the same time… Although it is only a side benefit to take out the barbecue during breakfast time. The real reason is, of course, the delicious aroma that accompanies the grill marks on your French toast.
Advertisements
Pizza
Don't deprive yourself when an irresistible craving for homemade pizza catches you in the heat of the summer. Cook them on the barbecue instead, they'll only taste better. The high heat of the barbecue is perfect for baking the dough and will give it those little charred spots suitable for a successful crust. It will be crunchier in the mouth without drying out. Without being difficult, the process may require some practice. To get your barbecue pizza right the first time, take a look at this step-by-step guide on The Kitchn.
Advertisements
Peaches
They are obviously delectable for dessert, or after lunch accompanied by plain yogurt and a little honey, but you should also try them in a salad. Add them to a mixture of arugula, walnuts and goat cheese for a light and tasty meal. Or take inspiration from this superb Holly Cochrane creation and serve your roasted peaches with pancetta, green peas and burrata. Simply serve them topped with balsamic vinegar and enjoy them as a starter or side dish if you like.
Bacon
What's better than bacon? Bacon grilled on the barbecue. Forget the pan, the barbecue cooks this salty, crispy delight (to consume sparingly) quickly and evenly in addition to bringing out all the aromas you love. The texture of your bacon slices will be crunchier and their smoky flavour will prevail. Oh, and you can say goodbye to splashing fat on your stove.
Grapes
Fresh and frozen, they are eaten like candy, but many are unaware that they are also delicious after they are left a few minutes on the grill. No preparation is necessary, just place a few bunches directly on the grill. Serve your grilled grapes with pork, in a salad, or with plain yogurt. They also accompany beautifully a plate of cheese and are succulent in a bowl of vanilla ice cream.
Oysters
What better way to celebrate summer than by enjoying fresh oysters prepared outdoors on the grill. This method of cooking is not only tasty but also greatly facilitates the opening of these crustaceans. Let them grill for a few minutes, then season them with a butter sauce in oil, champagne or simply a little lemon juice for the real lovers.
Crab cakes
This is another culinary highlight of the summer season and it is worth a visit on your barbecue grills. Fresh, tasty, comforting and simply delicious, this typical Maryland and Virginia dish is often prepared in the pan, although the reason escapes us. This summer, grill them on the barbecue for an even more delectable experience.
Cucumber
Yes, cucumbers can be roasted. And, just like his cousin the zucchini, this one is delicious cooked this way. But unlike zucchini, cucumbers retain their crunch when cooked properly. In the summer, it is particularly good with fish such as trout or salmon and a creamy dill sauce. Find the exact recipe of this fresh and tasty meal on olivemagazine.com.
Lettuce
Yes, this recipe may seem counter-intuitive. However, don't follow your instincts and do it! Put some romaine hearts on the barbecue. The popular belief that lettuce and heat do not mix well is false. Grill your greens for an original and succulent version of the traditional Caesar salad or try this appetizing goat cheese starter recipe offered by dinner4tonight.com.
---
Cover photo credit: pumpkinandpb/Instagram