10-minute HIIT full body workouts for your next training session
High-intensity interval training (HIIT) is great since you can pretty much do it anywhere. Try these amazing 10-minute HIIT full body workouts now!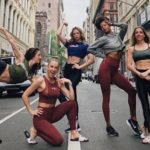 Is your workout routine getting boring and repetitive? Do you lack motivation and would rather clean your shower curtain or vacuum the dust bunnies from under your bed than take out your running shoes and sports bra? It's time you try a 10-minute HIIT workout. High-intensity interval training is efficient, it burns more fat, you rarely need any equipment, it increases your metabolism, this type of training can be done anywhere and it will make you sweat. If you have 10 minutes to spare (who doesn't?) in your day, try these 10-minute HIIT workouts to burn that pesky layer of fat and feel stronger faster. You won't get bored with these quick and effective workouts!
Advertisements
Emi Wong's 10-minute full body HIIT workout
"A short workout is better than no workout." Emi Wong will convince you to do her workout at least once a week to get abs like hers. Her full body HIIT workout consists of 10 exercises that last 45 seconds each: jumping jacks, side plank rotation, burpees, commandos, half burpees, crossover reverse lunges, jump squats, opposite arm & leg raises, push-ups and speed skaters. You only need some workout gear and a mat, and you're ready!
Advertisements
Astrid Swan's 10-minute HIIT workout
Butt kicks, burpee spins, diamond clicks, these foreign sounding exercises are intense and will make you sweat. Celebrity trainer Astrid McGuire created a workout routine using only your body weight to get you moving and burning calories. Her cool down at the end is a nice additional touch and you'll definitely show off some of these moves to your family and friends.
Advertisements
10 min HIIT cardio workout for fat loss
Love working out with your significant other? Make a competition out of it with this 10-minute workout and get your couple moving. This video does require some dumbbells but don't worry, if you don't have any at home you can always use household objects like canned foods or dried rice and beans in containers. Follow either Claudia or Kozak depending on you're comfortable doing.
Advertisements
10 minute home HIIT
The Lean Machines' 20 seconds of workout and 10 seconds of rest HIIT session is a fat-burning, fast and easy to follow video you'll be happy to follow. All the exercises are straightforward and don't require you to rewind the video 5 times to make sure you're doing the exercises properly. Squats, lunges, push-ups, V ups, these are all exercises you've seen before.
10 minute HIIT cardio workout for home
Quite different from the previous videos, Group HIIT's 10-minute workout only has 4 cardio focused moves:  half burpees, X jumps, mountain climbers and pencil jacks that last 30 seconds each. You have 20 seconds of rest between each exercise and you do them 3 times. This is a great video for beginners or people who aren't used to HIIT workouts since all the exercises are shown before you start doing them yourself.
Home HIIT workout
Lucy Wyndham-Read gets you moving with her 10-minute HIIT workout. Choose between her modified or full position moves, whatever makes you the most comfortable. Jumping jacks, heel kicks, squats, lunges, Lucy explains every exercise in great detail to make sure you are following her moves properly.
10 minute 120 calorie burning HIIT workout
These 6 total body exercises using just your body weight will work out your abs, obliques, shoulders, biceps, triceps, hamstrings, glutes, quads, and calves. Each exercise will be performed for 10 reps but beware! There are no rests in this 10-minute HIIT video so if you need a drink of water or a few minutes to rest, pause the video so you don't miss any moves. All you need is your workout clothes and a mat and some music blasting, of course!
Beginner HIIT
Beginners, this is your chance to shine. Learn the ins and outs of HIIT with this easy to follow video. Lindsay Brin will walk you through all the exercises and also includes a fun warm-up in case you haven't thought of warming up your muscles before starting the workout. There are 10 exercises to do and Lindsay explains the moves, you feel as though she's right there with you. This is also a great workout for new moms.
10 minute high intensity workout
Tone your body, burn fat and increase your heart rate with Rebecca-Louise's 10 minute high intensity workout. You will reach your fitness goals with the help of your bodyweight and bodyweight only. This HIIT routine is dynamic and you don't have time to get bored since the exercises change so quickly. You will definitely feel the afterburn once you've completed this quick workout.
Intense HIIT workout
You will have a hard time catching your breath with Chloe Ting's strength exercises. We love the fact that Chloe has a square in the corner that shows you the next exercise, and there's also a timer so you know how much time you have left. You will work all your muscle groups and get your heart pumping!
Fun, efficient, diverse, these 10-minute HIIT workouts will get you sweating in no time. Once you start exercising, you won't want to stop and you'll want to try even more videos to challenge yourself. Whether you are doing this for your New Year's resolution or your pre-summer beach body, these HIIT workouts will get you one step closer to your goals, there's no doubt about it.
---
Cover photo credit: @barrysbootcamp | Instagram