10 superb Pokemon planters created with Game Boy consoles
The artist Winnie Sumida had the brilliant idea of creating superb and original Pokemon planters with some vintage Game Boy consoles.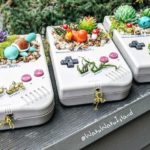 Creativity is an aptitude not everybody is born with or can develop. It takes a lot of imagination to create something new, even when it is already existing concepts that inspire us. Creativity is not something Winnie Sumida lacks, quite the contrary. Video game enthusiast, Pokemon lover and fan of gardening or décor? Here are some superb Pokemon planters created by this talented artist.
Advertisements
The Waku Waku Island Pokemon planter project
Hat and interior plastic plant creator by trade, Winnie Sumida has numerous creations under her belt. However, her project called Waku Waku Island is her most famous project to date. This project consists of using old Nintendo consoles, notably Game Boy and Nintendo DS consoles, only keep the outer shell and then fill them with decorations such as pebbles and plants.
But what makes this project even more original is the addition of various Pokemon figurines in her creations.
Advertisements
Pokemon integrate themselves into the real world
Pokemon have been around since 1996 and are still popular more than 20 years later. Whether through video games, trading cards or TV series, everyone has already heard of these charming creatures. In 2016, they made a strong comeback among nostalgic people who love the 90s with the Pokemon GO app, which makes us catch Pokemon as if they were in front of us.
Maybe that's what inspired Winnie Sumida's Waku Waku Island project in the first place. Indeed, the old consoles she recuperates to make unique decorative objects give the impression that the Pokemon have decided to come out of the video game to integrate themselves in the real world and it is completely adorable in addition to being beautiful. If you're in a relationship and your beloved half is a Pokemon fanatic, this is the perfect compromise between decorating your apartment or house with some vegetation and video game memorabilia.
If you love video games, Pokemon, gardening and decor, it is clear that Winnie Sumida's Waku Waku Island creations will definitely not leave you indifferent. To stay up to date with the artist's latest creations or if you want to buy some of these cute Pokemon planters, take a look at her Etsy page!
---
Cover photo: Instagram | @wakuwakuisland