10 gift ideas for yoga lovers
Surprise your loved one who, unlike you, does not wear yoga clothes just to relax at home with these gift ideas for yoga lovers.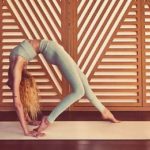 Are you getting frustrated looking for a gift idea to please your most Zen loved ones? Do the words namaste and savasana sound like Chinese to you? Apart from a mat, you have no idea what the heart of a yoga enthusiast might want and you are well aware that a yoga enthusiast certainly already has one, if not several? In short, you need a little help. So take a deep breath and take a look at these 10 great gift ideas for yoga lovers that will surprise those who never leave home without their workout mat.
Advertisements
Recipe books
Yoga is not just a sport, it is a way of life. Taking asanas, or positions, is only one branch of what yoga really is. Offer this superb cookbook created by Kimberly Parsons, The Yoga Kitchen, for its recipient to bring yoga to her kitchen and plate. After all, a healthy body in a healthy mind is the basis and ultimate goal of all yogis. And food is essential to thrive.
Advertisements
Yoga mat spray
Here is the perfect idea for a gift exchange or Christmas stocking. This natural cleansing spray for yoga mats made of essential oils refreshes and removes bacteria and germs in the best possible way. Made with tea tree oil and lavender, it leaves the surface clean and pleasantly scented.
Advertisements
Straps
Straps are an accessory that help achieve certain postures that are too difficult by compensating for a lack of flexibility or that simply help to deepen your practice. They are absolutely not essential, but they are a great addition to some types of yoga. Choose a pretty colour or even a quality fabric and print to make a beautiful gift.
Advertisements
Essential oil perfume
This superb scented oil has been specially created to balance energy and promote the best of oneself. It promotes well-being and love. Applying it behind the ears and on the wrists is ideal just before starting a meditation or restorative yoga session. Although the person who receives it as a gift may well want to wear it at all times.
Water bottle
It's no secret, yogis like to take care of themselves. An important aspect of maintaining good health is to stay well hydrated. Especially during physical effort and especially during the practice of bikram yoga, also called hot yoga. This superb water bottle is, therefore, an accessory that will please any good yogi. In addition to its attractive design, Bu Water is environmentally friendly and has a natural bamboo filter.
Towel
Speaking of hot yoga, many people who practice it like to use a towel specially designed for this type of practice to absorb sweat and moisture and prevent slipping. If you know that the person you want to give your gift to loves or wants to try Bikram yoga, it might be a good idea for a gift. The Yoga Design Lab produces very pretty and good quality products. They are also ethical and produced from recycled materials!
Bag
We can never have too many bags. And this is also true for yogis. Even if your loved one already has a strap or mat bag, a second one is always a good idea. This is especially true if it is a pretty organic cotton bag that is fun and printed with a positive message such as this one made by the French company Baya. Perfect for commuting to the studio in style!
Candles
Here is another item that we can never have enough of. Beautiful scented candles are the ideal accessory to accompany your practice at home. Whether it is a yoga session or a short or long meditation session, they will create a cozy atmosphere. Choose a wellness brand and even a formula specially designed to accompany self-reflection, such as this "Intention" candle from Made By Yoke.
Clothes
You don't want to take a chance? Make it as simple as possible. If you know the size of the person you want to please, offer them yoga clothes. Leggings, sports bras, tops of all kinds or complete sets, many options are available to you. There are also several brands of yoga linens for all budgets.
Yoga block
Much like straps, not all yogis use yoga blocks. They assist beginners in taking different asanas, but can also help the more advanced to achieve very difficult postures and to go further in their practice. It is a very practical and pleasant accessory to have on hand. If you think it might be useful to your loved one, take a look at Gaiam blocks.
Regardless of your budget and the type of practice of the most Zen person in your life, there are many gift ideas for people who do yoga that will put a smile on the face of your loved one. Oh, and if it is an extremely special person and you want to invest a significant amount of money to please them, know that yoga retreats abound all over the world. Why not sign them up for a stay filled with asanas in a beautiful place…
---
Cover photo: @gypsetgoddess | Instagram