10 Montreal bars where you can dance until the wee hours of the morning
Montreal is filled with bars, concert halls and clubs. Here are 10 Montreal bars where you can dance until the wee hours of the morning.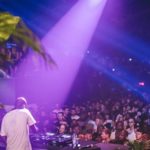 Montreal is known as a metropolis that teems with bars, concert halls and clubs. It isn't surprising that night owls choose this city as a destination to party until the wee hours of the morning. Also, unlike Toronto, bars close at 3 a.m.! If you enjoy dancing to great music and listening to incredible DJ sets, here are 10 Montreal bars where you can dance all night!
Advertisements
Tokyo Bar
If some discotheques tend to specialize in a particular musical genre, it is quite different for the Tokyo Bar. Indeed, this nightclub is THE place to dance on hip-hop, rock or electro music. Tokyo Bar has two rooms with totally different atmospheres as well as a back terrace where you can pleasantly talk with your friends while you sip your glass. So it's a perfect place for dancing or to go out.
3709, Saint-Laurent boulevard
Advertisements
Datcha
Datcha, which is situated in the Mile End, is the perfect place if you're an amateur of electronic music. This plush and trendy bar, with a European inspired look, receives local DJs and plenty of international ones. Put your best outfit on and come out to dance all night!
98, Laurier Avenue O
Advertisements
Cabaret La Tulipe
The Cabaret La Tulipe is well-known as a place to dance in Montreal. This place has tons of bars to order your drinks and a very big dance floor. You have tons of space to dance all night to classics from the 80s to now.
4530, Papineau Avenue
Advertisements
Newspeak
The Newspeak, which is in Montreal's Quartier des spectacles, offers not only performances by emerging artists, but also DJ sets. You will discover electro, indie and hip-hop music. In any case, you will be unable to remain impassive to the music of this trendy room!
1403, Sainte-Elisabeth street
New City Gas
You've probably heard of New City Gas, especially if your phone is full of electro music. It is an old factory that dates back to 1859 and was transformed into a nightclub. Located in Griffintown, New City Gas is known for in the night scene for hosting international DJs. You will love to go dancing in this gigantic historical building with 2 floors and different 3 rooms.
950, Ottawa Street
Velvet Speakeasy
Do you know the Auberge Saint-Gabriel? This institution, which has existed since 1754, houses not only a gourmet restaurant, but also a trendy nightclub, the Velvet Speakeasy. To get there, you must be escorted by a doorman to the basement, walk along a dimly lit stone corridor and then enter the London Speakeasy style club. You can dance to the music of emerging DJs as well as to the music of more famous DJs from abroad.
426, Saint Gabriel street
Le Belmont
The Belmont is well known to Montreal night owls. Very busy, this bar located on the Plateau, receives as many bands as DJs. It offers a varied musical selection. This is, without a doubt, one of the best bars to go dancing in Montreal!
4483, Saint-Laurent boulevard
Rockette
La Rockette, also located on the Plateau, is perfect for dancing, especially if you like retro music, rock and punk. You can go whip out some moods on the dance floor under the disco ball or simply go to the second floor to drink your drink and enjoy the music.
4479, St-Denis street
Clébard
This bar is perfect to start the evening slowly and finish it in a more party way. You can actually start your Friday night at the Clébard with happy hour, including cocktail and food, and finish it off on the dance floor dancing on the DJ's music.
4557 Saint-Denis street
Les Foufounes Électriques
Are you convinced Foufounes Électriques is only for punks? You're wrong! This is definitely one of the best bars to go dancing in Montreal. Although the first floor is quieter because people sip their drinks while talking, the second floor is reserved for shows or dancing! Tuesdays, for example, are nights reserved for the hits of the 1950s to today, while Thursdays you can dance to pop, hip-hop, electro trap and more!
87, Sainte-Catherine street E
There are tons of bars where you can go dancing in Montreal! No matter what kind of music you like or what alcoholic beverages you drink, you're almost certain to find a place that will hold your attention until 3:00 in the morning.
---
Cover photo credit: Instagram @newcitygas