10 novels for the perfect book club read
Choosing the right books for a book club can be difficult, but here are 10 novels that are perfect for engaging in great discussions.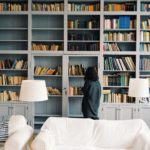 In recent years, book clubs have become more popular and it is easy to understand why. Thanks to new technologies, these can take different forms that are easily accessible to all. No more having to meet in small groups in a community room on a weekday evening to discuss a book; now, book clubs can be done online, either by video conference or simply through written discussion on a private Facebook group. All options are possible! Several publishing houses organize book clubs, for example. Even some celebrities have gotten into it! Just think of Emma Watson, our favourite Hermione, who launched Our Shared Shelf, a feminist book club, in January 2016. Before her, there was, of course, Oprah Winfrey, but since then, several other stars have followed in their footsteps, including Emma Roberts, Reese Witherspoon, Kim Kardashian and Chrissy Teigen.
In any case, the purpose of a book club is obviously to read novels, but also to discuss them with other people, which is why the choice of books on the agenda is really important. Since it can sometimes be difficult to choose good books from the millions of books that exist and continue to be published every week, we have prepared a list of 10 novels that are perfect for a book club. On your marks, get set, read!
Advertisements
Wonder, by R. J. Palacio
Wonder by R. J. Palacio, published in 2012, is a children's novel that is very easy to read, no matter how old you are, and was brought to the screen in a wonderful way in 2017. Featuring 10-year-old August Pullman, who was born with a facial malformation, we follow his integration into the public school in his neighbourhood as he enters Grade 6; until now, his mother homeschooled him. One of the strong points of this novel is certainly August's entry into school, which we follow from different points of view throughout the story, not only from the young boy himself but also from his sister and four of his classmates. Addressing several themes that are, on the whole, topical and morally appealing, Wonder will certainly give rise to many discussions for your book club! In addition, if you liked this novel, you can continue to explore August's story thanks to Auggie & Me, three new stories revolving around Wonder.
Advertisements
The Music Shop, by Rachel Joyce
With 5 literary works to her credit, each more incredible than the next, Rachel Joyce offered us, in 2017, the sublime novel The Music Shop. The latter takes place in London, mainly at the end of a rather shabby cul-de-sac, where Frank and his vinyl store are located. Frank doesn't believe in CDs and refuses to sell them; he only swears by vinyls, despite the problems they can cause for his customers and suppliers. But what makes this record store famous is certainly its owner. Frank has a gift; he can find the precise music that each client needs to ease his torments, every time. One day, a mysterious young woman in a green coat, named Ilse, faints in front of his shop. A unique bond will form between them and Ilse will ask Frank to help her understand music. Any music lover will be charmed by this extraordinary love story, which makes The Music Shop a perfect novel to start many different discussions about it, certainly, but also about the music and the important place it has in it. If The Music Shop is unanimous, don't hesitate to propose The Unlikely Pilgrimage by Harold Fry, the author's very first novel, as a future reading! It will charm you just as much.
Advertisements
The Immortalists, by Chloe Benjamin
How would you live your life if you knew in advance the exact date of your death? This is what The Immortalists by Chloe Benjamin, published in 2018, deals with. One day in the summer of 1969, with nothing better to do, the Gold children decided to consult a psychic on Hester Street in New York. The latter predicts each child's death date, but Varya, Daniel, Klara and Simon are not convinced of the accuracy of her words. Nevertheless, this prediction haunts them for years, until the day the first of them died on the date announced by the visionary. Is it a real prophecy or are they unconsciously pushed to make choices leading them to their death since they know when it should happen? A major novel mixing reality and illusion, The Immortalists will give you something to talk about for hours!
Advertisements
A Man Called Ove, by Fredrik Backman
A Man Called Ove, a real treat of a novel by Swedish author Fredrik Backman was published in 2012 and is simply adorable. Now a widower, Ove has only one desire: to join his wife. However, his suicide attempts are constantly being ruined, especially because of the new family moving in across the street from his home. This grumpy, rigid and suspicious old man will have to learn to live with the newcomers, in particular Parvaneh, mother of two girls, pregnant with a third child and wife of a rather simple-minded man who discourages the old man all the more. Dynamic, playful and authoritative, she will take Ove through all ranges of emotions and it is, among other things, this perfect relationship between the two characters that makes this book so pleasant to read. You will have a lot to tell your classmates about the very stereotypical, but so endearing main character, as well as about the story in general of A Man Called Ove!
Artemis, by Andy Weir
The man who gave us the wonderful novel The Martian in 2011, which was adapted for cinema in 2015, came back in January 2018 with his second novel, Artemis. While The Martian was certainly science fiction, the author still wanted it as scientifically accurate as possible. On the contrary, Artemis is pure and hard science fiction where we follow Jazz, a young woman who has lived for years on Artemis, a city on the Moon with about 2000 people. As a carrier, Jazz laboriously earns a living by delivering food from Earth to her planet. While Artemis is divided into five distinct social classes, from the richest to the most miserable, she will accept a risky job that pays very well, but which could also make her lose everything she has. Without knowing it, by accepting this job, Jazz became an accomplice in a political conspiracy to overthrow power and take control of all the inhabitants of the city. A thrilling science fiction thriller by Andy Weir, Artemis will certainly be unanimously accepted by everyone at your next discussion.
The Hate U Give, by Angie Thomas
Released in 2017 and already adapted into a film in 2018, The Hate U Give is Angie Thomas' very first novel. First written as a short story, the author reworked her manuscript in the midst of the controversy surrounding police brutality and the Black Lives Matter movement. Starr is 16 years old and lives in a difficult neighbourhood where gang wars and police raids are part of everyday life, but goes every day to a mainly white school in the chic suburbs. Straddling these two realities, Starr's life changes the night his childhood friend, Khalil, is killed by three bullets in the back, in front of her; sad fate due to the unmanageable nervousness of a policeman. As people in his neighbourhood call for revolt and the police try to cover it up, Starr will have to learn to make his place in this cruel and unjust world. Aimed at a teenage and young adult audience, The Hate U Give is a difficult but necessary novel that tells a wonderful and heartfelt story about the complex reality that blacks experience every day in the United States. You will certainly not have enough time for an hour or two to discuss all the subjects that this novel may raise.
Room, by Emma Donoghue
Originally published in 2010, you may have heard of Emma Donoghue's novel Room, which was adapted for film in 2015, getting 4 Oscar nominations and winning the Best Actress actress award for Brie Larson's incredible performance. This novel is divided into two distinct genres: first, the reader is plunged into suspense as he faces the story of a mother and her son held captive in a room for several years, the young Jack, 5 years old, having never seen the outside world; then, the reader is transported further into a drama that follows the mother's rehabilitation in the real world, but also the complete learning of the child who discovers a grand universe that he has never known before. Disturbing and touching, beautiful and hard at the same time, Room is an example of hope and love that we rarely see. You will certainly shed a small tear at some point in your reading and will certainly want to talk at length about this incredible plot with your colleagues.
Me Before You, by Jojo Moyes
Unfortunately, many readers may feel somewhat discouraged by this novel by Jojo Moyes published in 2012. However, when we go beyond the fact that Me Before You tells a love story, rather atypical, that being said, we discover a much deeper theme, a really interesting story and a major issue. Also adapted for the big screen in 2016, this novel follows Lou, an ordinary young woman with an ordinary everyday life living rather soberly, on the edge of poverty, with her parents in a lost region of England. Desperately looking for a job after the closure of the café where she worked, Lou accepted a 6-month contract to take care of a disabled person. At first sight withdrawn and unpleasant, Lou discovered in Will an intelligent, brilliant and exceptional young man who unfortunately became quadriplegic following an accident a few years earlier. Wishing to end his life to free himself from this now unsatisfactory life, Lou will only have a few months to try to change his mind. Admittedly, Me Before You tells a love story, although improbable and doomed to failure, but it also lays the foundations for a very important questioning, namely that surrounding medical assistance to die. Giving this Jojo Moyes novel a chance is like opening your arms to a pretty literary surprise! If ever, know that this novel has two sequels for the moment, After You and Still Me (published in 2018).
The Handmaid's Tale, by Margaret Atwood
Although Margaret Atwood's The Handmaid's Tale was published in 1985, more than 30 years ago, we have heard a lot about it in the last two years because a masterful television adaptation was made – a film was also released in 1990 but made much less noise at the time. This dystopic science fiction novel plunges us into a world where religion has taken over politics and where women are enslaved. Divided into five classes – Wives, Marthas, Econofemales, Aunts and Handmaids – we follow June, now named Defred, who is part of the handmaid class, a group of fertile women used only for reproduction. Defred, like all the other Handmaids, tries to survive her new life, remembering her life before, ignoring what her husband and daughter have become, and, above all, trying to escape this infernal place. Depicting a cruel and merciless world, The Handmaid's Tale has generated a lot of talk for various reasons.
Sharp Objects, by Gillian Flynn
With three novels to her credit, all of which have been adapted for the big screen or small screen – Gone Girl, released in 2012 and adapted for the cinema in 2014, and Dark Places, released in 2009 and adapted for the big screen in 2015-, Gillian Flynn is one of the most talented authors. Her very first novel, Sharp Objects, published in 2006, was recently adapted for television in 2018 by none other than the talented Jean-Marc Vallée. The action takes place in Wind Gap, a small town in Missouri. While Camille Preaker has long since fled her hometown to become a journalist in Chicago, she is forced to return by her publisher who asks her to cover the murder of a little girl. Haunted by the death of her younger sister, who died when they were both still children, Camille will have to relive painful memories during her stay in Wind Gap, where she is staying in the family home with her mother, stepfather and step-sister. The protagonist will have to face information that she did not expect and that will change many things. Intriguing suspense from start to finish and a well-crafted turnaround, Sharp Objects will certainly lead the conversations of your next meeting!
This non-exhaustive list of 10 novel ideas perfect for a book club should be able to guide you a little bit in your choices, especially since there is something for everyone! Once you have selected your novels, all you have to do is let yourself be carried away by their stories and discuss them with your friends!
---
Cover photo: Unsplash | @radu_marcusu