10 Spotify playlists to play on repeat
If listening to music is one of your biggest passions, here are 10 amazing Spotify playlists to listen to day and night!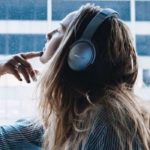 Most people enjoy listening to music, whether it is in their car, at work or even at home while they prepare dinner. This is why most people have Spotify, a music streaming service that allows you to listen to music at any time on your phone, your computer or tablet. Spotify is not only not popular because of all the songs and artists it suggests for music lovers but also for the numerous playlists available on their interface. If music is part of your passions and you never spend a day without your earphones, here are 10 Spotify playlists to discover. We bet they'll give your daily dose of great music for many weeks to come!
Advertisements
Fresh Finds
Every week, you can find new music from independent and emerging artists from everywhere around the world in "Fresh Finds". Updated every Wednesday, you'll get your dose of good music, that's for sure! Don't forget to save your favourite songs.
Advertisements
One week One playlist
If you don't have time to listen to all the newly released music, the "One week One playlist" playlist is perfect for you! You'll find 20 completely new releases. You can listen to the newest songs from Spotify in about one hour.
Advertisements
Top 50
You can know all the most popular songs from all over the world, whether you live in Canada, the United States or even France thanks to the "Top 50". Updated every day, these Spotify playlists give you access to a ton of hits. Whether you feel like discovering the musical culture of Colombia, Denmark or Spain, it's all at your fingertips. The "Global Viral 50" playlists are also worth a listen.
Advertisements
Pitchfork's Best New Music
If you're a real music lover, you probably know Pitchfork, the online independent music magazine. The American company also has Spotify playlists, including "Pitchfork's Best New Music", which regroups all the new songs discovered by the magazine. The "What's Good playlist" will surely also satisfy you and also "The One" if you're a fan of rap and hip-hop.
New Music Friday
Every Friday, Spotify ensures you start your weekend on the right foot with this pop and dancey playlist. You can listen to great music for many hours. It's not surprising then that more than 200 000 people have subscribed to this playlist!
#ThrowbackThursday
Are you feeling nostalgic? Why not listen to the "#Throwback Thursday" playlist and let yourself be transported back to the 80s, 90s, and 2000s? There's nothing better, after all, than listening to a song and remembering all the fun moments you experienced in the past.
RapCaviar
According to edmsauce, the «RapCaviar» playlist is one of the most popular playlists on Spotify. One might have been tempted to believe that after the departure of Tuma Bass, the former head of Spotify's hip-hop department, the playlist created by none other than himself and continually updated would lose popularity and/or quality. However, this was not the case. The playlist, which offers you the best in rap and hip-hop, has continued to win subscribers. Today, more than 10 million people listen to the songs on this playlist!
Discover weekly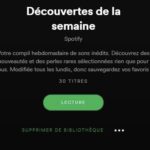 This playlist, which is updated every Monday, allows you to discover songs you'll absolutely love. Indeed, the selection of songs on "Discover weekly" is created using your listening history as well as songs listened to by users whose tastes are similar to yours. Please note that since this playlist is updated every week, you must absolutely need to save the songs you like or else you risk losing them.
Release radar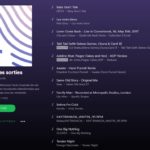 This playlist, which is updated every Friday, is an amalgam of new music selected just for you! Spotify chooses them based on the artists you listen to the most but also base them on the artists you subscribe to. The streaming service is thus able to create a weekly playlist made exclusively for you and featuring the most up-to-date songs.
Daily Mix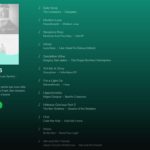 "Daily Mix" is composed of 6 made to measure Spotify playlists for you. They are scalable, so the more tracks you listen to on Spotify, the more the platform is able to determine which songs to add to you Daily Mix. So if you only listen to music from the 60s, don't expect to see Taylor Swift or Beyonce appear in one of these 6 playlists. Unfortunately, given the fact that these playlists are constantly progressing according to your musical tastes, you can't listen to them offline. This is probably the only negative aspect of the Daily Mix.
There are, of course, many other Spotify playlists to listen to and discover, no matter what your musical tastes. You can even make your own playlist and listen to your favourite songs at any time and, most importantly, offline.
---
Cover photo: @bose | Instagram