15 wedding songs for a memorable ceremony
Is the happiest day of your life coming soon? Discover 15 must-have wedding songs to put on your playlist for your big day.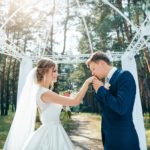 Your wedding is one of the most beautiful and important days of your life. There is no doubt about it. With this in mind, you need to make sure this day is unforgettable for you and your guests. To make sure of this, you obviously have an amazing venue, a beautiful wedding dress but also a great playlist that will add a great ambiance during the ceremony and during the party afterwards. This is why we have selected 15 of some of the most popular wedding songs of all time so you can have the best time on the dancefloor!
Advertisements
Die With You by Beyoncé
Despite its very dramatic, almost fatal title, this Queen B song is an immeasurable proof of the love Beyoncé feels towards her husband Jay-Z. You will love the touching lyrics as well as the soft and catchy rhythm of this R&B song.
Advertisements
Une chance qu'on s'a by Jean-Pierre Ferland
Une chance qu'on s'a is without a doubt one of the great classics of Quebec music. It is also an extremely romantic song that not only has survived the passage of time but is perfect for wedding ceremonies. After all, what better way to express your love than by dancing to "Une chance que j't'ai/Je t'ai, tu m'as/Une chance qu'on s'a"?
Advertisements
Marry You by Bruno Mars
You have probably already heard this song on the radio. This is in no way surprising since the pop song Marry You, from the Doo-Wops & Hooligans album, was, for a long time, at the top of the charts when it came out in 2011. This song is ideal to get people moving on the dancefloor.
Advertisements
L'amour existe encore by Céline Dion
L'amour existe encore was written by Luc Plamondon and is interpreted by Céline Dion. This romantic song is perfect for the first dance or simply for amateurs of this distinguished singer!
Je l'aime à mourir by Francis Cabrel
Je l'aime à mourir is also a great wedding song to add to your playlist. It is, in fact, a very touching song to which many couples have already danced during their wedding. Some have even sung it at karaoke!
There Are Many Way to Say I Love You by Sylvan Esso
The American duo Sylvan Esso, who usually sing electro-pop tunes, step out of their comfort zone to offer this charming folk song. It is hard not to identify with this song because of lyrics like: "There are many ways to say, 'I love you'/Just by being there when things are sad and scary/Just by being there, being there".
You Are So Beautiful by Joe Cocker
The husky voice of Joe Cocker highlights nicely You Are So Beautiful, a song on which you and your wedding guests will enjoy dancing to while looking into the eyes of your loved one.
Happy by Pharrell Williams
The singer-songwriter has a great sense of rhythm, especially in Happy where we truly understand the meaning of the word "happiness". Don't hesitate to play this song on the dancefloor.
All You Need Is Love by The Beatles
The Beatles are obviously one of the biggest musical groups in all of history. All You Need Is Love is a pure and true testimony of love that also has a catchy melody. This song is vital at any wedding, there is no doubt about it!
You've Got The Love by Florence and the Machine
Florence and the Machine is a very well known British band because of the very beautiful song You've Got The Love. Let yourself be transported by Florence Leontine Mary Welch's ethereal voice and the lyrics "Sometimes I feel like throwing my hands up in the air/I know I can count on you/Sometimes I feel like saying "Lord, I just don't care"/But you've got the love I need to see me through."
Perfect by Ed Sheeran
Ed Sheeran's song often plays on the radio and it makes a lot of sense. It is easy to imagine yourself dancing with the man or the woman of your life on this gentle and wonderful pop song where romance is king.
Can't Help Falling in Love by Elvis Presley
Elvis Presley conquered numerous hearts, especially because of his very popular song called Can't Help Falling in Love. This song has so marked the collective imagination that it has been taken up by many artists, including Michael Bublé and Ingrid Michaelson.
At Last by Etta James
At Last is another love song that has survived the passage of time. You've probably already heard it in coffee shops or in many different cinematographic works. This song from the soul and jazz singer Etta James is absolutely sublime!
A Thousand Years by Christina Perri
Much more modern than At Last, the song A Thousand Years is a vital song at many weddings because of the lovely message it sends. It was part of the Breaking Dawn Part 1 soundtrack.
I Wanna Dance With Somebody (Who Loves Me) by Whitney Houston
If you like music from the 80s and 90s, know that Whitney Houston is at the origin of the rhythmic and dancing song I Wanna Dance With Somebody (Who Loves Me). This song will be perfect for your dancefloor, we promise!
Whatever your musical tastes, you can easily find the perfect wedding songs for your ceremony. In fact, it must be noted that there are hundreds of love songs that exist! You can also add to your playlist songs like You're The First, The Last, My Everything by Barry White, Come Away With Me by Norah Jones or Comptine d'un autre été by Yann Tiersen. If you want even more inspiration, know that streaming platforms like Spotify suggest tons of playlists for events like weddings.
---
Cover photo: Instragram @junebugweddings