What is orthorexia?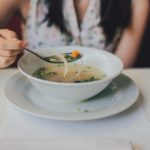 Advertisement - Continue reading below
Anorexia, bulimia, binge eating.... And now orthorexia: we demystify this little-known eating disorder.
With names such as Ashley Graham, Winnie Harlow and Tabria Major in magazines and fashion shows, the fashion world is slowly but surely including more body diversity. Yet, the often unrealistic beauty standards remain rigid—from the runway model figure to the Instagram fitness model physique—and sometimes leads to food obsessions and disorders. While most people are now sensitized to anorexia, closely followed by bulimia and binge eating, a widespread eating disorder remains relatively unknown. Orthorexia is an almost invisible disorder that strikes often without its victims even knowing it. Find out what is orthorexia and how to detect its signs.
Advertisement - Continue reading below
Advertisement