Christmas gift exchange ideas or how to please and not splurge
For when you don't really know the person you picked, can't spend much and still hope to bring a smile on their face with your Christmas gift exchange idea.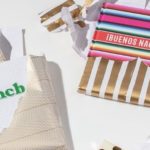 Everybody loves the idea of a Christmas gift exchange until they actually have to buy something. Especially when you get the email stating that your match is Lindsay from marketing. You passed her trice in the hall, told her once that you liked her nude pumps, and now you have to get her a special something under $30. But fear not. The perfect Christmas gift exchange idea will put the fun back in this potentially awkward situation. The key here is to go for deluxe versions of simple everyday life objects and let yourself be inspired by the following foolproof suggestions.
Advertisements
Something sweet
Here is the easiest way out of the difficult task of pleasing an almost stranger. Peek over at their plate at lunchtime and identify their taste. Make sure they don't have allergies or follow a special diet. Then, go crazy. Cookies, chocolate, matcha infused cream fudge, hot chocolate spoons, a jar of dulce de leche, etc. Pick one or several kinds, but stray away from the unoriginal Costco boxes and boring sweet treats. Instead, opt for high-quality goods and specialty items. Honourable mention if it comes in a gorgeous packaging.
Advertisements
Something scented
Everyone with half a heart likes fancy candles, and most people with a mortgage only love them from afar. Opt for a single branded candle or an array of less expensive ones. If they already have too many (is there such a thing?) or you want to add a little something, think fancy room spray, an incense holder and actual incense, or a nice match striker as well as a beautiful matchbox.
Advertisements
Something warm
Socks. Yes, we went there. And we did so because socks actually are a good idea. You just have to look at the right place. Pick beautiful cozy Anthropologie socks or trendy printed ones. Don't want to be that person? Opt for a quality scarf instead. Or elegant slippers, a fashionable hat, a nice pair of gloves, etc. Clothing is not the only kind of present that will keep its recipient warm during the holiday season. A tasteful tea assortment or a bag of fancy coffee beans might very well hit the spot. Especially if you picked a hot beverage connoisseur.
Advertisements
Something fun
Christmas time is usually spent with friends and family. It is therefore the perfect moment to offer a fun game. The person you picked will most likely make the most of your gift during the holidays. Think pleasant and modern. That might mean Cards Against Humanity, What Do You Meme and Never Have I Ever, but also, table topics, Iknow Trivia or any other pop culture or general knowledge card game.
Something boozy
Sure, a bottle of wine is an easy go-to and a safe bet. But why go for the obvious when you can get off the beaten track and surprise your booze-loving gift recipient with a beautiful bottle stopper, an original carry on cocktail kit, a cocktail accessories kit, an elegant bottle opener, a quality mixers set, a pair of fancy glasses, whiskey chillers, specialized ice trays and even a scotch-infused toothpicks gift set, because yes, those exist. 
Something smart
Books are always a good idea. And despite what technology might pretend, they will never die. Cookbooks, novels, biographies, comics, non-fiction… There is a book on every possible topic and, therefore, for everyone. All you need is a vague idea of the person's interests. Besides, getting smarter is always a good idea.
Something useful
A quality travel mug, one for the office, earbuds, a beautiful tote, reusable straws, a travel essentials kit, a passport holder, a nice keychain, an extra charger, an iPad stand, a well-designed bento box. When it comes to Christmas gift exchange ideas, you can never go wrong with something useful. Just don't forget to go the extra mile and make it practical as well as high-quality. Prioritize design and superior calibre.
Something dandy
Nail polish, lipstick, bath salts, scrubs, soap, makeup bag, shaving kit, lip balm, hand cream… Shall we go on? Something nice to take care of yourself is always a very welcome gift. Pick a single product from a high-end brand or opt for an array of more affordable beauty items for your recipient to try. Not sold on the idea of having to navigate the beauty world? Let a subscription box do the work for you.
Something sporty
You picked your third cousin on your mom's side and all you know about him is that he loves to post gym selfies on Instagram? That's enough information. A trendy water bottle, a protein bar kit, yoga accessories, resistance bands, running reflecting bands, a fun workout shirt, golf balls, a first aid kit, leggings, a bike wine bottle holder, or a gift box of healthy snacks in the likes of The Goodness Project should please any health nut and sports enthusiasts in your entourage.
Something homey
Still haven't found the perfect Christmas gift exchange idea? Get them something nice for their home. A trinket plate, a gorgeous dish towel set, a quality olive oil, pretty coasters, a vase, an original spoon rest, a wooden or marble cutting board, a silk pillowcase, a special hot sauce assortment, a bread bag, a luxury cheese knife, a beautiful spice grinder, etc. Get creative. So many useful things can make an unexpected but very welcome gift for one's house.
Keep in mind that these kinds of presents are the perfect opportunity to offer someone something they love, but don't buy for themselves. Try to learn a little bit about the person you picked and make an effort to be creative and original. And remember: Amazon, Etsy and uncommon goods specialty stores are your best friend when it comes to limited budget Christmas gift exchange ideas. Worst case scenario, they'll just gift it back to someone else next year. And if all fails, there's always wine.
---
Cover photo credit: @wandpdesign | Instagram