Agra, India: 5 attractions to visit during your travels
Wondering what to see in Agra, India? Discover 5 essential attractions of this splendid city.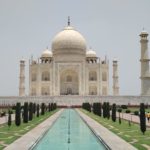 Many people decide to take a trip to India because it is in this country, especially Agra, that the majestic Taj Mahal is located. It is also in Agra, in northern India, that you can visit the famous Red Fort and the Mehtab Bagh charbagh complex. Agra is, therefore, a travel destination to include during your stay. If you can, travel between November and March; you will avoid the monsoon season while discovering buildings with incredible architecture, lively markets and fascinating culture. Here are 5 must-see attractions to include in your trip.
Advertisements
Taj Mahal
You have probably already heard of the Taj Mahal or seen photographs of this splendid mausoleum made of white marble mixing Persian and Mughal architectural style. Admittedly, seeing it in person is a completely different story! Every year, about 8 million tourists come to Agra to admire this elegant building built between 1631 and 1648 under the command of the Mughal Emperor Shah Jahan in memory of his favourite wife, Mumtaz Mahal. The Taj Mahal is so beautiful to see that in addition to being one of the seven wonders of the world, this impressive architectural "jewel" is classified on UNESCO's World Heritage List.
Advertisements
Mehtab Bagh
As mentioned above, Mehtab Bagh is a park with four gardens (charbagh). This impressive complex is located in front of the Taj Mahal and therefore allows you to have a breathtaking view of the mausoleum. It is from this place that most of the photographs of the Taj Mahal are taken.
Advertisements
Mausoleum of Itimâd-ud-Daulâ
The 17th century mausoleum of Itimâd-ud-Daulâ should also be part of your itinerary to India. This is a place to see, as this tomb is the first funeral monument to have been built with white marble. Interestingly, this mausoleum is sometimes called the "Baby Taj" because it was built using the same architectural techniques as the Taj Mahal. It is also surrounded by breathtaking gardens that make it, as a whole, a complete and highly artistic architectural work.
Advertisements
Agra Fort
The Red Fort, also known as Agra Fort, is another attraction to include in your travel itinerary during your stay in India. This Mogul fort made of red sandstone and marble is breathtaking. This building, which was previously used by the armed forces, was then renovated into a palace for Emperor Shah Jahan. Feel free to enter this fort to admire its sumptuous rooms, including the Palace of Mirrors and the General Courtroom.
Kinari Bazaar
To feel Agra's pulse, what could be better than going for a walk to the Kinari Bazaar? You will see, in this lively market with its colourful shops, several merchants offering you their products and cars trying to find their way through the crowd as best they can. It is the perfect place to get multicoloured garlands, jewellery, clothing, snacks and fabrics.
Agra in India is, therefore, a perfect destination for anyone interested in architecture and oriental culture. This destination is home to India's most beautiful tourist attractions, including the Taj Mahal, a UNESCO World Heritage Site. To discover other equally interesting travel destinations, we invite you to read our article "Best Travel Destinations 2019: From Sri Lanka to Belarus".
---
Cover photo: Sourabh Nilakhe | Unsplash