The best places to travel to in 2019: From Sri Lanka to Belarus
New year, new travel plans? 2019 will be the boldest and most thrilling travel year to date. Find out the best places to travel to in 2019.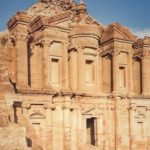 It is now easier than ever to visit faraway places we used to only dream and read about in books. Countries and cities that were cut off from the Western World are now accessible because of technological advancements, political stability or because these countries are no longer at war. Travelling is one of the biggest joys in life and you won't believe the diversity of the cultures and panoramas the best places to travel to in 2019 propose: from Sri Lanka's incredible beaches to Jordan's ancient wonder of the world, we have an inkling you'll be shopping plane tickets after reading this article.
Advertisements
Sri Lanka
Sri Lanka is the top destination for adventurous travellers who love to experience new cultures and discover breathtaking panoramas. This small country is packed with ancient temples, luxuriant forests, pristine beaches, and the friendliest of people. If you're planning on visiting this country, you need to visit the beaches of Tangalla and Marakolliya in the south, take a train through the tea-carpeted hills, visit the incredible ruins of Anuradhapura, surf, visit tea plantations, and taste the different flavours of the country in local markets.
Advertisements
Berlin, Germany
Europe's most hipster city, Berlin should definitely be in your travel plans in 2019 especially since it will be celebrating the 30th anniversary of the fall of the Berlin Wall and 100 years of the Bauhaus, which will be celebrated with a huge Bauhaus Festival in January. Enjoy the huge underground club scene, marvel at the abundant street art on the crumbling Berlin Wall and eat all the delicious food the city has to offer. This is definitely Berlin's year.
Advertisements
Victoria Falls, Zimbabwe
One of the safest African countries to visit, Zimbabwe is filled with incredible natural beauty. Victoria Falls, is, of course, one of the biggest highlights of this country as well as the national parks filled with lions, elephants, zebras, white rhinoceros, buffalos, leopards, etc. The locals are super friendly and love to talk about their love for their country to foreigners. Of course, it is important to still exercise a degree of caution when travelling in this country, especially in big cities, because of the political violence and economic unrest.
Advertisements
Agra, India
One of the seven wonders of the world can be found in Agra: The Taj Mahal. This monumental and majestic mausoleum just underwent a yearlong restoration so this is a great time to admire the polished and gleaming domes of this beautiful architectural achievement. If you can, travel to Agra between the months of November and March to avoid the monsoon season. Once you've admired the Taj, explore the neighbouring attractions that are also worth look: marketplaces, the Agra Fort, Mehtab Bagh, Khas Mahal, and more.
Copenhagen, Denmark
If Berlin is Europe's hipster city then Denmark's capital, filled with canals, colourful buildings, design stores and coffee shops, is the cool city. Copenhagen is an incredibly innovative city that brims with unique shops, delicious street-food, and one of a kind cultural activities. Head to the Tivoli Gardens to feel like a child again and walk around Freetown Christiania to see with your own eyes the edgy and colourful independent village right in the city.
Petra, Jordan
A destination on many travellers' bucket list, Petra, in Jordan, is having a moment. Even if most Western countries advise travellers to exercise a high degree of caution while in Jordan, people from all over the world are flocking to this Nabataean caravan-city that is half built and half-carved into the rock. The surrounding mountains and gorges create an amazing atmosphere and make sure you visit when the sun hits the ancient red rock city. After your day in Petra, head over to the Dead Sea and float in the salty water.
Sao Paulo, Brazil
Since it is now easier than ever to get a visa (the new e-visa system is very efficient), travelling to Sao Paulo should be in your travel plans for 2019. It might not have beaches like Ipanema and Copacabana like in Rio de Janeiro but Sao Paulo has a vibrant financial center that boasts incredible art and design scenes. Home to about 20 million people, the Paulistanos love to eat well, love to drink and have a good time.
Minsk, Belarus
Time to spruce up on your Belarusian because Minsk is one of the best places to travel to in 2019! Surprised? We are too but we've heard through the grapevine that this Eastern European country, especially the capital, Minsk, has become a cool place to see great art, drink delicious coffee and party. The restored Old Town will really amaze you and make you fall in love with this often forgotten country. Fan of sports? The 2019 European Games will be held in Minsk in June.
São Tomé & Príncipe island
Right off Gabon, in the Gulf of Guinea, are two small but surreal islands called São Tomé & Príncipe and they are waiting for you to be explored. Never heard of this paradisiac place? Neither has most of the world so this is why it is the best time to go. The empty but spectacular beaches, tropical climate and lush jungles are enough to convince any adventurous traveller who likes warm weather to hop on a plane. If you like to move, know that you can do tons of activities here like hiking, snorkelling and visit sugar, cocoa and coffee plantations. Paradise is waiting for you.
Savannah, Georgia
The south of the United States is beautiful with its idyllic trees, ancient estates and romantic marshes. Savannah, Georgia will transport you to a different time with its antebellum architecture. The historic district is a must-see, with its cobblestoned squares, parks, giant trees and beautiful homes. Georgia is, of course, known for its peaches so we recommend you spend a long weekend in this gorgeous town in late spring or early summer when it's not too humid and when you can enjoy this sweet fruit in its peak.
If you were wondering where the best places to travel to in 2019 were, we are certain that you know have a few options that have piqued your interest. From surfer-approved beaches in Sri Lanka to Copenhagen's lovely canals, you are spoiled with choices. The world is filled with beauty that is just waiting to be discovered.
---
Cover photo credit: @viajar_da_vida | Instagram